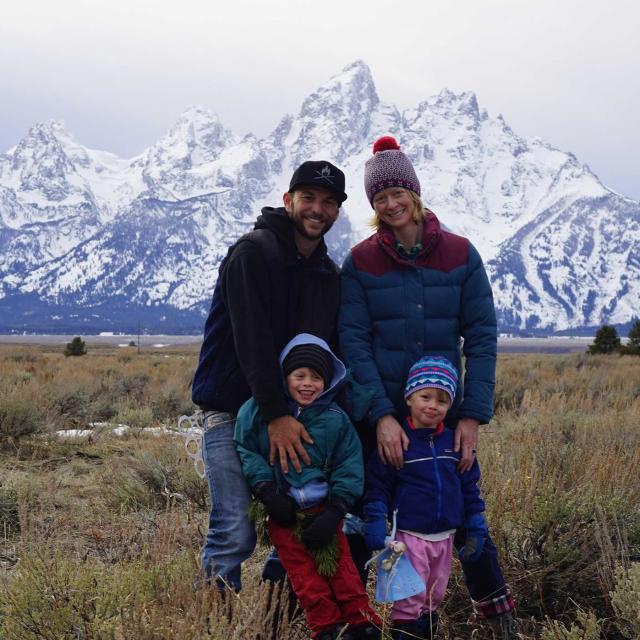 Amber Kaplan and Ben Sprague (18/50)
CCS was honored to showcase 50 individuals and activities during our 50th Anniversary in 2017-2018 to share our rich history. Take a look at the amazing people responsible for making our unconventional College possible!   
CCS: Amber, what impact did CCS have on your life?
Amber Kaplan:  The mentorship I received as a CCS student was truly life changing as a budding scientist. The personalized attention and "small college" experience within a larger research university gave me the best of both worlds.
CCS: Amber, why did you choose to come to CCS? How did you find out about the College?
AK: I didn't become a CCS student until my second quarter at UCSB. I knew I wanted to participate in scientific research while in college so I applied for lab jobs and was lucky enough to get one in Dr. Bill Rice's lab. All the other undergraduates in that lab were in CCS, and it sounded amazing! I applied.
CCS: What was your favorite aspect of CCS, Amber?
AK: Two favorites!
1. My mentor, Dr. Armand Kuris: there's no one like him and he is still the best mentor I've ever had.
2. The interdisciplinary classes, research projects, and casual conversations I was privileged to participate in while there.
CCS: Ben, where did you attend college? What was the focus of your studies?
Ben Sprague: I attended Middlebury College in Vermont and double majored in geography and environmental sciences with a minor in economics. My first position after college was with Professor of Geography Michael Frank Goodchild at UCSB.
CCS: Amber, did your CCS education help you excel as a graduate student?
AK: Yes, absolutely. I was much more prepared to carry out independent research since I'd already had experience as an undergraduate.
CCS: Please describe your jobs. Do your jobs relate to what you studied as an undergraduate? If so, how?
AS: As an undergraduate, my research time was spent first in Dr. Rice's evolutionary genetics lab, and then in Dr. Kuris' ecological parasitology lab. My graduate degree is in immunology with a focus on innate immunology. My post-doctoral studies were in bacterial genetics. And, my current work at an established start-up is still focused on innate immune responses. My overarching interests remain—how do organisms contend with "danger" and how has this come to be over evolutionary time.
Ben is a television executive. His focus is on the business aspects of producing television shows.
CCS: Amber, what advice would you give to current and future CCS students?
AS: Take more classes (especially CCS ones) outside your discipline. Fail, not on purpose of course, but reach for things and be brave enough to fall short—the lessons and resilience gained from those experiences are much more valuable than a good grade.
Fail, not on purpose of course, but reach for things and be brave enough to fall short—the lessons and resilience gained from those experiences are much more valuable than a good grade.
CCS: What has compelled you both to stay involved in CCS?
AS: We have a deep appreciation for how education can greatly impact a student's life for the better. CCS is an educational institution like no other and it's very important to us to see it thrive for generations of students to come.
CCS: Your family has a supported UCSB for many years. Ben's father was a UCSB trustee and the Seeley Mudd Foundation has generously supported CCS, including undergraduate research and hosting a CCS 50th anniversary reception this year in Los Angeles. What drives your philanthropic giving to UCSB and CCS?
BS: My father, Norman Sprague, attended UCSB as an undergraduate, and it had a huge impact on his life, and then ours when our family moved to Santa Barbara. I worked at UCSB for almost two years where I also met my wife when she was completing her senior year. We (my family and our family foundations) believe education is a gift and it's our privilege to be able to support a public institution that has given so much to us. It is also very special to be able to honor both my father and my wife by continued giving to UCSB and the College.