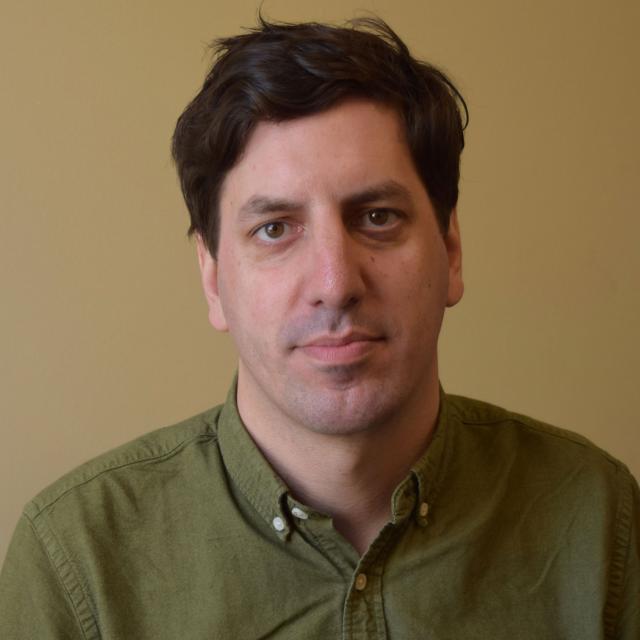 Alex Scordelis (3/50)
2004
Major
Writing & Literature
CCS is honored to showcase 50 individuals and activities during our 50th Anniversary to share our rich history and amazing people responsible for making our unconventional College possible! Return regularly to learn more. 
Long before he was a Writers Guild of America award winning and Emmy nominated comedy writer, Alex Scordelis, CCS Literature class of 2004, was just a high school kid who knew that he wanted to write for a living. From the moment he heard about the College of Creative Studies Literature program from a college counselor, Scordelis thought CCS was the best place to make this dream a reality.
Scordelis quickly realized that CCS would exceed his expectations. "As soon as I got to CCS, I loved it more than I imagined I could," he explained. He quickly became really connected with the faculty, who advocated that he let his personality show in his writing. "The faculty encouraged me to pursue the writing that I wanted to do," Scordelis said. "They let me be funny in my writing and actually encouraged it, which is something that I had never encountered in academics before." The faculty, including Robin Bell, Caroline Allen and Barry Spacks, was happy to make sure that Scordelis' comedic personality shined through in his writing. They advocated that he, instead of writing a "bland term paper" on a topic, would write a paper with a "weird, comedic take." He expressed, "I can't imagine this happening in any other academic setting."
To this day, Scordelis, a magazine and television writer, uses the tools he learned at CCS. "I graduated from CCS 13 years ago, and it seems so long ago, but in my mind it still feels like I am still there because I still rely on everything I learned at CCS," explained Scordelis. "CCS gave me a toolbox as a writer that I still use today." When writing a new article, he can hear the advice of his teachers in his mind; for example, 'cut that last paragraph.' 
CCS allows each student to pursue the education they desire. While his classmates were evolving their techniques by writing more serious pieces, Scordelis was discovering how to see things comedically and satirically. He recounted one of the best examples of this, in Caroline Allen's Museum of Muse class. "We went down to the Santa Barbara Museum of Art once a week and chose a different work of art to write about. I chose to write a satirical piece treating the gift shop as an installation piece. It was such a weird thing to write about, and Caroline was all for it."
Scordelis also attributes his success as a writer to other opportunities UCSB offered. Acting, specifically dramatic acting, was one of these opportunities. He participated in plays through the Theater and Dance Department. "I acted in a play called Tracers where I played a soldier in Vietnam; it was heavy stuff and really intense," said Scordelis.  Although dramatic acting is not directly related to his career ambitions, "in the long run it paid off" because a lot of the stuff he "writes now is for TV and involves theatrical stuff."
Throughout his time at UCSB, Scordelis wrote for The Daily Nexus as the main music critic. "I wrote all of the album and record reviews and would interview bands that came to town," explained Scordelis. In addition to learning how to get articles published in print, his time at The Daily Nexus also lead to his big post-grad writing break.