The Sara Sterphone Memorial Fund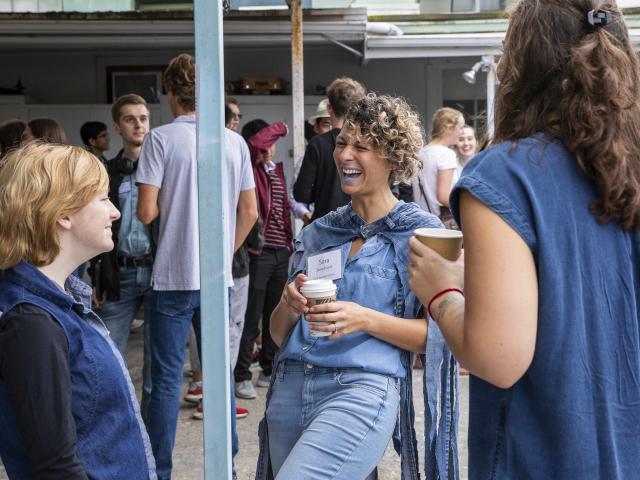 The Sara Sterphone Memorial Fund was established in honor and memory of Sara who worked tirelessly at CCS, starting in March 2013 as an Academic Advisor and then the College's Lead Academic Advisor from September 2014 through 2019. Sara went well beyond her responsibilities to make sure every student was heard and respected as well as felt part of the larger CCS community. Sara meant so much to so many of us. Her contributions to the College and the community are already legendary. To learn more about Sara, read her story we featured as one of 50 stories during the College's 50th Anniversary during 2017-2018. 
Gifts to this Fund will benefit CCS students who Sara cared about deeply and honor her memory in perpetuity. In memory of Sara's passion and dedication for service to the community, the CCS Student Service Award was renamed to the College of Creative Studies Sara Sterphone Student Service Award. This recognition is given with a financial award for outstanding contributions to the intellectual and social life of the College of Creative Studies. The fund will support this award and also student activities and extracurricular programming to honor Sara's commitment to the CCS student community.
If you would like to share a few words, sentences, or photos of your memories of Sara that we will add as a tribute to Sara on the CCS website, please send them to Venilde at venilde@ucsb.edu. 
Donate online or give by check by making it out to UCSB Foundation (write "Sara Sterphone Memorial Fund" in the note section) and send it to:
ATTN: Venilde Jeronimo/Sara Sterphone Memorial Fund
CCS, UCSB, Bldg 494, MC 6110, Santa Barbara, CA 93106
For gift inquiries in honor of Sara, please contact Venilde at venilde@ucsb.edu
The Create Fund
Support student undergraduate original research, creative works, and entrepreneurship-focused projects.
Summer Undergraduate Research Fellowships
Summer fellowships are key to the undergraduate experiential learning at CCS and provide students in all eight majors the opportunity to:
Conduct research, develop original creative work, and focus on entrepreneurship-focused endeavors
Build on the College's success in which CCS scholars and creators are guided by exceptional UC Santa Barbara faculty
Look at these stories from some of our student summer fellows who are on the path to become change agents in our community! These are inspirational.
Contact
Venilde Jeronimo
Director of Development
College of Creative Studies
UC Santa Barbara
WHY CREATE?
Because radical curiosity and passion matter. The combined practice of education and experience results in alumni who go on to shape society and the future. Join us in supporting radical curiosity and passion.
CCS provided me [the opportunity] to try out several different laboratory experiences...instrumental in my finding how much I loved mechanistic thinking and biochemical experiments.

Carol Greider, CCS Biology '83; 2009 Nobel Laureate in Physiology or Medicine; Daniel Nathans Professor and Director, Department of Molecular Biology and Genetics; Professor of Molecular Biology and Genetics, John Hopkins University
Other Giving Priorities
Dean's Fund for Excellence
The Dean's Fund for Excellence is the CCS Annual Fund, and provides unrestricted support for the College to respond to on-going and unique opportunities, such as inviting distinguished visiting lecturers, increasing summer research opportunities for students, faculty and classroom support, materials and facility improvements, and providing College-wide enrichment programs for students across all CCS majors. 
Faculty Excellence Fund
The CCS Faculty Excellence Fund enables the College of Creative Studies to attract distinguished UCSB faculty, visiting professors, and other experts to teach and guide students in all CCS majors, as well as provide public lectures. These faculty offer small tutorial-style core classes and provide the one-on-one faculty mentoring that encourages students to investigate questions, take risks, and make significant contributions in their fields. Gifts to the CCS Faculty Excellence fund support teaching excellence, which is a hallmark of the College of Creative Studies.
Your generosity is an investment in the future of CCS. Philanthropic support from alumni, parents, and friends plays a critical role in the future of CCS and provides the means for life-changing experiences for our students.
As of July 1, 2012, it is the policy of the University of California, Santa Barbara and the UC Santa Barbara Foundation that 6% of gifts and/or the income from gifts may be used to defray the costs of raising and administering funds.