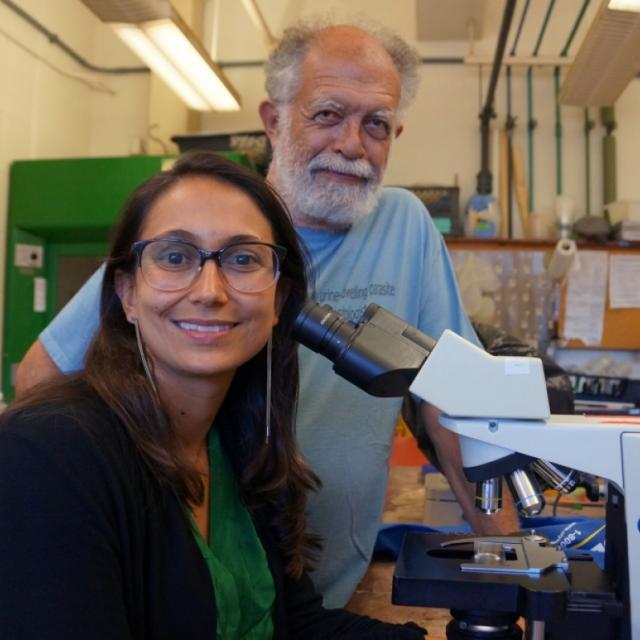 Armand Kuris (29/50)
Armand Kuris is pictured on the right
CCS was honored to showcase 50 individuals and activities during our 50th Anniversary in 2017-2018 to share our rich history. Take a look at the amazing people responsible for making our unconventional College possible!   
A year after Professor Armand Kuris joined the Biology faculty at the College of Creative Studies in the late 1980s, all other Biology faculty had retired, and he was the major's only faculty member. This incident enabled this Zoologist to shape the Biology program into what it is today!
Without the guidance of more senior faculty, Kuris went out and recruited professors across campus who he thought would be good fits for the program, and he ran admissions for the Biology major. "There was no one else to do it," said Kuris. "I was the only Biologist in the College, so I said, 'Well I'm just going to what I want to do." To this end, he recruited faculty who he regarded as exemplary instructors from across all fields of Biology, including Bruce Tiffney, Bob Warner, and Kathy Foltz. Tiffney went on to be the College's Dean from 2005-2016 and Foltz is the current Interim Dean.
But Kuris' story starts way before he found his way to the funky yellow building on the UCSB campus. Kuris grew up in a blue-collar neighborhood in the Bronx which he described as one-third Jewish and two-thirds Irish. "My parents immigrated to the United States from Russia," said Kuris. "So I am the first-born crown prince-I was going to college no matter what. " Although he calls himself "a terrible high school student" with bad grades, he was able to get into Tulane University due in part to his high standardized test scores. He was drawn to Tulane because of its location - New Orleans; that is, the Deep South. He was admitted to Tulane in 1959, five years after Brown vs. Board of Education, and wanted "to see with my own eyes, what I was reading about in the papers."
Kuris started at Tulane as a pre-Med Physics major. During his second year, he realized Physics was not for him so he decided he would get into Economics. But it wasn't until he took an Introductory Biology class during his third year that he found his passion. "During that class I realized…oh my G-d…I'm starting to enjoy this, more than anything I had ever studied in my entire life," recalled Kuris. He concluded that he could see himself making a career out of becoming a Biology professor because I could "have respect, status, decent income, control of my life, and enjoy my job." Kuris went to the Zoology advisor midway through his third year and asked if he could still graduate in in four years if he switched to the Zoology major.  Per Kuris: "He looked at me and said, 'well if you're willing to take Bio courses morning, noon and night…you can just do it.' I replied with two words: 'You're on.' And that is the rest of my life right there." He learned how to study efficiently, began to study all the time, and started doing well in his classes. He ended up getting into graduate school at UC Berkeley, where he received a Ph.D. in Zoology in 1971, joined the UCSB faculty in 1975, and eventually found CCS. Said Kuris: "A hundred years later I'm totally on the same path as I was way back when I became a Zoology major."
Kuris' revamping of the Biology program included the curriculum. With the assistance of Tiffney and Christina Sandoval (former CCS Biology faculty), he established the Biology Colloquium, a class for all first-year CCS Biology students. "We wanted to bring the students together from the start for bonding and to give them a primer about research. It [the course] has been very successful."
We wanted to bring the students together from the start for bonding and to give them a primer about research.
Kuris takes a holistic approach to how he admits students to the Biology program-he looks past grade point average and test scores. Instead, he looks for motivated students. Kuris "absolutely does not want" the Biology major to turn into a typical honors program and therefore does not necessarily admit students who have the highest grade point average or highest test score. Instead, he looks for students "who show that they want to do something from the moment they get here."
While Kuris was revamping the Biology major, he was also in the second highest administrative role of the College-Associate Provost. He held this position during Bill Ashby's entire term at the helm of the College (1993-2006). As Associate Provost, Kuris spent a lot of time "defending CCS in the general education committee and stuff like that." Ashby, a French and Linguistics Professor, would bounce ideas off of the Biologist. "Sometimes he'd take my advice and sometimes he wouldn't," remembered Kuris. "We got along very well--he is a very fair, very decent person."
The infectious disease and parasite ecology expert has taught many CCS courses over his career. One of the classes that stood out to him was a discussion course on HIV/AIDs epidemiology that he taught for over 20 years. When he started teaching the course, the AIDs epidemic was near its peak. "It was roaring," said Kuris somberly. "As the medical crisis of our time, I took the course pretty much out of the newspaper. There was something almost every week that was worth considering from a biological, ecological, social, political, or economic perspective." As the class was offered as a GE, he would run it on three levels. The different levels ensured that the class would be interesting to all students, that is, from an infectious disease specialist to a freshman Biology student and non-Biology major. At the beginning of the course, each student took an anonymous questionnaire about the impact AIDs had on each of them. At the height of the crisis, almost every student knew someone who had been impacted by the disease. "We were talking about people we knew," said Kuris, "and this made the discussions very personal." Over the years, the class began to be less of a discussion and more of an academic subject, as students did not personally have friends and family with the disease. Kuris said he stopped teaching the course because "it became less of a conversation and I would have to lecture" on the subject.
Even though he has been part of the CCS faculty for almost 30 years, Kuris is still very involved in the CCS Biology major. He plays a vital role in the admittance and advising of CCS Biology students. When asked about what keeps him so engaged after all these years, Kuris joked, "My wife asked me the same question, but I suspect for a different reason." He went on to explain that he gets immense joy out being part of the spectacular student experience that is CCS. The professor summed up his thoughts: "In my personal view, it's an honor to meet them and exert some influence on their lives and careers."