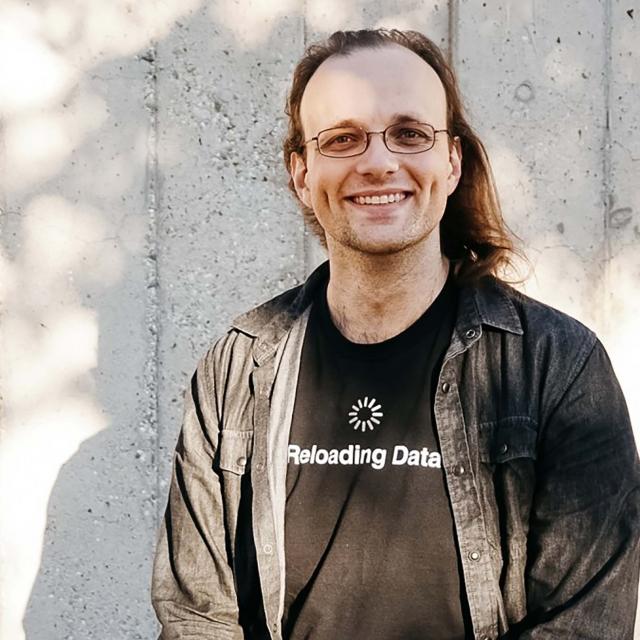 Jay Freeman (42/50)
CCS was honored to showcase 50 individuals and activities during our 50th Anniversary in 2017-2018 to share our rich history. Take a look at the amazing people responsible for making our unconventional College possible! 
In this CCS 50 for 50 video, Jay Freeman (Computer Science '03) talks about his approach to teaching, why he is still so engaged with CCS, and much more!
Freeman came upon the College of Creative Studies by chance. There was no doubt Freeman was smart; he had a perfect score on the Math SAT, but this was not reflected in his high school grades. He applied to UCSB, and his application stood out to a CCS faculty member who was combing through looking for applicants who might not have the best grades, but who would be a good fit at CCS. Once he arrived at the College, Freeman thrived in the environment of accelerated learning. His favorite part of the College was that CCS students were able to propose and teach classes under the guidance of a faculty member, a type of learning undergraduate students typically do not experience elsewhere.  
Freeman is one of the core members of the jailbreaking community. While a graduate student at UCSB, he built Cydia Substrate, the framework used by practically all jailbroken iPhones. He began to spend much of his time contributing to the jailbreaking community and eventually left the Ph.D. program to focus on this full-time, subsequently becoming a successful and dedicated entrepreneur.
While at UCSB, Freeman fell in love with Isla Vista. He still lives in the seaside community and has become involved with the Isla Vista governing body. He currently is an elected director on the Isla Vista Community Services District.
Over the years, Freeman has remained close to the College. He regularly mentors CCS Computing students, and is a passionate supporter of CCS and undergraduate research.