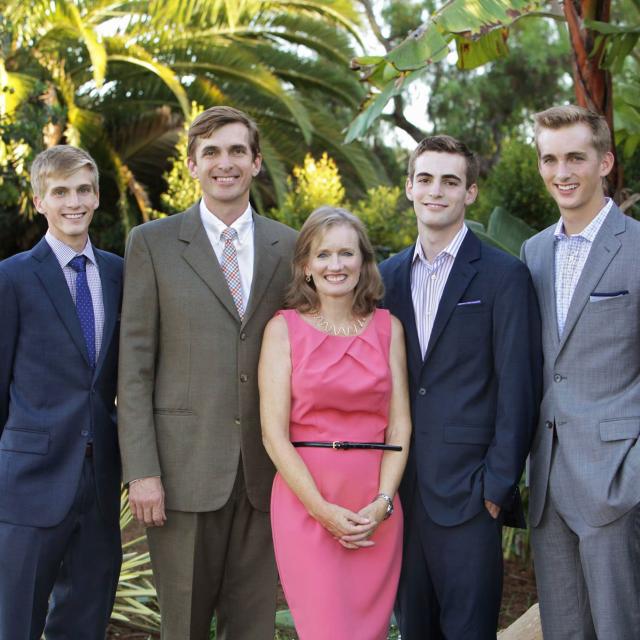 The Proctor Family (25/50)
CCS was honored to showcase 50 individuals and activities during our 50th Anniversary in 2017-2018 to share our rich history. Take a look at the amazing people responsible for making our unconventional College possible!   
The Proctors: An Engaged + Passionate University of California Family
The Proctors—Pete, Julie, Chris, Duncan, Will, and Connor—are an engaged and passionate three-generation University of California family. Julie and Chris met at UCLA where they both were studying Neurobiology. Julie—originally from Orange County, CA—fondly remembers her days at UCLA as a time of forging lifelong friendships over study groups, sorority activities, and sports.  She participated in an immersion program that focused on developmental disabilities and continued by conducting research in the field. This led her to graduate studies at UC Davis, followed by 10 years of working and doing research in the field.
Chris grew up in various cities in Southern California—including Isla Vista during the early-60s while his father Pete earned a Master's in Pshycology at UCSB (more on Pete later)—and was attracted to UCLA by the high-quality sports and athletics programs. "He immersed himself in his studies and research on brain function while maintaining an active social life.  It wasn't until Chris was introduced to orthopedics while in medical school at Columbia University that he found his real passion. His interest in athletics led him to become an orthopedic surgeon specializing in sports medicine.  For over 20 years, Julie and Chris have made their home in Santa Barbara where Chris practices orthopedic sports medicine specializing in shoulder and knee arthroscopy at Alta Orthopaedics.
Chris is the Managing Partner at Alta Orthopaedics, a staff physician for UCSB, a US Ski Team physician, the team physician for Santa Ynez High School, and provides Sports Medicine care for numerous high school, collegiate, and professional athletes. He has served also as the New York Yankees Stadium Physician and the Madison Square Garden Physician. Over his career, Chris has developed and patented devices to prevent and rehabilitate sports injuries; served as an editorial reviewer for leading orthopedic journals; and is currently investigating novel techniques for repairing shoulders and knees.
Asked about their greatest satisfaction in life, Julie and Chris radiated: "being parents."  They have three sons—Duncan and twin sons Will and Connor—who followed their parents' footprints by studying at the University of California. Asked why the UC has been the family's educational choice, Julie smiled as she replied as if it was an obvious answer: "Great value for a great price!"
Duncan came to UCSB College of Letters and Science in 2013, and was first exposed to CCS on Parents Weekend when he and his parents attended an event at the CCS Old Little Theater. Duncan saw CCS as the right place for him as it "encourages kids to perform at a high level in a very supportive and intimate way." "It was cool," said Julie, reflecting on the numerous opportunities students have to take undergraduate and graduate courses, be mentored by dedicated faculty, and conduct serious research and lab work.
Duncan soon applied to and was accepted into the CCS Biology major.  He became interested in Neurodegenerative diseases and Stem Cell Biology, and graduated in 2017 with a CCS Biology degree. But, that wasn't the end of UCSB for Duncan! He is currently pursuing a doctorate in MCD Biology. "Professor Stu Feinstein was my research advisor," commented Duncan, "…and I worked with him for 2.5 years in the lab focused on chemotherapy-induced neuropathy." Duncan continued, "Research was a big deal for me and led to my decision to pursue a doctorate at UCSB." He credits professors Stu Feinstein and Kathy Foltz (now CCS Interim Dean) "for their over-the-top mentoring, guiding me with lab work, and directing my decision toward graduate work." While at CCS, Duncan took a CCS art class with Dan Connally and wishes that he "took more non-major classes to maximize what CCS offers."
Then there's Will who graduated from UC Irvine (Business Economics and History '15). At Irvine, Will became interested in Communications and interned for the UC Irvine Baseball team and the LA KISS Arena Football team (yes, the Rock N' Roller Gene Simmons owned the team). While Will had heard about CCS from his brother Duncan, you may wonder how he ended up at CCS in late 2016 as its Communications and Development Associate. Well, he has his mom to thank!  Will was missing being around a campus environment and Julie noticed an ad for the position. Will decided to apply and the rest is history.  During his first 16 months at CCS, he enthusiastically put on his creative cap and redesigned the College's newsletter—both the design and content—and revamped the College's website. He designs publicity materials for events he also coordinates, researchers to facilitate the College's fundraising priorities and engagement opportunities, and organizes the College's participation in UCSB's Give Day. Will feels very fortunate to part of the CCS team. "I am so lucky to work in this collaborative environment that enables me to create high-quality content." Duncan noted that his brother Will "really got CCS on the map regarding social media and made engagement with the CCS community so much better."
I am so lucky to work in this collaborative environment that enables me to create high-quality content.
Connor, Will's twin, studied engineering at UCLA ('16) and is currently an engineer for Appfolio, a real estate software company headquartered in Santa Barbara. Recently, he started working on Appfolio's artificial intelligence team. Connor resides in San Diego, CA.
Chris' father Pete was the first Proctor to attend the University of California. He received his Master's degree in Psychology from UCSB in 1962 after receiving a Bachelor's of Science in Psychology from the University of Washington in 1957. While at UCSB he was a Teacher's Assistant and Research Associate and remembers having an office in an old military barracks, which was similar to the CCS building. Following UCSB, he went on to USC where he received a Ph.D. in Psychology. Pete was a Staff Psychologist and Director of the Psychology Internship Training Program at the Brentwood Veterans Administration Hospital for 16 years. He has been in Private Practice ever since and currently resides in Port Hueneme, CA.
The Proctors are sports enthusiasts—skiing, hiking, biking, and standup paddle boarding—and enjoy watching sports of all sorts. Together, they enjoy talking across the table and traveling. Participating in the local community is part of the Proctor family ethos. Julie has been involved with the Royal Pride Foundation at San Marcos High School and on the board of Anacapa School. At UCSB, Julie and Chris attend numerous sports events, and Chris lends his expertise to UCSB Athletics. "Chris and Julie have been long-time supporters of UCSB Baseball," remarks UCSB Baseball Head Coach Andrew Checketts. "They were on the ground floor when our coaching staff arrived at UCSB and have invested in our student-athletes over the past 6+ years.  Dr. Proctor and his support staff [at Alta Orthopaedics] have been our most trusted orthopedic group.  Chris has been instrumental in advising and rehabilitating our athletes. He is a trusted part of our team, and our relationship with him and his staff has greatly enhanced the level of treatment for our student-athletes."
Impressed by the quality of research and how in-depth students can get in the lab so early on, Julie and Chris established the Proctor Summer Undergraduate Research Fellowship Endowed Fund at CCS. Kathy Foltz, CCS Interim Dean, is grateful to the Proctors for their support. "Alumni indicate that an immersive summer research experience is transformative—it helps them decide on a career path and gives them insight into their discipline that cannot be gained in any other way. Knowing that funds will be available to support student summer fellowships in perpetuity is such an incredible gift."
A truly remarkable University of California family.
Chris will be presenting a talk on his research at UCSB and sponsored by the CCS on March 12.