Jasen Liu, Third-year CCS Biologist, Named Goldwater Scholar
April 16, 2018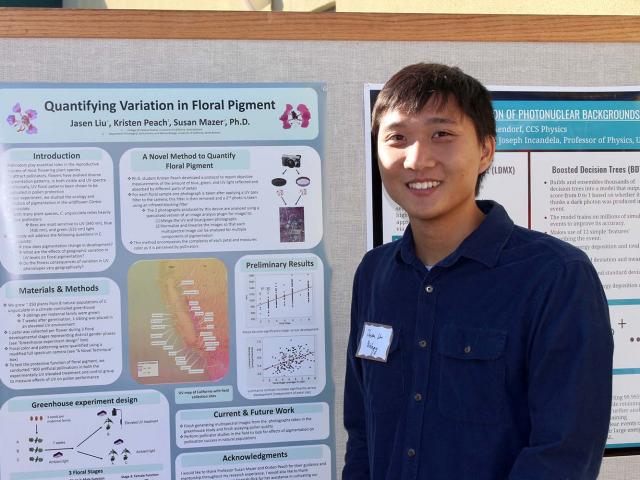 By Emma Shapiro 
Jasen Liu, a third-year Biologist in the College of Creative Studies (CCS), has been selected as a 2018 Goldwater Scholar. The Goldwater Scholarship Program, one of the oldest and most prominent national scholarships in the natural sciences, engineering, and mathematics, recognizes students in their second or third year who have the potential to become leaders in research within their field. Michael Aling, a third-year Mechanical Engineering student in UC Santa Barbara's College of Engineering, is also a 2018 Goldwater Scholar. 
Liu is one of 211 Goldwater scholars who were selected based on academic merit from a field of 1,280 students nominated by campus representatives from over 2,000 colleges and universities nationwide. Each awardee receives funds to cover the cost of tuition, fees, books, and room and board. Over the past 29 years, the Barry Goldwater Scholarship and Excellence in Education Foundation has bestowed 8,132 scholarships worth approximately 65 million dollars. 
This is the fourth straight year CCS students have earned this scholarship. Past recipients include five CCS Physicists (Ilan Rosen, Mark Rychnovsky, Qicheng Zhang, Christina Garcia, Dolev Bluvstein), a CCS Biologist (Kevin Dervishi), and a CCS Chemist (Shelby Shankel). 
CCS Interim Dean Kathy Foltz noted that UC Santa Barbara, in general, is very successful in garnering Goldwater Scholar awards and that the campus typically has multiple scholars. "I feel that UCSB students have a special spark when it comes to combining their academics with their accomplishments outside the classroom, including pursuing research opportunities, and the selection committees recognize this."  
Liu's passion for the natural sciences started in high school with birding. Through birding, Liu, who had been watching nature documentaries and reading about nature for years, fostered many skills he uses today. "Seeing everything happening in nature helped me develop critical thinking for science," said the Biologist. "Being a birder gave me scientific skills that I use in the lab. When you see the bird, it's exhilarating. Seeing that is just like finding out a result in the lab." This love for nature is precisely what he pursues now in Professor Susan Mazer's lab, where Liu has been working on research in plant evolution and ecology since his freshman year. 
"Jason is an extraordinary student and young scientist," said Claudia Tyler, CCS Biology faculty and Liu's CCS faculty advisor. "While it is not unusual for motivated biology students to either go 'broad' or to go 'deep' into one area of concentration, Jason is successfully doing both. He is not only very bright, he is curious and always eager to learn more - a mark of a good scientist!  And on top of all his academic accomplishments, he is an outstanding field naturalist and a super nice person."
In addition to the research experience in Mazer's lab, Liu feels CCS has made an impact on his time as an undergraduate: "CCS has been a great experience so far, just having this small college experience and talking to other people who are really interested in what they're studying." Quickly building relationships with other students who are immersed in their disciplines helped him find his passion, as did having a faculty advisor who encouraged him to join a research laboratory during his first year. "Having an advisor who I get to talk to regularly and getting involved in research from an early stage really helped me," expressed Liu. "Now that I'm in my third year I've been working in this lab for a while and have become more independent. I greatly improved my writing skills and critical thinking skills." 
Those writing and critical thinking skill have undoubtedly helped in his research and came in handy during the application process for the Goldwater Scholarship. In addition to providing financial aid, Liu believes the Goldwater Scholarship will help him with his plans to pursue a Ph.D. "I'm very honored to receive this scholarship," he said. "I think this is a big step in my young research career and I hope that it will help me in the future going to grad school." 
CCS would like to congratulate Jasen Liu and Michael Aling for earning this prestigious scholarship!