New Book Published about CCS Art Faculty Hank Pitcher (Art '71)
July 9, 2020
Comprehensive monograph chronicles life and work of Pitcher, one of the original 69 CCS students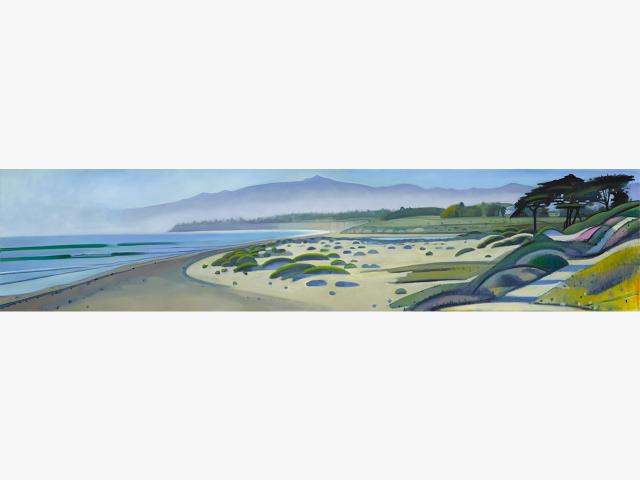 As one of the original students at the College of Creative Studies (CCS), Hank Pitcher (Art '71) was influenced immediately by seminars with visionary scientist Buchminister Fuller and the beginning of a long association with literary critic Marvin Mudrick, the first CCS Provost. Working with distinguished faculty and visitors at CCS is the foundation upon which he has built his own work and on which he credits his success.
Hank Pitcher features 211 illustrations with essays and remarks by art and other luminaries. Known for his iconic paintings of contemporary California culture and the coastal landscape, Pitcher has taught at CCS and influenced several generations of artists as well as community and corporate leaders. His courses range widely from Life Painting and I Love Isla Vista to a multidisciplinary course on Art and Botany and Landscaping Painting he co-developed with Professor Bruce H. Tiffney to help students see the natural world while better understanding the history and science of what they find. 
Pitcher continues to combine teaching with "painting what he knows," advice he received from Bay Area Figurative artist Paul Wonner, one of the first CCS Art Instructors. Wonner also gave him advice that he passes along to his students, "A painting has to be good to look at before it is good to look into." Jeremy Tessmer, Gallery Director at Sullivan Goss Gallery, said: "Combining Hank's deep love and knowledge of the area he paints with the formal sophistication he's attained over decades of practice, Hank has developed a national audience for his paintings of the Central Coast of California. Filling students and local residents with pride, these images have also helped recruit people to help preserve the landscape and habitats that Hank has patiently observed and rendered through the decades." 
For CCS Dean Gerardo Aldana, "From shadows cast by surfboard fins to flowering agave plants on coastal bluffs, I have been consistently struck by Hank's ability to capture in his paintings a deep representation of place. This book is a tribute to his professional career. It also points to the multidisciplinary pedagogy he co-taught with Bruce Tiffney, Art and Botany and Landscape Painting, which represents a core spirit of the College. Hank was here at the College's inception, and his impact at the College will take us far into the future." Hank's 50 for 50 story was the first of 50 stories that chronicled individuals and activities to tell the rich history of CCS in celebration of its 50th Anniversary in 2017-2018. 
Learn more about Hank Pitcher and his newest book. 
Join CCS in congratulating Hank!