Thanks to Donor Generosity, CCS Exceeds Its 2023 UCSB Give Day Challenge!
April 14, 2023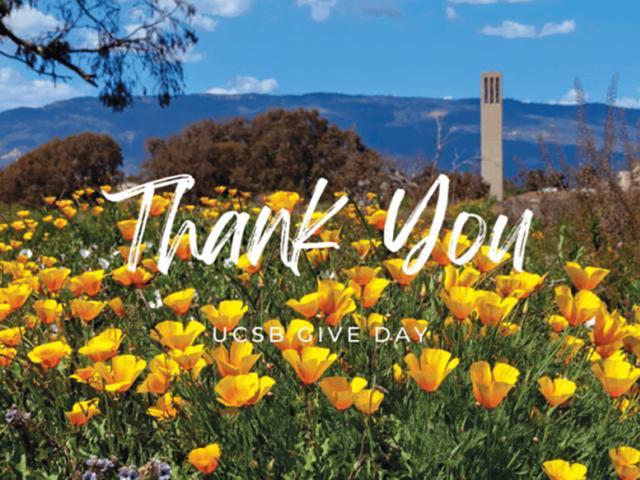 The College of Creative Studies (CCS) raised $39,365 from 53 donor gifts! 
With gratitude to our community—alumni, parents, faculty, staff, students, and friends—who helped CCS exceed its goal on UCSB Give Day (April 13, 2023). The CCS Give Day goal was 50 gifts, and to help CCS meet its goal there were three awesome gift challenges!  The first challenge was met when 15 gifts were made that triggered a $5,000 gift challenge from John '86 and Mary Kelly for their steadfast commitment to summer undergraduate research at CCS. The second was met when an additional 15 gifts were made that unlocked a $4,000 gift challenge from Lee-Yin Chen '03 and Ilan Ben-Yaacov '99 '04 to support summer undergraduate research for CCS Physics students, followed by the third challenge when 50 gifts were made and triggered an anonymous $10,000 gift to the Kathy Foltz Summer Undergraduate Research Fund. 
The College's Give Day focus was to support CCS students to connect with one another and rediscover the meaning of community through unique opportunities and activities. CCS donor generosity helps cultivate the College's unique environment that inspires its students to become passionate individuals who are invested in their community at CCS and beyond.
The UCSB Give Day total of $6,158,930 with 2,328 donor gifts. 
Wherever we are, we share a common experience as CCS alumni, friends, family, staff, faculty, and scholars.
With gratitude to all!!!