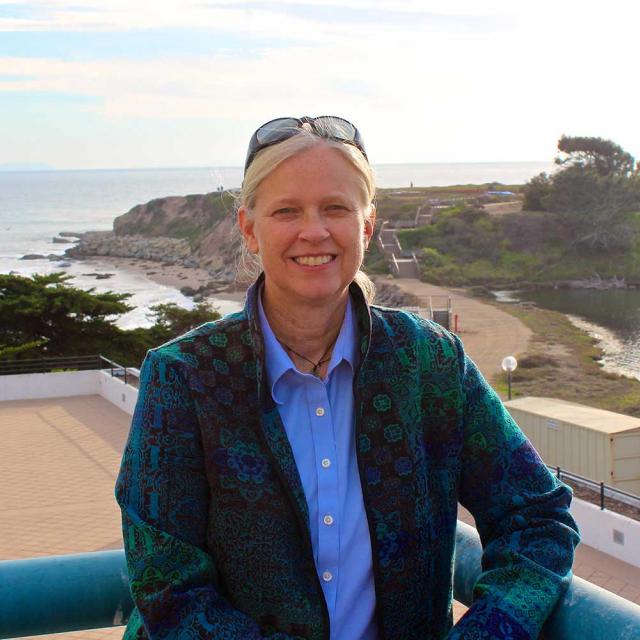 Kathy Foltz (50/50)
CCS was honored to showcase 50 individuals and activities during our 50th Anniversary in 2017-2018 to share our rich history. Take a look at the amazing people responsible for making our unconventional College possible! ​This 50 for 50 of Professor Kathy Foltz represents our 50th story. We are grateful for her dedication to students, teaching, and research at UCSB and CCS. 
Kathy Foltz—CCS Interim Dean (2016-2018) and UCSB Professor of Molecular, Developmental, and Cellular Biology (1993-Current)—fell in love with science during her time as an undergraduate at Bowling Green State University. Foltz, a first-generation college graduate, credits her mentors with encouraging her to pursue a career in science. At UC Santa Barbara, she is dedicated to providing similar guidance to undergraduate and graduate students.
During her 25 years on campus, Foltz has been committed to working with undergraduate and graduate students in and out of the classroom. She has been recognized with the UCSB Academic Senate Distinguished Teaching Award in 1995 (after being on campus for only two years) and the UCSB Chancellor's Award for Contributions to Undergraduate Research, in 1999. In May 2018, Foltz received the Margaret T. Getman Service to Students Award, nominated by CCS students, faculty, and staff for her commitment to the College's students as the Interim Dean.
In this CCS 50 for 50, Foltz takes us through her experience growing up in rural Ohio and describes what it took to make it to UCSB. She also touches on how and why she got involved with CCS.
[Kathy's] commitment to furthering the creativity of all of her students is unlike anything I have seen in any faculty at UCSB.

- Anoop Praturu, CCS Physicist '19
Anyone who has met Kathy knows how inspirational and dedicated to students she truly is. [...] I don't think I would still be an aspiring researcher without her.

- Kathryn Feerst, CCS Biologist '19
Kathy's personable and generous nature extends to all students, even those outside of CCS. She is willing to give undivided attention to anyone in need. [...] Kathy demonstrates that positive guidance can come from any department and she has taken the time to familiarize herself with all students in all majors.

- Bailey Clark, CCS Artist, '19
CCS: Can you share a little bit about your background?
Kathy Foltz: I'll start with how I came to UCSB, and then I'll go back in time. One of the main reasons I came to UCSB was to launch my research career. I thought this would be a perfect place and it has been. It has been a great place to be a scientist, but also a place I can work with students due to my personal journey having involved a lot of mentors who gave me a shot. I took that to heart. As soon as I arrived on campus, I opened up my lab to undergraduates to come work with me. During my very first quarter on campus, I was teaching upper division courses and I started meeting a lot of students who began to ask really interesting in-depth questions. I would meet with them after class, and we would talk intensely about science.
I started to notice that these students were frequently associated with the College of Creative Studies, and I thought that it was an art school at the time! So, I looked into this. Professor Armand Kuris helped me figure out that Creative Studies meant "creative" in the way you approach your learning and your studies, but also that creativity —in the art studio, music studio, or writing—is not all that different than creativity in the research lab. You're asking questions, you're trying to figure out something, you're trying to create something. I was attracted to that philosophy.
I got involved with CCS little bit by little bit. Professor Bill Ashby was the College's Provost at that time, and Armand had talked about getting Professor Bruce Tiffney involved at CCS as well. So, Armand and Bruce were the two biologists who convinced me it would be worth investing some time in CCS, and I've never regretted it. It's a place where students really are junior colleagues. There's a lot of ownership; students drive their own education and I think it's terrific that UCSB can offer this option for students who are ready to do it. For me, it's been a way to give back. I mentioned earlier that I was interested in giving back as a very conscious decision in my career choice, and that was due to mentors.  A high school teacher suggested to me that I could go to college. I had no idea how to do it, but that person said, "You should go." My parents were also very encouraging, but I'm not sure that I would have gone on to college if this high school teacher hadn't taken a few minutes out of the day to encourage me.
When I got to college I started out as an English major because I liked to read and write. I found science by accident, and again it was another professor who said, 'You seem to like this. Have you thought about doing some research?' Again, going outside my comfort zone and being willing to take advice from a mentor made a big difference. I've never forgotten that.
CCS: When you say one of the reasons you came to UCSB was because of your interest in mentoring undergrads, was there a difference between UCSB and other universities you were considering?
KF: That's a good question. A lot of tier one research universities are so focused on the research enterprise. Which, by definition, is what they do. I was interested in tier one research that didn't exclude the undergraduate education mission. UCSB has done that. It's a fascinating place; it's a big UC with high rankings in research but a solid undergrad component. A lot of undergraduates get involved in research. There's a culture of undergraduate research here, not just in CCS but across the campus. CCS is designed to help students maximize learning by doing, but research is not unique to CCS. A commitment to undergraduate education and research was one of the factors that played into my decision to come to UCSB.
CCS: I've been told to ask you about the cow story.
KF: Well, I'll give you the short version of the cow story. I grew up on a small family dairy farm in rural Ohio. When I was in the third grade, my father, who not only farmed but worked in a steel mill, gave me a calf. Her name was Jingle, and she was the first of what ultimately turned into a herd of 18 cattle over the next 10 years. Dad said, 'I'm going to give you this calf, and you can do with her whatever you want. You can sell her at the end of the year. You can raise her. She can have calves. Whatever you want to do. But this is what I'm giving you now, and you can turn it into something in the future.'
My parents and grandparents were very supportive. They helped me to understand how to raise cattle and by the time I graduated from high school I had my own cows that I sadly had to start selling to pay for college.
I applied to the cheapest state schools in Ohio. I got into a couple, and I picked the cheapest one—Bowling Green State University—which is near Toledo. It seemed very far away; it was a 3.5 hour drive away from home, and I had a hard time adjusting. I didn't feel like I belonged there. I felt like everybody else knew what they were doing and I had no clue what I was doing. I had to work to make money to pay for my expenses (the cows weren't enough!). I really wanted to quit and go home, but my parents wouldn't let me do it, and my grandma told me to 'suck it up.' Not in those words, exactly, but I got the message.
I stayed and it worked out well, mainly because I found science by accident. I started out in English which I loved and I kept doing, but then I took a biology class. I needed a science general education class, and I signed up for the biology class for biology students, not the biology for non-majors. I will never forget that first day in lecture; I was in the lecture hall at the back as I was pretty shy and never wanted to be towards the front. Two minutes into the lecture, I knew I was in the wrong class, and I stood up to leave because I thought...oh...I made a huge mistake and I'm never going to be able to master this material. And then something about it was interesting to me, and I sat back down. It was the first-time science had been presented to me as a process, as a way of trying to understand the world. Prior to that, it had been presented to me as a list of facts that I had to memorize, and I didn't like that at all. The professor was totally into his subject; you could tell he loved it. He taught it more as what we didn't know opposed to what we thought we knew. I was intrigued by that so I thought I would try it and stick it out. In those days when you took a science class, there was a mandatory lab component that didn't have the lecture separated from the lab.
[As an undergraduate at Bowling Green State University] in my first biology lab class, I fell in love with the microscope, and I fell in love with cells.
That professor noticed that he had an English major in his biology class, and wondered what was I doing there. I explained the situation, and he encouraged me to take more science. He offered me a work-study position in his lab, which was a game changer as I now could begin to pay my bills doing something I loved. Before that, I had been working as a custodian for banks and at a car dealership at night. Now I could work in the lab around my class schedule and hang out in the lab.
There's a lot of cow things in between there, but I'll spare you the details.
CCS: What an inspiring story! From Bowling Green State you went on to graduate school at Purdue University. What was that experience like?
KF: I never intended to go to graduate school. Students always impress me today because they're so sophisticated in terms of how they choose their path. I had no clue. I didn't go to college to get a particular kind of job; I went to college to see what life was about. I thought, 'Oh ...I'll just end up going back to the farm.' I hadn't even thought about what I would do with a college degree; it was just a chance to learn. At Bowling Green, I was working in the lab, and I was a pretty good student (because I was so thirsty for knowledge), and I was often hanging out in the lab doing experiments. Faculty members and graduate students noticed that I was there a lot and they started to ask me, 'Hey do you have a little time to help me out on this project or a little time to help me out on that project.' As a result, I started to do a lot of different things and build up my experience.
I really liked the culture of the lab, and I quickly mastered how to set up my own equipment and experiments. But I still didn't intend to go to grad school. That original biology faculty member, Professor Baxter, sat me down and said 'Are you going to go to grad school,' and I said 'No, I don't have the money to do that.' He said, 'You don't understand, if you go to graduate school in biology you can be a research assistant or a teaching assistant, and that will pay for it.' I was so excited about the idea of working in the lab for a few more years without having to pay for it that I quickly said, 'I'm there.' Again, with no intended plan; it was a choice I hadn't even thought about. Professor Baxter and a few others, notably a graduate student, Donna Holmes, helped me figure out what programs to apply to and what was involved in graduate school. I ended up going to Purdue University—all the way from Ohio to Indiana—a big step west.
Purdue was a great place to be a graduate student, even though once again I was outside of my comfort zone. I lucked out, again, and I had a great Ph.D. mentor, Professor David Asai. He helped me understand what it was going to take for a career in research if that's what I wanted to do. He was very respectful of my background. I never really felt quite like I belonged, as so many people came from such a different experience, and I kept thinking, 'I'm here, but do they know where I'm from.' I never really felt academically safe, I guess that is the best way to say it. David was very encouraging and very big on professional development and got me to conferences right away—another game changer for me.
Two years into grad school, I came to realize that I could have a career doing research. I was entirely in love with research, and then I started to formulate a more directed plan. I ended up doing a Postdoc in a very different environment at SUNY Stony Brook. That was a significant change for me, culturally as well as socially, but scientifically it was terrific to be in an intense, very fast-paced, medical research environment. It helped me to think about next steps in my career. I knew I wanted to stay in academia; I had ruled out biotech fairly early because I liked the education component and self-directed research. I wanted to be at a tier one because I loved the research and I wanted that infrastructure, but I also wanted the education component. For me, doing a good job teaching enhances my research and vice versa. It goes hand in hand, so CCS was a natural fit coming out of that. The idea that you could teach someone by having them participate in the discipline was very attractive to me.
CCS: Let's talk about CCS. Before you were Interim Dean, way back two years ago in 2016, what did you enjoy most about being part of the college?
I got involved with the College gradually. Initially, it was more about advising a few students. As the College, in general, got a little bit more...I don't want to say structured...but started to think a little bit more about how to engage faculty and have consistency through each of the majors from year to year, I began to do a little bit more. One of the first things that I remember doing for the CCS besides advising or teaching an occasional special topics course was trying to develop the mid-residency review process in Biology, at the request of Bruce Tiffney. Most majors at CCS have some version of this. Second-year students have a chance to meet with faculty and talk about what's working well and what areas they need to work on a bit more. That idea was pretty new in biology, so I enjoyed the opportunity to think about a mid-residency review process and the value to the students.
That was the first time I started to think about CCS as a college opposed to here's a chance to meet some really cool students. It was kind of selfish at first as I just wanted to be surrounded by students who wanted to learn. That was a defining characteristic for me. The students were fearless; they weren't afraid to ask questions, and that was very exciting. I also liked meeting the faculty across all the other majors because they were self-selected; no one made us be part of CCS. I was still doing everything in my home department as usual, but I thought this was an excellent way to engage with students.
I just wanted to be surrounded by students who wanted to learn.
Over the years, I started doing a few more things. Bruce Tiffney asked me to serve on the Summer Undergraduate Research Fellowships committee and I started looking at the student applications. As I had so many students working in my lab from across campus, not just from CCS, I was also involved in the L&S Honors Program and I had a pretty good idea on how the selection worked. Occasionally, I would be a member of the CCS Faculty Executive Committee, but I never imagined being an Interim Dean...ever...that was just not on my radar.  When it was proposed to me, I considered being Interim Dean as a service to the College and the campus. I viewed it as a way for a faculty member to give back to CCS. The role has given me the opportunity to deepen my engagement with the students, and I've also enjoyed interacting with the alumni and the donors. After two years, I definitely have a better idea of how the College works (though I wouldn't necessarily say I have figured it out!). When you're looking at the College from top-down, you can see some things that can never be seen from the bottom-up. I have a much better sense of CCS and I'm pretty excited about its future direction. I plan to stay engaged and I'm also excited about having a new CCS Dean as it's a really good time in the history of the College and how CCS works with the rest of the campus. So much has changed in 50 years! A lot of great things can happen, especially in the area of true interdisciplinary education.
CCS: Is there a moment that exemplifies your time at CCS? Both as the iDean and as a Faculty member?
KF: There's one moment when I knew I wanted to find out more about CCS. I met a student who was incredibly passionate about invertebrate zoology. I mean, I had never met a student who knew so much at such an early stage in her career and who just loved it. She was constantly talking about all the cool things she loved about biology, particularly marine invertebrates. That was right up my alley because I like marine invertebrates, too. I'll never forget what she said. During a field trip, she conveyed that she knew she was going to become a professor of invertebrate zoology. She was a second-year student. "Holy cow, how could this 19-20-year-old be so incredibly passionate about something and know exactly what she wants to do?" That's pretty rare; but, I now realize that there is a small percentage of people at that age who do know what they want to do. Her statement allowed me to see that CCS is a home for this kind of person. They can do college in a slightly different way because they are already at that point in their life. They may indeed change their paths, of course, but they are already committed to going deep into an area and have real agency. I'll never forget that moment as it defined for me at least part of what it meant to be in CCS.
As a dean what I've enjoyed the most is getting to know students outside of Biology. Of course, I still have Biology advisees, and I understand that major the best because I've been involved in it for so many years. I've really enjoyed experiencing first hand the diversity of the 8 CCS majors, and yet they still have that core CCS philosophy that connects them all. In a way, CCS is like a microcosm of the university itself. You've got these 8 majors that are very different, and the dean needs to be able to look at them collectively, making sure that each one is thriving, despite (and maybe also because) of their differences. You definitely can't take a cookie-cutter approach in CCS!
CCS: Thank you, Kathy!
KF: Thank YOU, CCS (and UCSB)! It's been a true privilege serving as the iDean.