Interim Dean Kathy Foltz Receives Getman Service to Student Award
June 7, 2018
Recognized for dedication to CCS and UCSB students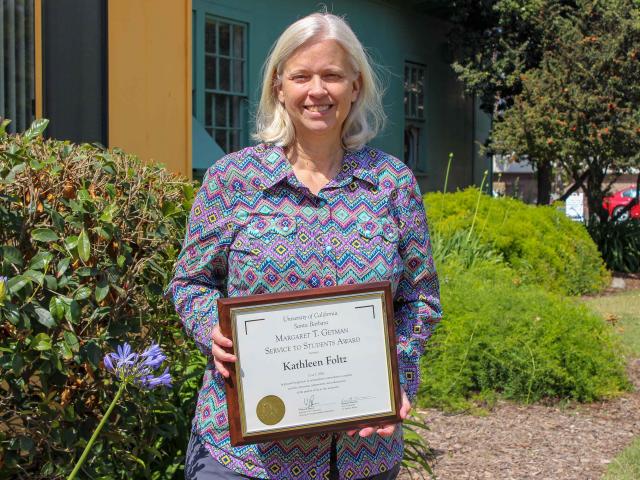 The College of Creative Studies (CCS) is honored to share that Interim Dean Kathy Foltz is one of a handful of recipients of the 2018 Margaret T. Getman Service to Students Award. In honor of the former UCSB Dean of Student Residents, Margaret T. Getman, this annual award recognizes university staff and faculty that have demonstrated an extraordinary commitment to the general growth and development of students and the quality of student life. Interim Dean Foltz was nominated and supported by students, faculty, and staff from CCS and the Center for Science and Engineering Partnerships (CSEP).
Foltz's CCS nomination centered around a letter of student support from Anoop Praturu (CCS Physicist '19) that depicted how Foltz has served and supported students in her two years as CCS Interim Dean. "No student in CCS sees her with the usual authoritarian stiffness associated with the word 'dean,'" wrote Praturu. "Instead, her warm smile is an invitation to students from every discipline and walk of life to join her in carefree conversation, deep thought, or uncontrollable laughter." He continued: "Kathy inspires so many of us in every aspect of our lives, but the most meaningful to me is her push to rethink how we view our students." Praturu's letter included contributions from students in the broader CCS community, including Sharon Tamir (CCS Biologist '20), Maya Zohbi (CCS Artist '19), Kathryn Feerst (CCS Biologist '20), Demetrious Lloyd (CCS Chemist '18), Bailey Clark (CCS Artist '19), Veronica Torres (CCS Biologist '20), among others. The insights, stories, and words of praise from the students illustrate Foltz's passion and dedication to students in all eight CCS majors, as well as students in the College of Letters and Science and College of Engineering.
The student letter was accompanied by one from the CCS staff and faculty. The College's contribution focused on Foltz's breadth of involvement and depth of commitment to mentoring students over her career. For over 20 years, Foltz has been a tireless advocate for UCSB students at all stages of their academic careers, from undergraduates to doctoral students. "It would be hard to find a faculty member more deeply committed, and on so many levels, to fostering undergraduate growth in the sciences, and beyond, as Kathy Foltz," the letter notes. "Further, not only has she devoted her time and effort directly to students, but she also has worked tirelessly and with forethought to create a permanent infrastructure to support undergraduate—and particularly first-generation college students and underrepresented minority—participation in research."
A total of six individuals were awarded the 2018 Getman Award. The other recipients include Glenn Beltz (College of Engineering), Meridith Merchant (Counseling and Psychological Services), Javier Read de Alaniz (Chemistry Department), Simran Singh (Office of International Students & Scholars), and Alan Vu (History Department, given posthumously). Additionally, the Counseling and Psychological Services (CAPS) was awarded the William J. Villa Service to Students Award. The nominees and recipients of both awards were honored at the Margaret T. Getman and William J. Villa Service to Students Awards Ceremony on Thursday, June 7 at the Student Affairs Divisional Meeting in Corwin Pavilion.
CCS congratulates Foltz on this tremendous honor for her steadfast dedication to the College and University for over two decades, particularly for the last two years as our "iDean."