Art
The CCS Art Major is for self-motivated students who are committed to careers in the visual arts.  The portfolio-based application selects for students who are prepared for a curriculum that is focused on the practice of studio art and explores historical and contemporary concepts, methods, and movements in art. Students take courses in CCS and across campus, including the Department of Art, the Department of the History of Art and Architecture, and the graduate program in Media Arts and Technology.
Each student works with a faculty advisor who oversees an individual course of study to support the creation of original work. The students develop a mature body of work during residency with several exhibition opportunities, culminating in a solo show in her senior year.
Some students receive funding from CCS to support their research or creative activities through the Traveling Undergraduate Research Fund.
Emphases 
Painting
The Painting emphasis is for highly motivated students who can work independently and who want to understand the past and create the future of drawing and painting.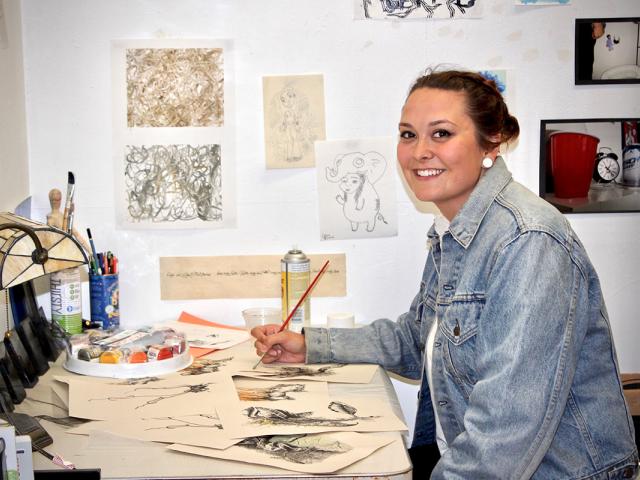 Sculpture / Spatial Art
The Spatial Arts emphasis guides focused students in the creation of art that relates to our spatial awareness within the material world. The expanded field of art in this emphasis includes sculpture, drawing, installation and site-specific works, performance, media projection and sound, and public art in the form of individual or collaborative projects. Students learn to derive content through the media they choose to work with and the associations emanating from each three-dimensional work.
Book Arts
The Book Arts emphasis offers an exploration of text based art where students learn how to sharpen their understanding of typography, books, and print technologies. Students learn how to create hand-bound artists' books in limited editions, devise ways to alter books into sculptural forms, or explore the various ways text is integrated into contemporary 2D and 3D art works. Students explore such strategies as narrative and sequence in art, the tradition of creating art forms in multiple editions, or develop conceptual ways to extend the book and text into space in installation works. Media and techniques may include, but are not limited to, relief printing, letterpress printing, book binding, papermaking, painting, drawing, photography, digital media, 3-D media.
Curriculum
Students are expected to work independently at a high level and are subject to a formal mid-career review as well as quarterly discussions to ensure that they remain on track.  
CCS Art Majors are expected to average 18 units of studio coursework per year. A studio course is one in which the student is making art.
CCS Art Majors are required to average 9 units of non-studio, art-related courses per year. This includes but is not limited to classes in Art History, Theory, and Criticism. A non-studio, art-related course is one in which you learn about art but respond with written assignments or results other than art work.
All CCS Art Majors must complete an internship. The goal is to give students experience in the professional art world or in research related to the student's interests. In the past, students have fulfilled this requirement by: working for an art institution, working for a designer, architect, photographer, or conducting research under the supervision of an instructor, graduate student, or a professional in the field.
For a full list of requirements, please download the major sheet on the right of the page.  
CCS Art Gallery
The College of Creative Studies Art Gallery regularly showcases the work of CCS Art students and the local Santa Barbara community. Please check back for an updated gallery schedule.  The Art Gallery is located within the College, in building 494 room 103. Ordinary gallery hours are 10 – 4, M-F, weekends by appointment. For directions and parking information, please consult the Visit CCS page.