3 Quarters, 1 Issue: The Making of Spectrum Literary Journal
December 13, 2018
An overview of how Spectrum is made
by Shaylie Foley for Spectrum Blog
Spectrum is an annual journal of art and literature published by CCS and is the longest-running literary journal in the UC system. The Spectrum Blog offers fascinating insights into how this entirely student-run journal is created.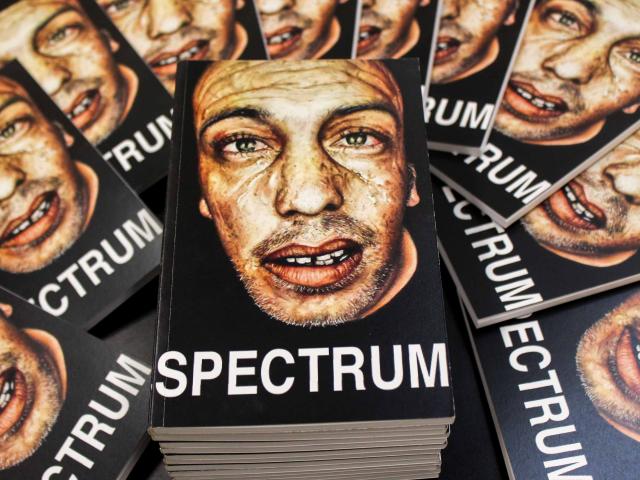 Undergraduate literary journals are a major part of the lit-mag community. These specialized magazines are run out of a specific university and are produced regularly--usually annually, but sometimes quarterly or semesterly--by undergraduate students at that university. Spectrum Literary Journal is an undergraduate literary magazine created primarily by UC Santa Barbara students, most--but not all-- of whom are members of the Writing and Literature major within the university's College of Creative Studies (CCS).
At most universities, students who work on the university's undergraduate journal fit the production of the magazine into their schedule like an extracurricular activity. All staff meetings for these magazines are usually coordinated in the evenings or on weekends, when students are not in class. The production process of Spectrum magazine is formulated a bit differently. Students who want to be a part of Spectrum staff are expected to enroll in W&L CS 170, a literary publishing course offered quarterly through CCS's Writing and Literature program. Every step of the magazine's annual production process--from reading submissions for the first time to putting the finishing touches on the journal's final layout--is facilitated through W&L CS 170.
W&L CS 170 becomes a part of each enrolled student's academic schedule just like any other class at the university. It meets at specific, consistent times each week and students' participation earns them units toward graduation on a sliding scale of one to six. The prospect of earning academic units encourages to apply as much effort to their responsibilities at Spectrum as they would to any other academic course and the sliding unit scale allows students to quantitatively declare how much of a role they plan to play in the production of the magazine.
W&L CS 170 is a three-part course series. W&L CS 170A is offered during fall quarter, 170B is offered in winter, and 170C--the last part in the sequential series--takes place during the spring quarter of each academic year. Each of the three courses serves an important purpose in ensuring that the W&L CS 170 series ends each year in the successful production and distribution of a well-organized, high-quality literary magazine.
The first course in the series--W&L CS 170A--focuses on the study of literary magazines as a genre. Throughout the ten weeks of fall quarter, students in 170A are exposed to a wide variety of diverse literary journals ranging from traditional, well-established journals such as The Virginia Quarterly Review to more contemporary, experimental journals like Nat. Brut. This course gives students a chance to better familiarize themselves with the lit-mag genre and are able to get a better idea of how successful, professional literary journals are produced. 170A also includes a study of Spectrum magazine, which helps students who have not previously read or worked on the journal to get a feel for its style and editorial mission.
W&L CS 170B is where editorial decisions are made. The bulk of the course focuses on reading submissions to Spectrum and determining which pieces will be accepted into the final table of contents for the magazine. Throughout this course, students are also expected to produce their own creative work and continue their study of several established literary magazines through assigned readings and class discussions.
The final course in the three-part W&L CS 170 series is 170C, in which students devote themselves to producing the final annual issue of Spectrum in its tangible form. Students' main responsibilities in 170C include line-editing written pieces to polish them before they are published and creating the visual layout and design of the final magazine. The ten-week course ends with the production of a polished issue of Spectrum magazine that is ready for distribution.
Students who enroll in W&L CS 170 are not required to commit to taking all three parts of the course series. Instead, they are given the choice to enroll in one, two, or three of the serialized courses each academic year. This freedom allows students to choose the level of commitment they want to apply to working on Spectrum throughout the year and gives them the chance to participate in only the parts of the production process that interests them.
As a series, W&L CS 170 affords students the opportunity to embark on a year-long journey that introduces them to different styles of literary journals, offers them guidance on improving their skills in editing and submitting to lit mags, and allows them to gain hands-on experience as an editor and writer through the final production of Spectrum journal's annual issue. The independent focus of each individual course in the three-part series allows students to apply their efforts where their interests lie, whether that be in objectively studying the literary journal genre, reading and critiquing massive amounts of raw creative work, intensive line-editing, layout design, or all of the above.
The organization of Spectrum magazine's production into a three-part course series helps ensure the commitment of all staff members at all times both by awarding students academic units for their participation and by giving students the chance to involve themselves in the production of a literary journal by contributing their unique skills and talents to the part of the process where they fit best. This customizable, personalized process allows students to increase their knowledge of the production of literary journals and the literary journal genre itself in ways that truly pique their interest, which in turn widens the contemporary lit-mag community and yields a quality magazine produced with passion every step of the way.