Advising that Defies Disciplines
December 3, 2018
Richert Wang, CCS Computing faculty, mentors third-year CCS Artists Jake Tran and Chelsea Chung in game development
by Kailyn Kausen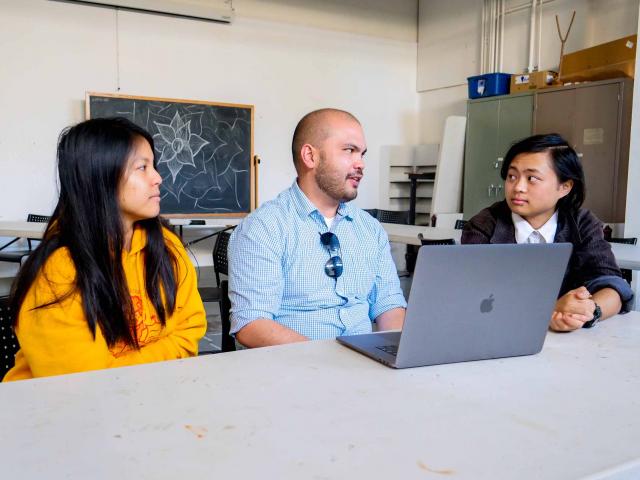 Almost everyone has played a video game at some point in their lives–from the single-player Gameboy Mario games of the past to today's open world games such as Red Dead Redemption 2. Lost on many gamers throughout time is the interdisciplinary team of artists, computer scientists, musicians and others behind the creation of these games. CCS Computing faculty member Richert Wang teamed up with third-year CCS Artists Chelsea Chung and Jake Tran to design a space that will be home to the emerging interdisciplinary community of game developers on the UC Santa Barbara campus: the UC Santa Barbara Game Development Club.
Having arrived in Fall 2017, Wang is relatively new to UCSB, but his interest in game development and student mentorship are long-standing. After receiving a Ph.D. in Information and Computer Science with a focus on distributed systems from UC Irvine, Wang spent time in industry working on Amazon's mobile appstore and the AWS Appstream service until the opportunity arose to join UCI's faculty. There, he focused on computer science education and course development including various game design topics, and sought a way to work with undergraduate students directly.
The CCS faculty-student advising model attracted Wang to UCSB. "I'd never really heard of this focus on undergraduate mentorship," said Wang. His approach to mentorship is to discover the interests of each student, which empowers him to guide them to the appropriate resources–such as scholarships, classes, research, and other opportunities–that effectively help them achieve their unique goals.
 
When Wang arrived on campus, he quickly recognized a void in game development opportunities at UCSB and set his sights on filling it. Jake Tran and Chelsea Chung, both CCS Art '20, were already making small steps in the right direction; they created a Facebook page dedicated to developing video games. "The idea of making games was present in many of my peers, but I could feel the frustration in how difficult it is to find other folks that want to work and learn about games," said Tran about the creation of the club. 
"When I was talking about my intention of starting a game development club, they reached out to me and told me what they were doing," said Wang. "Since then, we joined forces and started rolling with it." Tran noted, before Wang's involvement in the organization, he and Chung were able to maintain small and inconsistent club meetings. "Richert's knowledge of the industry, people in the industry, and the dynamics of the UCI video game development club helped us navigate and better understand solutions to obstacles we face such as providing advice for how to support the interdisciplinary nature of this organization with the UCSB student members."
"There are a lot of students who are interested in game development on campus, but never had the opportunity, so my first interest was just to talk to them and get to know each other and try to learn from each other," Chung said of her first year in the club. Chung noted that it is difficult to make a game on your own because of the considerable amount of time, energy, and diverse skills required to produce one. She thinks she probably could make one on her own, but she prefers to work with someone. "It just makes it easier for everybody," she said. "[Games are] so complex and strange and difficult. It is a miracle that any games exist at all." She continued: "Then this year, we got to start making games as a game development club." 
Wang's leadership, coupled with the dedication of Tran and Chung, enabled the organization to experience tremendous growth with attendance at the weekly meetings growing from 12 to over 35 members. From understanding the mechanics of running a club to teaching Tran and Chung the programming skills they needed to lead the club effectively, Wang is someone any club member with a question can approach to find answers. "Richert is very clearly passionate about game development, which is important to us because we are pretty much running on passion," said Chung. She added, her adviser is an encouraging force in the production of their work. "He makes sure that we are doing work and being productive so we can advance our own work portfolios." 
Richert is very clearly passionate about game development, which is important to us because we are pretty much running on passion

- Chelsea Chung
Along with computer scientists and artists, the Game Development Club also attracts students from all majors including, but not limited to, mathematicians, physicists, writers, musicians, psychologists, chemists, and biologists who collaborate on projects together. "One of the things about game design is it is an interdisciplinary field," Wang explained. "You can't just have great mechanics without aesthetics, and you can't have great aesthetics without mechanics. It really is a combination and balance of many elements that create a unique player experience." 
"When you are trying to possibly make a career in game design or get into that industry, a lot of it is, 'What have you done? What does your portfolio look like? What games have you developed?'" Wang asserted. "So the opportunity for students to meet other students, form collaborations in interdisciplinary teams, and actually create games and build their portfolios is something that can be used to seek employment in this field."
Wang's commitment to the club goes beyond the project level. "He's giving his time and energy to make a club space for us and getting furniture and everything. He'll even help us get food for large events," said Chung. Tran stated, "Richert has encouraged my passions and has given me opportunities to grow as an artist, student leader, and person. He has always been so understanding and has helped me feel grounded."
The club meets weekly on Fridays at 5:00 PM in CCS room 143.