Ann Hefferman Remembers Prof. Harry Reese
May 29, 2018
Editor's note: This story is being shared in honor of UCSB Book Arts Professor Harry Reese who is retiring at the end of the 2017-2018 academic year. Prof. Reese has been teaching at UCSB since the late 1970s, and you could say that he and Book Arts are synonymous. Join us in recognizing Prof. Reese for the amazing impact he has had on generations of passionate Book Arts students and artists by submitting your own story about Prof. Reese (It can be just a few sentences or more!).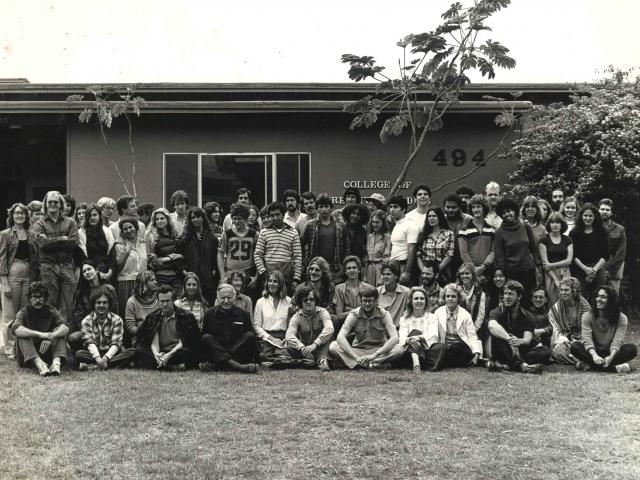 Harry Reese was my neighbor on Sueño in Isla Vista.  One day we said hello to each other on campus by the UCSB Library, and I found out who he really was.  He invited me to take his class which I did.  I was a senior then, and that encounter gave me the focus I needed. I think it was 1979 or 1980. I was an Art Studio major with an emphasis in printmaking.
Harry's teaching gave me the appreciation for every part of a book; how the form can shape the art experience. Here was art you could touch and manipulate. It was full of creative possibilities. I was hooked; still am. I remember having to fight for my CCS units to be transferred toward my degree in Letters & Science [Art Studio '80], but we succeeded.
Sandra Reese, Harry's wife, taught me bookbinding and box making, and I was hired to help with Turkey Press binding. There was something really satisfying in making multiples.  I learned to be careful and precise.
A couple of times I got to dogsit Vince, a very good dog. Harry once told me that Vince would come even if you called him "Fence!" In the Turkey Press printshop Harry kept a notebook next to the television where he watched baseball.  That was when you could watch the Dodgers on TV. I was born in San Francisco so was not a Dodgers fan. It was through Harry that I discovered Vince Scully [fomer sportscaster with the Los Angeles Dodgers from 1950 to 2016] and those strings of pearls he made with his words in phrases or inning-long stories. Harry would jot down the Scully-isms as they came over the air like fly balls. I'm still waiting for that chapbook to be compiled from those notes.