Childhood Dream Prompts First Publication
November 28, 2018
Second-year CCS Writer Madeleine Almond published a short story in The Weird Reader
by Kailyn Kausen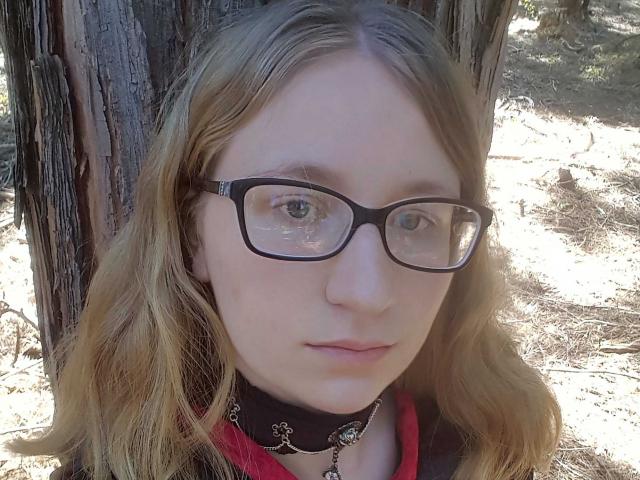 Second-year CCS Writer Madeleine Almond's short story, "It's Only a Tree Branch," was published earlier this fall in The Weird Reader, a literary journal full of the strange, disturbing, fantastic, and otherworldly.
The horror piece tells the story of a young girl who believes she sees a monster. When her mother takes the monster as fiction, the girl tries to cope in ways detrimental to her health. "This story is based on dreams I had as a little kid of something coming to my window and looking into my room," Almond said. "The monster has the same appearance as the monster I used to think was looking in my window."
As Almond's first publication, she was excited to be selected. She received the notification about the acceptance as she sat with Kara Mae Brown, Almond's faculty advisor and the Writing & Literature program coordinator, and other CCS students at the All College Meeting. "I pulled out my phone when I got the email. I scrolled through, and I thought, 'ah, another rejection letter,' and I scrolled more and I said, 'Oh, Kara Mae, I'm published!' and we all freaked out."
"When I read the first draft of this story, I knew Madeleine was onto something special," Brown said. "She put a ton of work into revising this piece and getting it ready to send out, so it's so exciting to see that hard work pay off. I don't think this is the last time we'll be seeing Madeleine's name in print. She recently turned in a travel essay in one of my classes that I think is the best piece of hers I've read yet. I'm looking forward to working with her on revising it and sending it out for publication!"
Almond wrote the story for the Literary Publishing 170B class, taught by Brown in Spring 2018. The course is part of a three-course series about creating Spectrum, the CCS student-run literary journal, and covers from the writing and selection process to designing the journal for print. "We were reading a ton of literary fiction, a ton of weird submissions to Spectrum. All that stuff went into my brain, and this story came out," said Almond. "I think it is a lot more literary than anything else I've ever written in my life. I tend more towards fantasy and popular fiction." Literary fiction typically focuses on the craft of writing, while popular fiction is written to entertain.
Almond is not a frequent short story writer. She prefers to write novels because there is more room to incorporate more of her ideas. "I have a hard time compressing and choosing which bits I want to put into a short story," she explained.
Almond believes the essential element of being in the Writing & Literature program is the community. "We are all pushing individually to a common goal. I like the feeling that everyone is in this together, and we aren't competing with each other. We are here to help," she said of working with other Writing & Literature students. She also has a close relationship with Brown. "I feel a connection to Kara Mae," said Almond. "I feel very safe talking to her, and it is nice to know we have someone who will help us to be our best."
Kara Mae's designed the Writing & Literature program to have a community-centric atmosphere. "I'm always stressing the importance of community to our students," she noted. "As a writer, you have to find your people who will be your beta-readers and who will encourage you to keep writing when it gets tough. Madeleine is such a great model of that in our major. It's clear that she is not just here to become a better writer, but to lift up our entire little literary community."
Almond's dream is to become a best-selling author, and she is currently working on a novel. "I always have a novel going," she said. "Of course I do, I'm a writer!" The novel is fantasy with a touch of horror. "[What I write] doesn't have to be supernatural, it just has to be strange."
____________________
Contact
(805) 893-2035
will.proctor@ccs.ucsb.edu