Curating Culture
August 15, 2018
Fourth-year CCS Artist Juan Silverio creates exhibition on Latinx artists in Los Angeles
by Emma Shapiro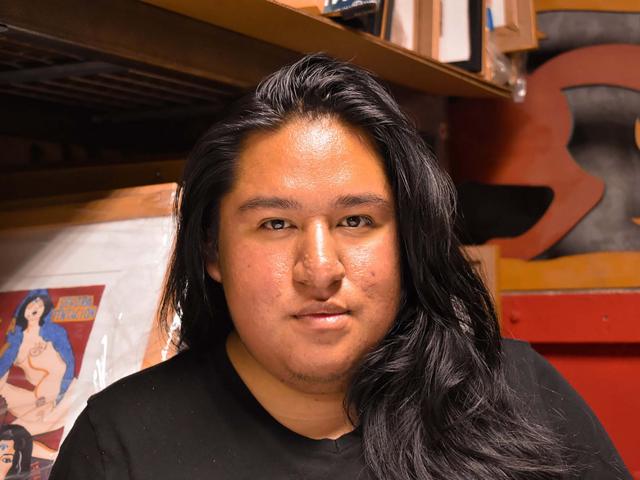 Juan Silverio, a fourth-year CCS Artist, spent his summer curating an exhibition as part of Self Help Graphics & Art's (SHG) Young Curators Program. Founded in 1970, SHG is a non-profit organization in Boyle Heights, a Los Angeles neighborhood, that is devoted to empowering the Chicana/o and Latinx community, promote artists, and be a resource for young young people of color interested in materializing their vision through production, interpretation, and distribution of prints and art.
The goal of SGH's Young Curators program is for artists to curate and organize an exhibition in an array of fields, including printmaking, curation, research and documentation, and special projects. The seven-week program culminates shows organized each of the participants. 
After hearing about the  Young Curators program through a friend, Silverio decided to pursue the opportunity. "I remembered what my friend Brenzy told me a year ago about her experience and saw the potential of fulfilling this role." After agreeing to join the Young Curators Program, Silverio learned he would be working under the guidance of UC Santa Barbara Ph.D. student John Vincent Decemvirale.
During his time at SHG, Silverio put together an exhibition titled Hacer, Deshacer, y Rehacer (Make, Unmake, and Remake). It began with Silverio and his mentor visiting SHG's off-site storage facility in Los Angeles to see works by artists from the early days of SHG. Silverio then moved on to research. He read dissertations about LGBTQ and Latinx perspectives on Los Angeles and interviewed Chicano artists and art collectors.
"Research is central to Juan's approach as an artist and this is evident in the various options he explores in his art practice," said Linda Ekstrom, a CCS Art faculty member. "Following his summer curatorial experience at SHG, we can look forward to seeing a new body of work emerge—one that will enrich CCS and larger UCSB community."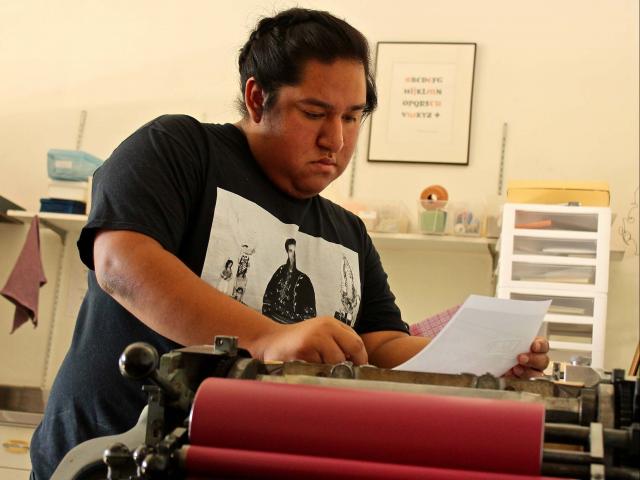 Silverio's motivation for Hacer, Deshacer, y Rehacer emerged from Los Angeles' Latinx community. "The inspiration for the exhibition came from looking at various depictions of Los Angeles landscapes, cityscapes, neighborhoods, what I call "barrioscapes," and depictions of Latino male bodies," Silverio explained. "We see an evolution of these ideas and images span across forty plus years. I then became interested in making these connections between older and younger artists, and how their works discuss historical and contemporary perspectives of the city of LA and the Latino body." As the title of the exhibition suggests, the work Silverio has put together emphasize how Chicano and Latinx artists make, unmake, and remake representations of the city of Los Angeles and the human body.
The CCS Art Program helped the young artist develop and nourish his ability to think critically. "I did not make art for this exhibition. Instead, I put my critical thinking skills to work by conceptualizing what the themes are going to be about and how the artists that I was considering are going to fit together," said Silverio. These skills also helped Silverio write the curatorial statement for the exhibition, which he found to be the most challenging part of the entire project. "It is unbelievable how much work and thinking is involved in order to make a two-paragraph curatorial statement articulate honestly and accurately what an entire exhibition is about," Silverio added.
Curating a show in seven weeks has been rewarding for Silverio. He noted, "It has been a learning experience for me, which is the heart of the Young Curator program–to bring in a young person of color into this role and develop their voice and vision through the process of curating an exhibition." Although Silverio never considered going into curation before this experience, he enjoyed the process at every stage. "I am delighted with the growth I've been able to achieve thanks to this opportunity, and I am excited by what will come after. I feel grateful to be supported by Self Help Graphics and CCS, among many people in Santa Barbara and Los Angeles."
________________
Contact
(805) 893-2035
will.proctor@ccs.ucsb.edu