Excellence in Plant Research
July 6, 2018
CCS Biologist Jasen Liu selected for prestigious C.H. Muller Award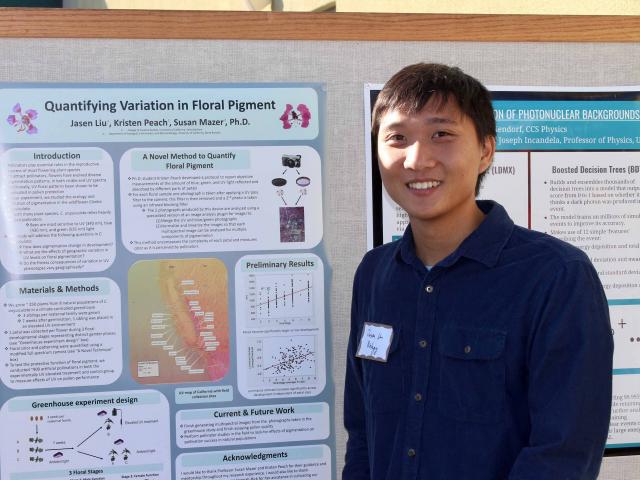 The College of Creative Studies (CCS) congratulates fourth-year CCS Biologist Jasen Liu for receiving the C. H. Muller Award for Excellence in the Plant Sciences. Created to honor Dr. Cornelius H. Muller—an original UC Santa Barbara faculty member and internationally respected botanist, this annual award is bestowed by UCSB's Department of Ecology, Evolution, and Marine Biology and recognizes a student who demonstrates excellence in undergraduate research in the plant sciences.
"It is an absolute honor to receive this award," said Liu. "I hope to keep growing as a plant biologist, studying the proximate and ultimate causes of morphological diversity present in this group of organisms that have fascinated me since childhood."
Liu, who has been enthralled with nature ever since he started birding in high school, researches plant evolution and ecology in Professor Susan Mazer's lab. The Biologist credits the C. H. Muller Award, and the Barry Goldwater scholarship that he earned earlier this year, with enabling him to further his research this summer. Noted Liu: "This award will help fund me to stay over summer, allowing me to continue conducting research in plant evolutionary ecology (and perhaps buy a few new plants)."
CCS is very proud of Liu's accomplishments and is thrilled to see what this Biologist has in store during his final year at CCS and UCSB.