The Future Can Only Be Told in Reverse
January 30, 2018
The College of Creative Studies Gallery at the University of California Santa Barbara is pleased to present the exhibition "The Future Can Only Be Told in Reverse", opening February 14, 2018 with a public reception and discussion with the artists on February 16 starting at 4pm. On view through March 9, the exhibition features works that respond to the historical comic novel and media archive The Imaginary 20th Century, by Norman M. Klein and Margo Bistis. A performance piece by Maya Gurantz will be part of the opening reception.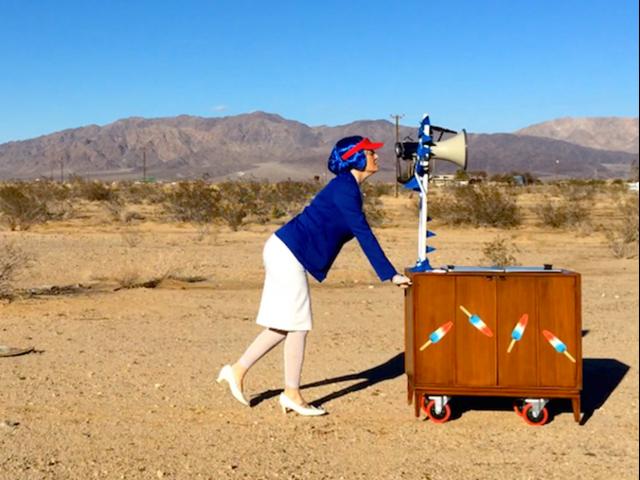 Curators Margo Bistis, Norman Klein, and Jane Mulfinger invited responses to questions about the possibilities today for ironic journeys into the future. What if the riddle of The Imaginary 20th Century—"the future can only be told in reverse"-- is "as paradoxical as it is true," as curator Hans Ulrich Obrist remarks in a review? What narratives and visions can emerge from "a future that lies in the past, getting reconstructed from the fragments of the archive?"
Common aspects of the art works are the contrary layering of information, the gaps of selective memory and memory distortion, and the embedding of the digital within the analog.
Featured Artists: Laurel Beckman, Eric Beltz, Graham Budgett, Clay Burton, Elizabeth Folk, Maya Gurantz, Elisa Ortega Montilla, Tom Pazderka, Toni Scott, Sara Velas, Nathan Villicaña- Shaw, Christopher Ulivo, Stephanie Washburn
Supported by the College of Creative Studies, the Department of Art, the Department of Film and Media Studies and the English Department, UCSB
Location: CCS is located on UCSB's campus, on the corner of Ucen Rd. and Channel Islands Rd. The gallery is in building 494, room 103.
Admission: Free. Visitor parking in lot 3.
Gallery Hours: Monday – Friday 10am- 5pm, weekends by appointment Gallery Info: 805-893-2364, https://www.ccs.ucsb.edu