Meet Christopher Hepburn (Literature '91)
November 15, 2018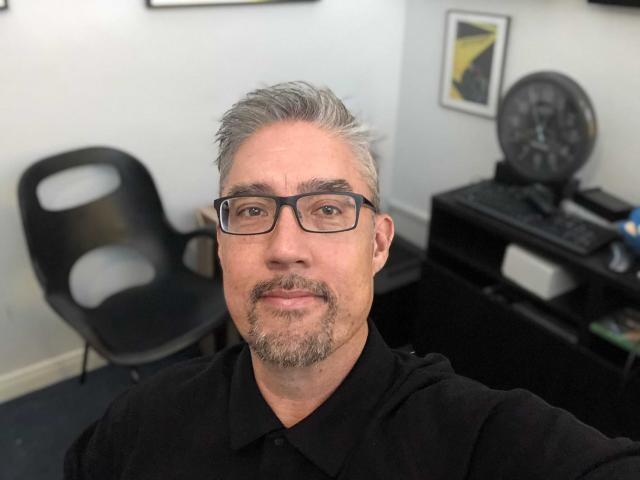 Christopher Hepburn (Literature '91) learned of CCS through his lifelong friend Tony Pierce  (CCS Literature '91).  At that time, Tony had just begun his time being taught by the likes of Robyn Bell and John Wilson at CCS, while Chris was in his second year at the UCSB College of Letters and Science. 
Once Chris saw through Tony's work, the flexibility and unique experience of the CCS Literature program, he decided to apply.
"The incredible freedom we had to learn made us perform the best we could," Chris recalled. "Though it did require a lot of self-discipline, that I didn't even know I had when I was 19. The total CCS experience was a milestone in my life. You got out, what you put in; and everyone put it ALL in!" 
Chris excelled in the small group discussions and took advantage of the weekly meetings beyond the class—all of which spoke to his passion and curiosity for learning.  
For Chris, "It was liberating to see that is was 'OK' to disagree. There was a whole structure on how to have discussions and disagree." It wasn't until he later took courses at Emerson College's Writing, Literature, and Publishing program that he realized that the CCS discussion-based learning platform he experienced was somewhat modeled on a graduate-style approach.
The total CCS experience was a milestone in my life. You got out, what you put in; and everyone put it ALL in!
While at Emerson in Boston, he focused on publishing.  The year was 1993 and computers were just becoming pervasive. He attended a conference and witnessed one of the first examples of video poetry. "It sucked' he recalled. 
Because of his love of poetry and affinity for computers, a year later Chris created and entered his own video poem to the same competition and made it further than the works he had first seen. This inspired him to move back to Northern California and enter the Interdisciplinary Arts masters program at San Francisco State. 
In 1995 Chris was hired away from the Bay by Activision Publishing, one of the oldest U.S. video game publishers. He moved from San Francisco with his wife and two young children to Los Angeles. While at Activision for five years, he helped build the group responsible for integrating video into the games themselves. And with the same tools to make marketing videos for the games. 
After Activision, Chris started his own company, Forward Never Straight Productions (FNS) in Santa Monica that focused on video game production and marketing.  One of the first big projects for FNS was Tony Hawk's first skateboarding game that would go on to be one of the most popular sports series of games of all time. 
"Throughout CCS, graduate school, and at Activision, I immersed myself in the entrepreneurial spirit of starting stuff from scratch. It was natural for me to then start my own company," he explained. "It was exciting to have been part of that early video movement."  
In 2005, Chris sold FNS to Trailer Park as he noticed bigger agencies moving into the video game space. He stayed with Trailer Park for two years helping running the video game division, which at the time was something totally new for the company.
In 2008, he started a new company focused on entertainment marketing, but timing was bad due to the international financial crisis and the US recession. Sadly, the funding dried up.  He left in 2010, letting others run it for several more years before it closed.  
For the last several years, Chris has been working with entertainment agencies using his video expertise and spending time with his, now adult, children, and cycling.  He has been a proud season ticket holder of the Lakers for as long as they've played at Staples Center.
The Campus may have changed, but the CCS building is the same and that was comforting!
When asked about his time at CCS, Chris fondly remembers a course with Robin Bell, the beloved Literature professor who became his advisor who he credits with his success in the program and still counts as good friend after all this time. "It was a tough course with tons of reading. During one particular class discussion, it seemed I was the only student who was well-prepared for the conversation that day. This lead to a virtually one-on-one discussion with Robyn which left me feeling like 'I got it!'"  
That experience gave Chris a level of accountability that normally does not exist in lecture courses. "That type of learning," Chris recalls with joy, "is not for everyone, but I loved it."
His advice to current and future students is to appreciate their time at CCS.  He lamented, "I didn't fully appreciate CCS back then.  It was all new and I was so young but to step back now I look at in and see how special it really was."  Chris attended the CCS 50th Anniversary Social at CCS in April 2018 and felt at home as the CCS building looked just like it did when he was a student.  "The Campus may have changed, but the CCS building is the same and that was comforting!" he commented. It was never about the building it was always about the people in the building.