Meet Holly Watson (CCS Literature '96) and Andrew Galambos (CCS Art '96)
December 7, 2018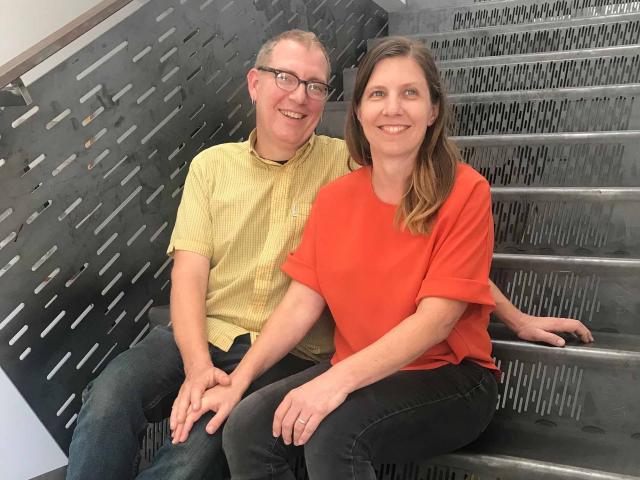 If any two alumni radiate radical curiosity, it is Holly Watson (CCS Literature '96) and Andrew Galambos (CCS Art '96).  
After CCS,  both moved to New York, and Holly got her start in publishing. Although she didn't even know such a job existed when she was at CCS, she has now worked as a book publicist for over 20 years,  first for Viking Penguin and Norton books both in NYC and LA and now as the head of her own independent literary publicity firm, HWPR. She has worked with such authors as Jared Diamond, Elizabeth Gilbert, Michael Pollan, Terry McMillan, Ruth Ozeki, Paul Freedman, and more.
After graduating CCS, Andrew attended the Skowhegan Art Residency program and worked as an artist for several years in NYC before attending Columbia University's Graduate School of Architecture and interning at various architecture firms in NYC, including Cesar Pelli.  He graduated from Columbia in 2004, and the couple moved back to LA, where Andrew worked for firms such as Johnson Fain and Frank Gehry before starting his own residential focused practice.  
They recently completed building a home in LA decorated with artwork from CCS Professor Dan Connally and Alumnus Justin Michael Moore (CCS '96) and have two children Ezra (11) and Zane (9). Below they discuss the influence of the College of Creative Studies on their lives.
___________________________________________________________________________________________________________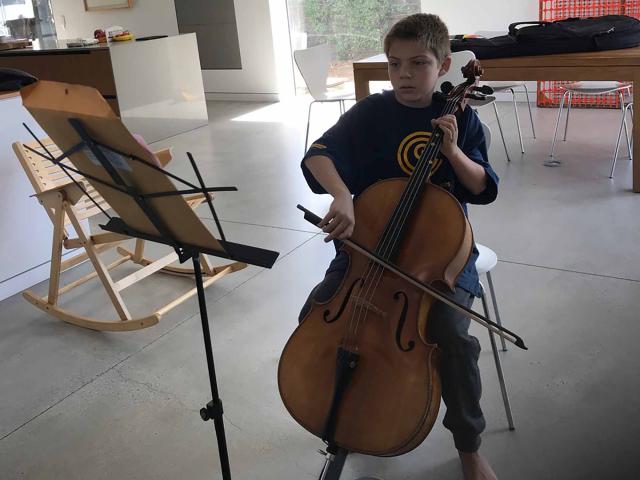 Andrew:  I think we can both credit CCS's influence in pushing us to go as far as possible in realizing certain core values within our careers and life.  As an architect, I try to approach each new problem with wonderment, continually analyzing it before putting forth solutions. CCS' ability to nurture curiosity gave me space where we could explore our interests, helping to set up a framework for lifelong learning through reinforcing our drive to explore, problem solve and think about the future.   
Holly:  The philosophy of CCS has influenced my life and career, in particularly the College's encouragement to dive deep and focus intensely on a subject and its fostering of curiosity. To this day, I take on book projects that are very different from each other, but about which I am deeply interested.  This allows me to work on everything from African Noir to literary and historical fiction to non-fiction books exploring micro-histories, public health, food and the environment.  This brings me back to CCS when I was allowed the opportunity to skip past survey courses and pursue, for example, an entire class centered on The Tale of Genji or taking courses outside of my major in film theory or graduate Comparative Lit classes. 
Andrew: A great connection between curiosity and our values is found in our recently completed house. For me, it was paramount to balance between three key concerns: the practical function of a home as a place that provides shelter and comfort (physical and psychological) to our family;  creating a sustainable footprint—that is, minimizing its effects on our environment both now and in the future; and my ongoing interest in spatial exploration that originated with graffiti. (It was at CCS that I came to understand that the point of convergence between graffiti and art was less about painting and more about the interaction with the environment and architecture).  Of course, the starting point for all this was the two of us collaborating on a program statement, listing out the problems to be solved and prioritizing their importance. 
 The philosophy of CCS has influenced my life and career, in particularly the College's encouragement to dive deep and focus intensely on a subject and its fostering of curiosity.

- Holly Watson
Holly: I feel that we succeeded with the house on a number of levels: achieving an environmentally sustainable high-performance home that is near net zero, that is still very comfortable, while also threading Andrew's interest in the interference of the orthogonal into an interesting spatial dynamic. Part of our program statement was to create a design that both fosters privacy and builds connections between many zones-interior and exterior- for the whole family to come together, and overall that was successful. Without our grounding at CCS, I'm not sure things would have gone as smoothly.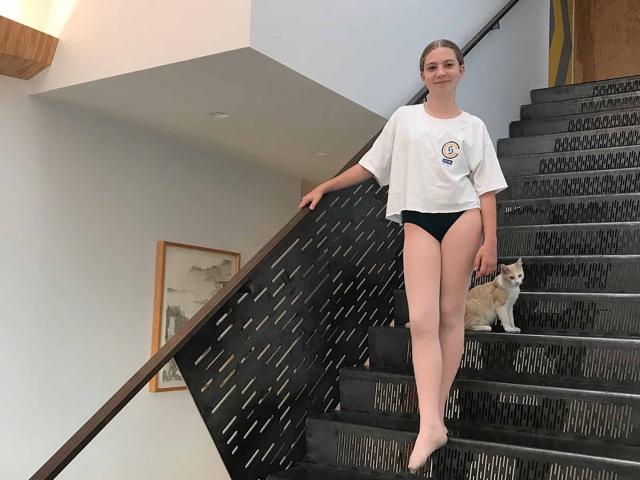 Andrew: That notion of the interaction of the individual within a larger community, again, reflects on one of the great experiences at CCS. I was able to delve into one's personal project within the context of a larger structure. At CCS, I was pushed into a deeper engagement with my art while subsequently being challenged about what I was doing and encouraged to articulate that to both myself and more importantly to others. That forced me to look critically at what I was doing.  This, together with the self-driven nature of CCS, served me well both in graduate school and later within my independent practice.
 
 CCS allows students to pursue their interests even if you didn't know where you were going to end up

- Andrew Galambos
Holly: Working for myself has also necessitated that I am very self-driven and I credit both the work ethic and philosophy of exploration of CCS in my success. I never do the same thing from one day to the next and have to read constantly and on a wide range of subjects, then talk about the books-much like I might have in a small seminar class at the College.  

There have also been some cool life-circles along the way. For instance, I first read local Montecito author T.C. Boyle in a class at CCS and then went on to work with him professionally for ten years. Another example is when I was able to work on a new translation of The Tale of Genji while at Viking. I couldn't believe that we were publishing a new transition and was so excited that I'd get to work on it. The translator and editor were also pleased, and I was thankful to CCS again for that experience. What seemed impractical at the time proved practical after all. 
Andrew:  CCS allows students to pursue their interests even if you didn't know where you were going to end up, referencing a certain amount of instinct, which reminds me of how you ended up attending the college.  I often say CCS chose me because during high school I wasn't that college focused.  I didn't grasp all the prospects it had to offer, or think there would be a place for me to fit in but am incredibly grateful that I found it.  I had been set to go to Santa Cruz because UCSB had rejected me but based on my portfolio CCS was able to get the university decision overturned.  
Holly: I had always wanted to go to UC Berkeley, and got accepted, but changed my mind after I made a visit to CCS and recognized the school for being singular. I never regretted then, or now, making that decision. 
Andrew: My favorite memory of CCS is that of my final show in the CCS gallery that included an access point to the roof the building where students were able to go out on the roof and enjoy the view. I've now come full circle because our current house has two roof decks. 
Holly: My favorite memory is of one rainy afternoon in a class taught by Jervey Tervalon we were talking about Faulkner while listening to Al Green and thinking about how the whole experience was uniquely CCS.