Michael Powell (CCS Art '11) Remembers Prof. Harry Reese
May 29, 2018
Editor's note: This story is being shared in honor of UCSB Book Arts Professor Harry Reese who is retiring at the end of the 2017-2018 academic year. Prof. Reese has been teaching at UCSB since the late 1970s, and you could say that he and Book Arts are synonymous. Join us in recognizing Prof. Reese for the amazing impact he has had on generations of passionate Book Arts students and artists by submitting your own story about Prof. Reese (It can be just a few sentences or more!).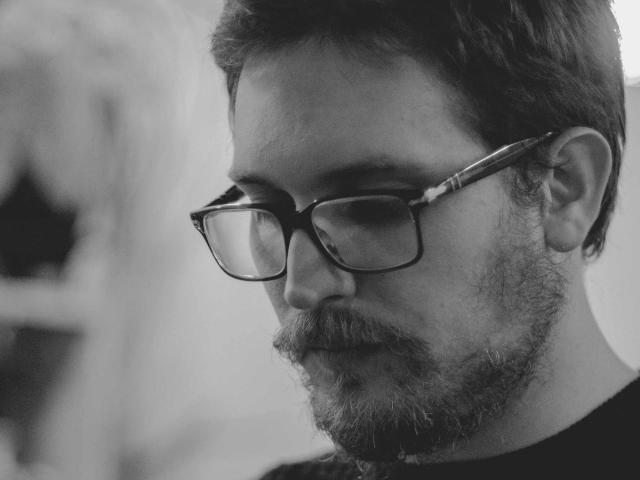 Some relationships have the facture of fate. Only later do we realize that we had been searching for some people for years before meeting them--the impact of our meeting having been so strong that it reverberated backwards in time. In that way, I have felt the effects of meeting Harry and Sandra all my life.
I have had the privilege of being a student, a colleague, and a friend of Harry and Sandra's, but I imagine all who know them must at least be students of theirs, and undoubtedly friends as well. There is not any one story or conversation that I want to highlight here (there are simply too many), but I want to stand and be counted; to acknowledge that Harry walked into CCS and saw me - really saw me, and in a way I had not yet seen myself. We began to talk and it changed me forever.
The Reeses were always eager to share information and to parse out ideas. Their own work and practical demonstrations always brimmed with passion but also with thoughtfulness. Lectures on bookbinding became lessons on mindfulness. Papermaking, printing, painting and gardening became different parts of something whole. Their lives bled into their lessons in a way made possible only by their openness and generosity. They taught the whole person they saw within the student, and as such, brought out the person to come. Everything I know about books I learned from them. But they showed me, by example, how to live a full, creative life.
We don't talk as often as I would like, now that I am living in the midwest, but we tend to catch up once or twice a year. Harry still answers the phone as if simply answering the door. Like I've come over to chat about this and that. Some friendships don't suffer the demands of Time. Maybe a cup of tea and a glance in at the studio. Say hello to the cat. Talk about baseball and tea and jazz. It's supposed to be warm tomorrow, time to make some paper.
Thank you, Harry. Thank you, Sandra. I hope to see you soon.