Outstanding Composition
June 20, 2018
Five CCS Musical Composers receive 2018 Corwin Awards
by Emma Shapiro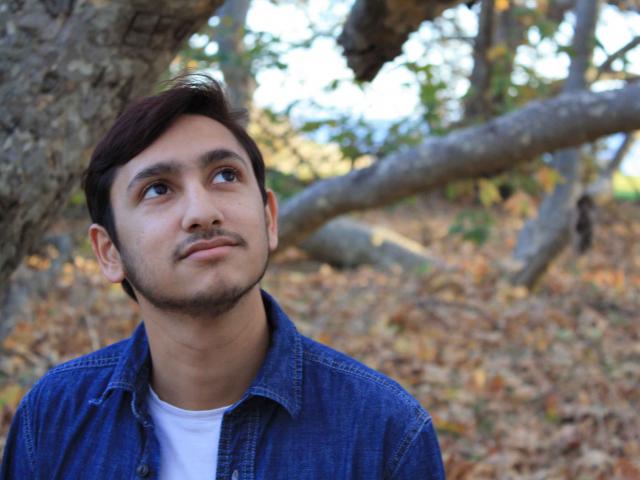 The Dorothy and Sherrill C. Corwin Awards are annual awards for Excellence in Music Composition open to all UCSB undergraduate and graduate students in the Music Department, College of Creative Studies, and the Media Arts and Technology Program. Five stylistic categories divide the awards, including Work for Large Ensemble, Solo or Chamber Ensemble Work, Electronic/Electronic-Acoustic Work, Vocal Work, and Percussion Work. A panel of three judges award first, second, and third place for each category.
Five of the 18 individuals honored in 2018 were CCS students. In the Large Ensemble category, Tristan Perez earned second place for "An Enchanted Forest," while  Nick Mazuk and Brian Morones shared third for "Green Fields" and "Pacis Reditu," respectively. Additionally, Preston Towers received second in Electronic/Acoustic  for "Real Men Drive Cars" and Thomas Hakanson placed third in the Vocal category for "Pendulum." The five CCS students were the only undergraduates to take home prizes, as all other prize winners were graduate students.
Perez, who graduated earlier this month with a CCS Music Composition degree, said when he was creating "An Enchanted Forest," he wanted to write something magical. "It started to develop a narrative, and I could imagine a series of events that affected the state of the forest," he noted. Perez appreciates the support that CCS has provided, from peers and faculty alike. "It isn't about who is the better composer or anything like that," he said. "It's about being the best composer you can be, and everyone around you also wants you to be the best you can be."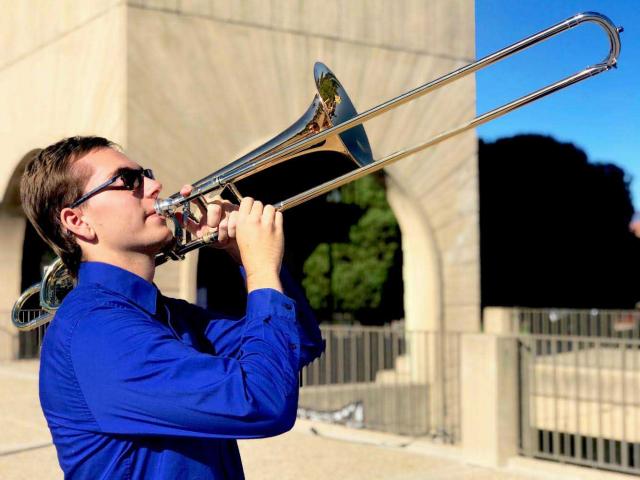 2018 is Mazuk's third consecutive year of winning a Corwin award for Music Composition. "Getting an award for the third year in a row is validation that I can consistently write good music," he said. When writing his piece, Mazuk toyed around with multiple styles for the song after his initial inspiration, which came during a walk he took over summer. He credits his ability to write in many different musical styles to his time at CCS. He explained: "The CCS program has definitely opened my mind to writing new styles of music."
Placing third for his piece "Pacis Reditu" was the first time that CCS Music Composition student Brian Morones has been recognized for his music. This was a significant moment for the third-year composer. "It felt nice to know someone recognized my work," he reflected. Morones sees a dramatic difference in the music that he composed before entering the CCS Music Composition major compared to the pieces he creates now. He noted, "Coming to CCS, I made friends with all the composers and my professors, and I absorbed as much as I could from them, including the music they listen to, who inspires them, and how they write their music." Morones continued, "Being around such talented musicians in just the past three years alone pushed me to become what I am musically today."
Preston Towers took home second place in the Electronic/Acoustic category for his piece "Real Men Drive Cars." Towers spent over 100 hours creating the fixed media audiovisual piece, and countless more thinking about the project. He described the piece, which he presented at the first annual CCS Research and Creative Activities Conference and at UC San Diego's California Electronic Music Exchange Concert, as an exercise in musical catharsis. "It is a piece that deals with rather personal and intense subject matter, and is very genuine and raw," he said. Towers finished his degree in Spring 2018 and attributed his composing skills and confidence to the hands-on education of the CCS Music Composition program.
Thomas Hakanson, a second year CCS Music Composer described that winning a Corwin Award has helped him to gain confidence in his composing abilities. "Winning the award has not only changed my view of the piece but is a big confidence boost to myself," he said. "It means that I must be doing something right in this big vast ocean of music that I'm making." Hakanson feels that CCS has been a positive light and a big source of support behind his desire to pursue music. "I've already learned so much in the way of just writing music that my outlook on being a composer has drastically changed," Hakanson added. "It's made me want to start doing even more now than I wanted to before."
Congratulations to all Corwin Award winners!