A Perfect Pair
November 26, 2018
CCS alumni Mary Heebner and MacDuff Everton explore the world while inspiring each other
by Will Proctor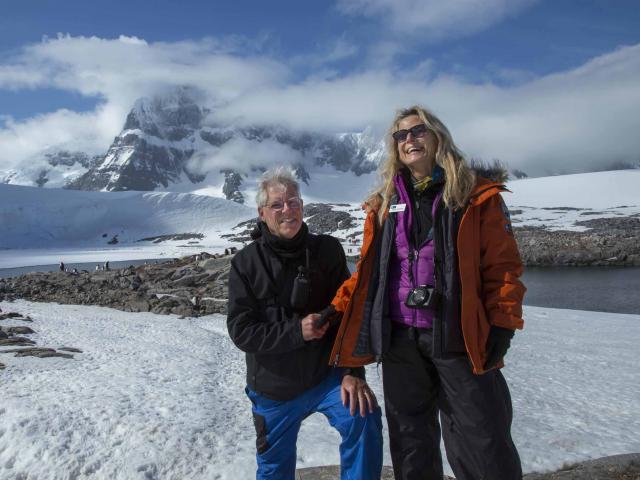 Think of the most beautiful locations in the world–from the beaches of Fiji to the Himalayan mountains and the rolling hills of the Tuscan countryside. It is highly likely that MacDuff Everton (CCS Art '81) and Mary Heebner (CCS Art '73) have been there. The couple has spent the past 30 years traveling around the planet, capturing photos, and creating art at every opportunity. 
A landscape photographer and visual anthropologist, Everton has been shooting images since he was a teenager in the 1960s. In the beginning, he traveled by himself. But that all changed in 1988 when fellow Santa Barbara artist Heebner invited herself on a trip to Mexico. Although they were friendly and ran in the same professional circles, this trip was the first time they spent time together. The Santa Barbarans hit it off and married a year later.
For decades, magazines sent Everton on assignment to all corners of the Earth, and Heebner joined him, at times writing the magazine story and other times as the photo assistant. "We work really well as a team," Everton noted. "We see the world differently. We inform each other's eye." He went on to say that Heebner turned out to be a great model. "She had no idea she'd end up a cover girl," he laughed. "It surprised both of us."
Heebner took advantage of the trips to inspire her own work. "While I am on the road, I'm constantly writing and taking notes; I keep notebooks and sketchbooks," said the artist. This practice was the impetus for her starting to create limited edition fine art books that paired her writing with her images, culled from her travel notes and subsequent studio work. Heebner continued, "I use my notes and sketches as a way of getting back into the studio after being away for several weeks or longer." Since 1995, Heebner, through her imprint Simplemente Maria Press, has created 17 such fine art books in limited editions.
Expeditions, including to places that are not typical travel destinations, frequently spark years of creativity for Heebner. "There are places that inspired a lot of work that were completely unexpected and magical–like going to Iceland," said Heebner. "I went to Iceland, and it blew my mind. It was like walking into a Georgia O'Keefe painting, and being part of these barren hills with color and everything. I wound up getting three to four years of paintings from just that one trip, and from the paintings came a book."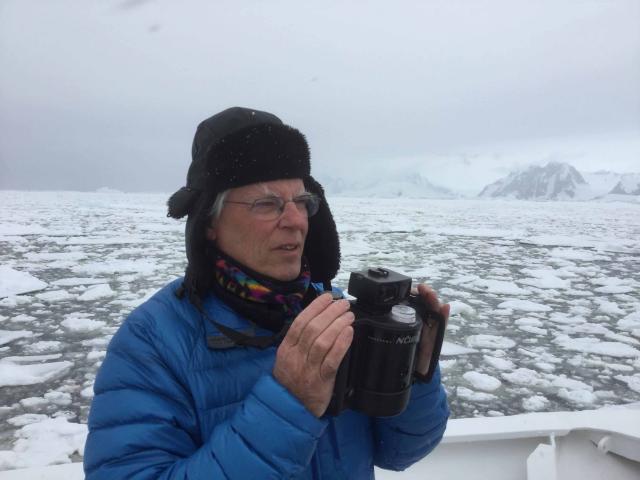 Finding Photography
Everton found photography by chance when he was 17 and left Santa Barbara to surf in Biarritz. He literally picked up a camera an American tourist had left in the middle of the road. His early attempts of photography augmented the letters he sent to his family as he worked his way from Europe across Asia. "Initially, I would send rolls of film along with letters allowing my family to see visually what I was writing," remembered Everton. He processed a few rolls of film in Hong Kong and when he reached Japan he was able to sell his first two stories to the Asahi Press—one on Burma, the other on South East Asia. Everton was still using the Kodak Pony Camera he originally found on the street. "I wondered what I could do with a real camera," he said. 
He returned to Santa Barbara, enrolled in Santa Barbara City College, and worked odd jobs to save enough money to buy a new camera. One day a local film company offered him a position to create educational films in South America. 
Although taking this opportunity meant dropping out of school, he jumped at the possibility. "This was exactly what I wanted to do if I had gone through school … so I dropped out of school to do it." A year later, the company ran out of money when he was in Guatemala. He turned the situation into an opportunity by undertaking a photo series on the Yucatán. 
One Day to 20 Years
Inspired by Life Magazine's popular "Day in the Life" photo series, Everton set out to make a similar story on the indigenous people of the Yucatán. He soon realized he could not capture the essence of the rich Yucatán culture in one day. Everton explained: "Everyone knew what a country doctor was. But the people I was documenting in Yucatán, their lives were completely foreign to an American audience. They needed to be explained. A caption wouldn't suffice. I needed to go more in depth."  A day in the life, became a year. But he was so intrigued by his visual anthropological study that he returned year after year.
Everton enjoyed documenting the Yucatan, but he aspired to return to school to be challenged as an artist. Everton heard about CCS from family friends who were on the College's faculty. The year was 1976, and he was fresh off a year as an Artist-in-Residence in Washington State. 
CCS was everything Everton was looking for and more. He truly enjoyed the relationships he forged with the faculty and his classmates. "I was getting ideas and feedback as an artist, and I found CCS to be really exciting." While studying at CCS, Everton supported himself by working at a pack station, an operation that guided people and delivered freight by mule and horse, in the High Sierras. This did not stop him from taking full advantage of the fantastic opportunities available to him as an Art major, and his work led to him teaching a seminar on Latin American writers. "When I was on the trails I was riding on average about 30 miles a day on horseback, and I would read the books of these great Latin American writers whenever I had the chance," recalled Everton. "At the time, there weren't any classes on these writers, so I decided to teach a seminar class focused on them." 
Everton was still working on his Yucatán project while at CCS. The photographer would take a full year of classes in two quarters to allow him to work at the pack station for the remaining six months. Following his graduation, Everton pursued a Master's degree at UCSB, where he met Professor and Photo Historian Ulrich Keller. Everton showed Keller his portfolio—which was now in its second decade—and Keller was blown away. Remembered Everton: "He [Keller] looked at the portfolio, and he said, 'Have you published any of this material?' and I said, 'No, that's what I want to do.' And he replied, 'The dream of every photo historian is to discover some great work. This is some great work. I'll help you.'" 
A few years later, in 1991, Everton's epic tale of the Yucatán people, titled The Modern Maya,  was published by the University of New Mexico Press. What had started as a one-day project, had turned into a 20-year masterpiece. The book was turned into a traveling exhibition that toured the United States.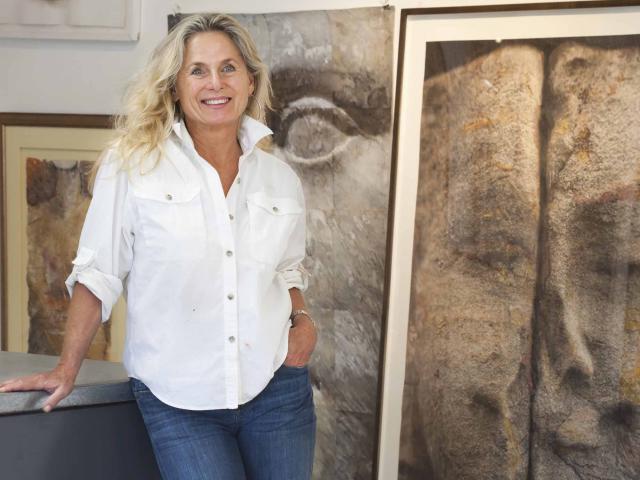 A Perfect Fit
Heebner's journey to CCS was more conventional than Everton's. She attended UCSB right after high school as a UCSB Regents Scholar, but she felt out of place in the large university. "At first I was flailing around," said Heebner. "I didn't seek out a counselor; instead, I would browse the bookstore and take classes based upon the books that were interesting to me. I wound up taking some fascinating classes, but they were all upper division–I hadn't taken any lower division requirements." A faculty member, Max Schott, saw Heebner's passion and realized that she was a classic CCS student. She submitted a portfolio in 1971 and once she was admitted to the College, she flourished.
CCS turned out to be the perfect fit for Heebner. "It was specific to people who were disciplined and self-directed, and had some kind of inkling or some kind of passion and curiosity," said Heebner.  "These [CCS] students thrived in an environment where people would ask you challenging questions, and you would have to come up with thoughtful answers." She went on: "You couldn't just sit there and be passive. It's not for everybody, but I thrived." The spontaneity and collaborative nature of her cohorts was one of Heebner's favorite aspects. "The College was 24/7," she noted. "We were in the building all the time." Often a student would come up with an idea at midnight, and they would work on it until the sun rose. "The sense that you can get off somebody sparking an idea with you and then doing it … there is no replacement for that, and CCS and this type of place changes the way you think."
Heebner fell in love with writing at UCSB and CCS. Although she was an Art major, she recalled: "There was a major emphasis on literature at CCS." She was grateful that she did not have to choose between the two disciplines at CCS, and was encouraged to explore both fields. 
Art from Experiences
Heebner has spent her career taking life experiences and making something tangible. She explained, "As an artist, I am curious and always pushing the envelope. I have a need to experience life, but then have it churn around inside of me and make something of it. I've tried to do that all my life."  
Once she graduated from CCS and received an MFA from UCSB in studio art, galleries started approaching her to exhibit her work. Throughout her career as an artist, she has had numerous shows and exhibitions across the country. "There is this satisfaction when you think you've done something–you have a sold-out show, or someone publishes an article on you. There are these moments where you are just like,  'Yeah, that was good!' There are dozens and dozens of these, and you savor those moments, but they are vanishing and then the rock rolls down the hill and you gotta start all over again." The desire to get back to those moments keeps her going. Heebner added, "You live for those moments."
Heebner's path as a self-employed artist has not always been smooth, but she would not have it any other way. "It's fun to allow for mistakes or surprises that can take you off onto a tangent that might lead to something absolutely wonderful that you couldn't predict," she stated. Her newest fine art book, Cassandra, pairs her images with a poem by Bay area poet and translator Stephen Kessler.
New Opportunities
In the early 2000s, magazines were having a tough time transitioning to digital. According to Everton, those struggles, coupled with the economic downturn of 2008, resulted in magazines slashing assignments. "Magazines really took a hit in 2008," he noted. "A lot of magazines lost a tremendous amount of advertising and that advertising hasn't come back." Everton took the opportunity to work on projects he had been meaning to finish.
Everton collaborated with Heebner to publish the definitive photo journal of their hometown. The Book of Santa Barbara was released in 2010 and featured essays by the famous essayist Pico Iyer. Even though the couple had lived in Santa Barbara for a majority of their lives, they had very few photos of the seaside town. "We had to treat it like an assignment where it was our main focus," said Everton. "People would say, 'Well, you must have great shots of Santa Barbara.' And I replied, 'When? When I'm home, I am in the darkroom, I'm editing, I'm running errands.' There was just no time to take photos." So Heebner and Everton went to work on creating a book enjoyed by residents, newcomers, and tourists alike. 
Everton also spent time putting together an update to The Modern Maya. He continued annual trips to the Yucatán after the original book was published in 1991. In those 20-plus years, he witnessed how NAFTA, the War on Drugs, tourism, and globalism impacted the once-secluded society. When The Modern Maya: Incidents of Travel and Friendship in Yucatán was published by the University of Texas Press in 2012, it portrayed how, over four decades, Maya culture adapted to outside pressures. 
No matter the project, Heebner and Everton make each other's works better. "We inform each other's work," said Heebner. "I think we make each other better. He's got a different way of seeing the world and thinking about it than I do." Candidness, support and equality are paramount in their relationship. "Mary is an incredibly good editor for me, and I'm a good editor for her too," said Everton. They both tell each other honest opinions on their projects. Heebner added, "We are a sweet mix of being strongly independent and deeply dependent on one another."
___________________
Contact
(805) 893-2035
will.proctor@ccs.ucsb.edu