Remarkable Research
June 8, 2018
Colin Kim earns 2018 Chancellor's Award for Excellence in Undergraduate Research
by Will Proctor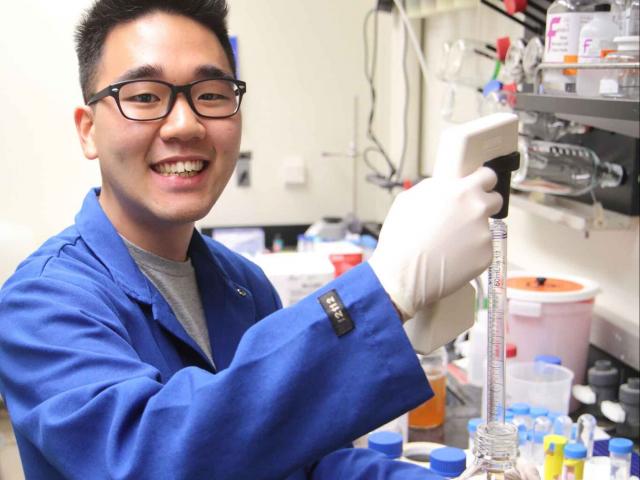 UC Santa Barbara's College of Creative Studies is pleased to announce that CCS Biochemist Colin Kim will receive the 2018 Chancellor's Award for Excellence in Undergraduate Research when he graduates at the CCS Commencement this Sunday, June 10. 
"Colin is a stellar young scholar and biochemist who will continue on an upward trajectory in research," said Kathy Foltz, Interim Dean of CCS. "I am so pleased that he is being recognized and it is also a testament to the excellent training and mentorship offered by Professor Chen, his faculty research advisor." 
This is the fourth consecutive year a graduating CCS senior has earned this prestigious award. Daniel Spokoyny (CCS Computer Science '17), Kuang Wei (CCS Physics '16), and Daniel Chu (CCS Biology '15) are the most recent CCS recipients. They are all having enormous success in their post-CCS careers. Supported by a National Science Foundation grant, Spokoyny just completed the first year of his Ph.D. program at Carnegie Mellon University. Wei is researching dark energy while earning Ph.D. at the University of Chicago and is funded by distinguished Yoichiro Nambu fellowship. Chu completed a National Institute of Health Post-Baccalaureate Fellowship and is now a medical student at the University of Wisconsin.
Kim has worked in Dr. Irene Chen's Lab (Department of Chemistry-Biochemistry) since his first year at UCSB, investigating bacteriophage and bacteria-host interactions. He started his research by performing simple experiments under the close supervision of graduate student and postdoc mentors. Now, just a few short years later, he has used his experiences, including working on metabolic engineering and cloning at Stanford University this past summer, to design his own projects. "I'm not saying that I now understand every aspect of how to function and think like a scientist," noted Kim, "[but] I definitely have matured a lot."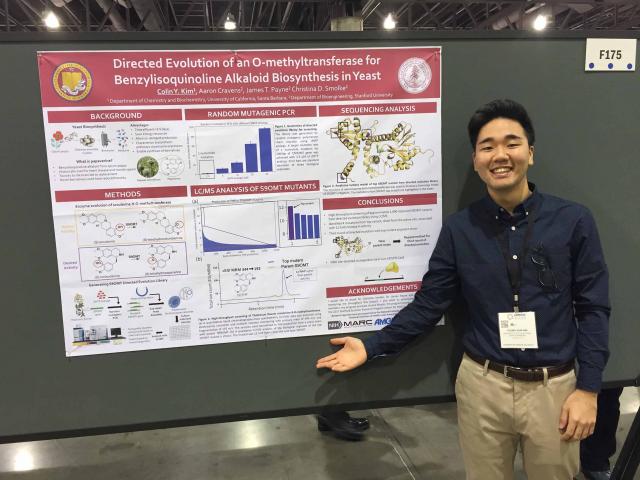 "Colin is a wonderfully talented and dedicated student who is an integral part of the lab group," said Chen. "It has been a true pleasure watching him grow as a scientist over the past three years."
Entering UCSB as a College of Letters and Science student, Kim remembers that Professor Chen encouraged him to apply CCS. "She told me how CCS was a fantastic program for students with passion in science and research," said Kim. He soon applied to and was accepted to the CCS Chemistry-Biochemistry program where he quickly began to thrive in the CCS environment. As a CCS student, he had the flexibility to take classes from a melody of departments. "[CCS] was perfect for me to pursue chemistry, which I was especially interested in, but also combine that with my passion for engineering and biology," Kim remembered. "I was able to take classes beyond the set list of what I had to do in order to get my degree."
In addition to academic flexibility, Kim enjoyed the learning by doing atmosphere at CCS. "In my opinion, hands-on experience teaches you a lot more than sitting through a lecture and taking notes," said Kim. "Support of that type of learning is one of the biggest things CCS offered." He added that CCS also helped him find research funding, which has been instrumental in allowing him to focus on his research. 
Over the past two years, Kim's research has been funded by The Maximizing Access to Research Careers (MARC) Scholars Program. Funded by the National Institutes of Health (NIH), this program seeks to increase the number of highly-trained biomedical and behavioral scientists, from disadvantaged or underrepresented backgrounds, in leadership positions to significantly affect the nation's health-related research needs. Kim credits the MARC Scholars with enabling him to develop as a scientist. Through mentors, he learned how to "build a scientific poster, effectively network, present your presentations, and other useful things." He continued, "I believe the biggest thing is the community experience that you get in the program."
Kim also enjoyed being part of the CCS community. "CCS was a community that really supported me throughout my undergrad career," he said. A Korean native, Kim, in high school, thought science was very contentious and was not something he would enjoy. When he got to CCS, Kim was pleasantly surprised to find that CCS was the opposite of his prior experiences. He explained, "CCS is very collaborative. Whenever I enter into this building, I never have to hide what I'm working on, but rather I open up and [...show my classmates] the cool things that I'm working on and ask for feedback. This is a community where you could share what you're passionate about."
Kim is incredibly grateful for the dedication of his mentors and the Biochemist commented on how they have impacted his time at UCSB. "A student could put in a lot of hard work, but, in my opinion, at the end of the day, it is the mentors and the professors that have the power to really change a student's life. I don't think I would have gotten to where I am right now [...] if it weren't for my mentors, Irene and Kathy [Foltz]."
Starting this Fall, Kim will pursue a Ph.D. in Bioengineering at the Massachusetts Institute of Technology. Although he is sad to leave his UCSB research behind, Kim is excited about the challenges ahead. "I'm very interested in synthetic biology and how we could engineer parts of nature to understand more about life in nature," he stated, "and also utilize them for benefits like therapy or different genetic circuits." 
____________
Contact
(805) 893-2035
will.proctor@ccs.ucsb.edu