Meet Aemon Cannon (CCS Art and Computer Science '05)
June 28, 2019
Aemon Cannon, CCS Art and Computer Science alumnus, works as an engineer at Google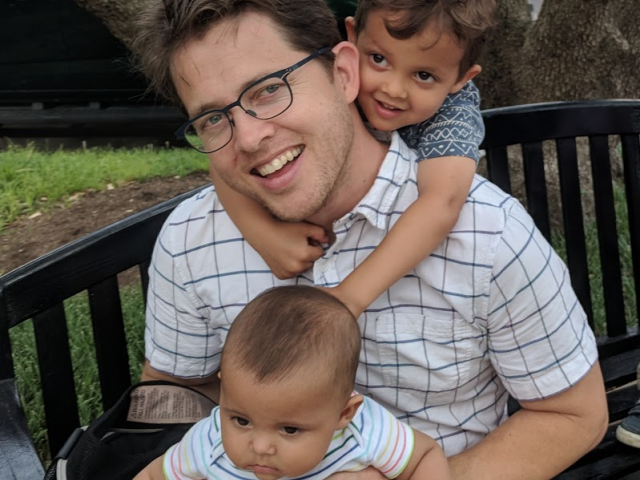 College of Creative Studies: How has CCS impacted your life?
Aemon Cannon: CCS attracts remarkable people, and it was an impactful experience to be thrown in with all those people at an early age. My time at CCS taught me to question prevailing wisdom, and to love learning in all forms.
 
CCS: Why did you choose to come to CCS? How did you find out about the College?
AC: Just dumb luck to be honest. I found a little blurb about CCS in a college admissions pamphlet, and UCSB offered me a need-based scholarship. I met Dan Connally (Art Dept.) at an orientation, and came away with a really positive feeling.
CCS: What was your favorite aspect or professor or experience while at CCS?
AC: One thing I love about CCS is the interplay of Art and Science. We experienced this directly in classes on botanical illustration, landscape painting, and animal anatomy. I recall one class in particular, Conversations with Artists & Scientists, in which we invited working professionals to come and discuss their work. We spent an afternoon with an engineering professor, discussing the concept of "elegance." What fun!
One thing I love about CCS is the interplay of Art and Science.
CCS: If you attended graduate school, where and what did you study as a graduate student?  How did your CCS education help you excel as a graduate student? 
AC: I did an MS in Computer Science at Stanford, and worked with a research team focused on privacy and Social Networks. I definitely feel CCS prepared me for the challenge of independent research.

CCS: Describe your career, profession, job. Does it relate to what you studied at CCS? If so, how? 
AC: Currently I am an engineer at Google, designing systems that deliver software over mobile networks. I draw on my CCS Computer Science experience all the time! I often think of some advice Marat Karaorman gave me in my first year which was "just dream." His excitement, and the creative energy of my CCS Software Engineering classmates were inspirational.

CCS: Does a memorable moment stand out from your time at CCS? If so, please describe the moment. 
AC: One year I took a class with Hank Pitcher and Bruce Tiffney, doing landscape painting on UCSB's Sedgwick Reserve. We were up with the sunrise each day, and I remember one morning I was out walking, and a bald eagle flew out of the mist, only a hundred feet away! It was really something.
 
CCS: What advice would you give to current and future CCS students?
AC: I would say, chase your curiosity. Find a thread and pull it...and keep pulling at it until it takes you somewhere.