Meet Danielle Miller (CCS Literature '10)
August 27, 2019
Danielle Miller (CCS Literature '10) shares how working with CCS journals led her to manage website content at Workday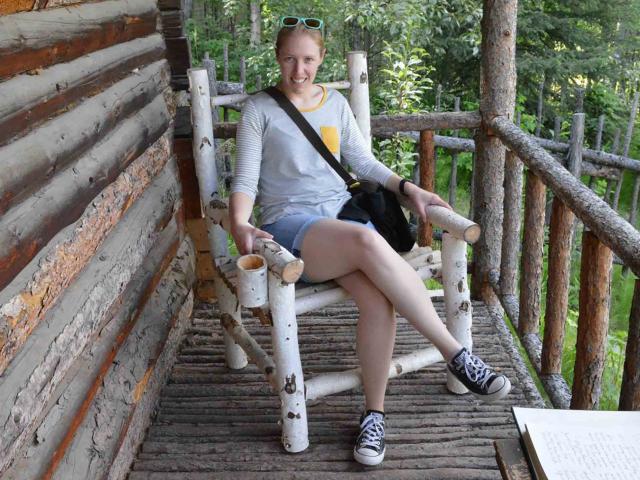 College of Creative Studies: How has CCS impacted your life?
Danielle Miller: I'm not even sure how to answer this question fully because I can't even imagine my life now without CCS. The College gave me such an imagination about who I could be and what I could do with my life. CCS reinforced in me the confidence that it was up to me, and that whatever I chose as my path had value.
CCS: Why did you choose to come to CCS? How did you find out about the College?
DM: I chose CCS because I wanted to learn, I wanted to learn as much as possible, and I knew what I wanted to learn. The variety of classes available and the amazing professors, plus access to anything else I was interested in at UCSB was a huge draw to CCS. The College freed me from limitations typically imposed on students, like prerequisites, and allowed me to find my interests and pursue them. I naturally took classes that expanded my horizons because I was interested in different things. CCS entrusted me to choose my education with guidance from trusted mentors. I very much valued this responsibility and accountability for my own education.
I found out about CCS through an online search and the UCSB website.
CCS: What was your favorite aspect or professor or experience while at CCS?
DM: I had so many wonderful professors at CCS⁠—John Wilson, Caroline Allen, Barry Spacks, and Shirley Lim. They gave such consideration, encouragement, and helpful feedback that shaped me into the writer I dreamed to be. They taught the things we students wanted to read, and the things we needed to read.
The two biggest experiences I had at CCS were my creative writing classes and the literary journals. In the creative writing courses I discovered that editing was my true passion. I loved writing my own stories but I always looked forward more to reading my classmates' work and adding notes in the margins of what I thought would bring out the best of their writing. 
I joined the staff of Spectrum, the CCS Literary Journal. I learned how to use Adobe Photoshop in the CCS computer lab to create the layouts for the content. I reviewed people's submissions and provided feedback. From this experience, I joined the staff of Into the Teeth of the Wind, the CCS Poetry Journal, and created a journal of classmates' work from a short story class called Short Shorts. The combination of editing and producing the final form of the content was what I really loved. It led me to the career I love today.
I can't even imagine my life now without CCS.
CCS: If you attended graduate school, where and what did you study as a graduate student? How did your CCS education help you excel as a graduate student?
DM: I went to Mills College for graduate school where I earned an MFA in English and Creative Writing. CCS helped me excel because I knew, on my own, how to find the classes and experiences that would help me grow in the ways I wanted. CCS helped me identify my focus to continue my learning and education. 
CCS: Describe your career, profession, job. Does it relate to what you studied at CCS? If so, how?
DM: When I decided to study Literature, people often told me I'd end up a poor, homeless artist living out of my car, or that I'd end up in a career that had nothing to do with what I studied. CCS taught me how to think creatively about how I could make a living doing what I loved: writing and editing. The College showed me there were options and paths out there for me. I didn't have to give up writing to make a living, or be a novelist, neither of which were my interest. There was a whole spectrum of possibilities that would allow me to write day in and day out, to do what I was good at and loved.
CCS taught me how to think creatively about how I could make a living doing what I loved: writing and editing.
After graduate school, I was a technical editor at Workday, a tech company in the San Francisco Bay Area. It was the perfect blend of my big passions: editing, writing, and technology. I loved editing the documentation for our product, and learning how to use it at the same time. Putting myself in the reader's shoes, and making the content as accessible and consistent as possible was something I excelled in because of my experience at CCS.
After a few years, I became a manager of technical editors, then took over managing the release notes, and now I manage the content team for our customer site. Being able to see the big picture of all the content we produce along with providing consistency and a predictable content experience for customers is what I love about my current position, and I still get to do a fair bit of editing.
CCS: Does a memorable moment stand out from your time at CCS? If so, please describe the moment.
DM: I remember picking up the CCS literary journals from the publishers in downtown Santa Barbara, and finally seeing the printed product. As a team, we were so proud of the quality of work we did! 
Another memorable moment was reading my short story at the CCS Brancart Fiction Prize event. It was a story that came from my family, but that also I worked on with guidance from Shirley Lim. I was proud of the story but it also represented irreplaceable time I got to spend in Shirley's guidance.
CCS: What advice would you give to current and future CCS students?
DM: Take advantage of the freedom given to you by CCS. Explore everything that grabs you. The opportunity to focus solely on learning and producing the creative work you want is something that doesn't occur often, but CCS is that place.
CCS: Anything else you would like to share about CCS/UCSB?
DM: Overall, UCSB was the perfect school for me. I loved being outside. I loved my classmates. I loved the campus and the CCS building. It was the place for me to write what I needed to write, and to find what I was good at. I will always be grateful for everything CCS gave me, let me do, and all the times a professor would say, "Why don't you write that then?"