CCS Writing & Literature Faculty Jervey Tervalon (CCS Literature '80) Shares His Experiences with COVID-19 Quarantine and Black Lives Matter Protests
June 26, 2020
Tervalon publishes Jervey Tervalon jumps out of COVID quarantine for Black Lives Matter in the Los Angeles Times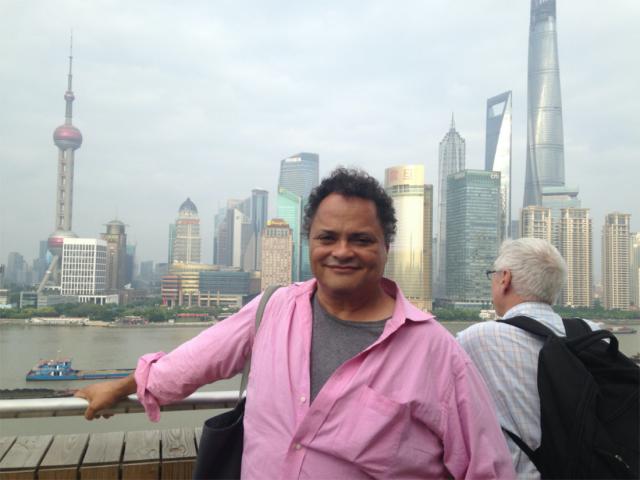 On June 16, 2020 CCS Writing & Literature Faculty Jervey Tervalon (CCS Literature '80) published Jervey Tervalon jumps out of COVID quarantine for Black Lives Matter in the Los Angeles Times, part of the Times' series on what writers are seeing, hearing, and doing during quarantine. In the article, Jervey describes his and his family's involvement with the Black Lives Matter protests in their community. "Jervey has long been an active advocate for diversity and inclusiveness in the creative writing and publishing fields," said incoming CCS Dean Gerardo Aldana. "We are pleased that his voice is reaching state and national level audiences at this critical moment in time." Outgoing interim Dean Bruce Tiffney, echoed these sentiments, noting with appreciation Jervey's long association with CCS and his devotion to teaching and mentoring our students, and his commitment to placing them in diverse settings in the vibrant LA writing community.
Jervey contributed to another Los Angeles Times article as a panelist in How does L.A.'s racial past resonate now? #BlackLivesMatter's originator and 5 writers discuss. "The LA Times approached me about participating on the panel because I've been writing about black LA for a long time," explained Jervey. The article examines the history of racial turmoil in Los Angeles and how it resonates today through a panel discussion with some of the nation's foremost writers on LA's racial history.
Aside from his publications on quarantine and Black Lives Matter, Jervey also released an op-ed My father was an upright man in the Los Angeles Times as a tribute to his father on June 21, 2020. In the article, Jervey discusses his father's influence throughout his life and how he models raising his own children after his father's guidance.
CCS is where I blossomed as a writer. - Jervey Tervalon
"My dad was a math/engineering guy but he encouraged me to be an avid reader and my mom did too," said Jervey. It was his love of reading that eventually led him to CCS. Jervey continued: "CCS is where I blossomed as a writer." At CCS, he worked with various faculty who influenced his writing, including Marvin Mudrick, the College's first Provost. For Jervey, "In Mudrick's class, everything was read cold without identifying the writer. I loved that the work was being critiqued and not the students. It's the best innovation in a writing workshop and that it is not universally done is tragic, especially for writers of color and LGBTQ writers who don't necessarily want to be evaluated, just our work." Jervey uses what he learned from Mudrick's class in his own courses at the College.
In addition to being part of the CCS Faculty, Jervey is an author, award-winning poet, screenwriter, and dramatist. Included among his many publications are All the Trouble You Need, Understand This, Dead Above Ground and Monster's Chef. He is an editor of Geography of Rage: Remembering the Los Angeles Riots of 1992.