Foothill College to UC Santa Barbara
May 21, 2020
Student Advisor Megan Peterson, UCSB transfer student alumna and current CCS staff member, featured on transfer student website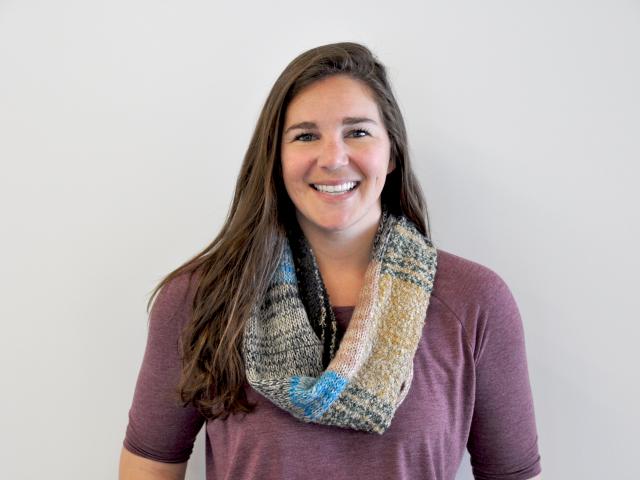 Since her first visit to the UC Santa Barbara campus in 2009, CCS Student Advisor Megan Peterson hasn't left the area for long. Megan, who transferred as an undergraduate student from Foothill College, began working at UC Santa Barbara in 2015 and in 2018, she joined CCS as a Student Advisor. Recently, Megan was featured on the UCSB Transfer Student Center Faculty & Staff Spotlights page. CCS followed up to learn more about her transfer student experience.
College of Creative Studies: What was it like to transfer to UC Santa Barbara?
Megan Peterson: Transferring to UCSB was like coming home. As soon as I stepped on campus for my first tour in May of 2009, I remember looking at my mom and saying, "This is my home." She looked at me and laughed and said, "Yes, for the next two years." And I looked at her dead serious and said, "No, this is my HOME." That feeling has not gone away, 11 years later.
CCS: How are Foothill College and UC Santa Barbara different?
MP: Coming from a community college - where class sizes were kept small, under 30 students, and I was an athlete for Foothill - to UCSB was a challenge. I was used to instructors being available to me and having a special Athletics Academic Advisor to help me every step of the way. Going into L&S as a Sociology major meant I did not have anywhere close to the amount of support as I did at Foothill.
CCS: In your quote on the transfer student center poster, you talk about risk and failure. Could you share a moment where you took a risk, failed, and got back on your feet?
MP: Yes! I'd say my biggest risk during those two years was coming into a UC from a community college and thinking that I could operate with the same study habits and still get A's and B's.  I was very wrong. The UC is challenging, rigorous and demanding. I was naive and earned a 1.9 GPA in my first quarter, earning myself a spot on Academic Probation. I learned my lesson quickly, though, and in the winter quarter, I earned straight A's. I did not allow myself to think, "This isn't for you, you've failed, go home." Instead I said to myself, "You CAN do this. You EARNED your place here. You simply need to focus on school significantly more than you did during the fall quarter." That seemed to work, and I learned that your friends will still be there after you finish your paper or problem set.  
CCS: Is there a particular resource that helped you transition from Foothill College to UCSB?
MP: There were three resources I used the most. Primarily, I asked for advice from the Athletic Academic Advisor, Laurie Bertani. I also received a great deal of guidance and mentorship from my Water Polo Coach, Jeffrey Bissell. Finally, I used www.ASSIST.org, a resource for students transferring between public colleges and universities in California.
CCS: Many transfer students worry that it will be difficult to develop friendships with those who came to UCSB in their freshman year. How did you navigate that?
MP: I had the same worry, which is why I chose to live in the Transfer Student Housing that UCSB offers. I knew that I would at least be around a lot of people that were going through the same transition as me, thus increasing my odds of finding friends to relate to. The transfer housing was definitely a special and awesome community to be living with for my first year. I continued to live with my roommate the following year! 
I want to also emphasize that the people who ended up being my main/core group of people were the friends I made playing intramural Water Polo. By the end of my first year at UCSB, I wanted more in terms of competitive water polo, so a good friend I had made that year decided we would start the UCSB Women's Club Water Polo Team to compete nationally against other university club teams. This community was where I found the most joy during my time as a student. I encourage everyone to get out there and get involved from day one! Remember, on day one, everyone is just as nervous and scared as you are.
CCS: Any other advice you can share to transfer students in particular, or all students?
MP: The only particular advice is reiterating my answer to question three. Use the resources available to you! The staff are there to help you. It can never hurt to ask someone your question and get advice.