Meet Forrest Galante (CCS Biology '09)
May 5, 2020
Adventurer Forrest Galante describes his journey from Harare, Zimbabwe to redefining history as Animal Planet creator and host of Extinct or Alive
By Kailyn Kausen (Writing & Literature '20)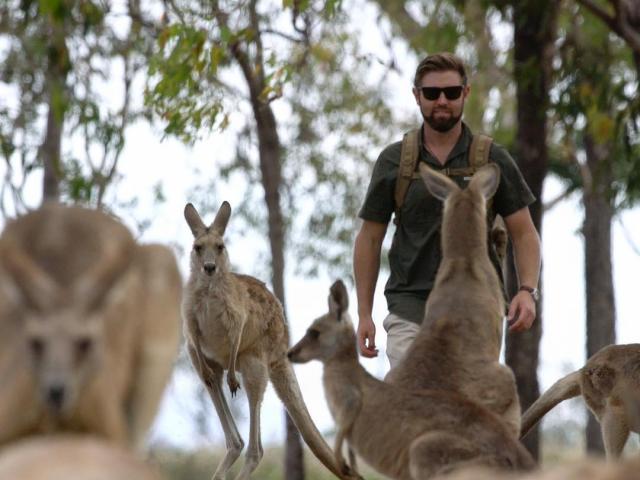 Life-long adventurer Forrest Galante (CCS Biology '09) has an exciting life full of science, world travels, and television appearances. Forrest went from a kid exploring the subtropical highlands of Harare in Zimbabwe to a college student traversing the Santa Barbara mountains and Channel Islands with fellow classmates, to a wildlife biologist conveying conservation and wildlife biology to millions as the host of the Animal Planet television show Extinct or Alive.
Growing up in Zimbabwe where his mother worked as a safari guide and bush pilot, Forrest acquired a taste for exploration and wildlife as a child. In the early 2000s, political turmoil caused his family's farm to be seized, leading to his family fleeing to California in the middle of the night. The transition was not easy and Forrest struggled to adapt to the California school system, which was very different from the one in Zimbabwe.
In one high school memory in California, Forrest brought a pocket knife in his lunchbox to cut an apple and was detained by police and driven home. In Zimbabwe, it was normal to bring a pocket knife to school for that purpose, but public Californian schools have an entirely different view. "I pushed the limit of American high schools to the point where I was suspended repeatedly and in trouble constantly, and my grades suffered because of it," admitted Forrest.
Forrest struggled with the high school classroom environment as he preferred a hands-on approach to learning for instance by hiking the mountains of Big Sur or diving off the coast of Cambria than to sitting in a classroom reading a textbook. Forrest's passion for wildlife caught the eye of CCS biology faculty and parasitologist Armand Kuris at a social gathering in the area. In conversation, Forrest learned Kuris had stick bugs. "I started rattling off all kinds of facts about stick insects, about microfauna in their stomachs, and about what they eat and what eats them and their reproductive rate," Forrest recalled, knowing he spewed facts to a fellow wildlife fanatic who likely knew more about the insect than he did.
This excitement showed Kuris that Forrest had the drive and knowledge to be a successful CCS student even if he didn't have the grades. Kuris told Forrest about CCS, and while he wasn't sure what he wanted to do other than study wildlife, he applied and was accepted into the program. CCS allowed Forrest to excel and fast-track his education. "CCS gave me a wonderful education while also allowing me to express my creative freedom in my field," recalled Forrest. 
CCS gave me a wonderful education while also allowing me to express my creative freedom in my field
Forrest took upper-division herpetology and marine biology classes in his first and second years. After he'd taken just about all that was available, he explained to CCS Biology faculty Claudia Tyler that he was, "...bored by the fact that [he] couldn't practice herpetology." Instead, he would rather "...play rugby and goof off." Steering him back in the right direction, Tyler allowed Forrest to teach a student-led class, generally an option reserved for CCS fourth year students. As a consequence, Forrest was able to share his knowledge and enthusiasm for reptiles and amphibians with other CCS and non-CCS students.
After graduating in 2009, he stayed in the Santa Barbara area working 'biological odd jobs,' and started a business where he adapted his student-led field course for local Santa Barbara residents. After he saved up some money, he sold everything he owned and traveled to 28 countries in fourteen months, looking for and photographing rare wildlife. Returning from his travels to continue his past jobs made him feel unfulfilled. He remembered his grandfather's involvement in proving the existence of coelacanth, a fish believed to have gone extinct 60 million years ago.
"I didn't really want to just go back to being a typical biologist," he said. So, inspired by his grandfather, he "...created a field which didn't exist before": wildlife sciences for animals that have been incorrectly deemed extinct. He created science behind the field, found people to support it, and secured sponsorships to fund it, leading Forrest to co-create and sell the television show, Extinct or Alive.
"Your odds of finding an extinct animal are less than winning the lottery," Forrest admits. "Extinct means gone. It doesn't mean they are hiding somewhere. It doesn't mean there are a few of them left. It means gone, declared by someone to be literally eradicated from the universe. I might as well be going to find aliens or bigfoot, except the difference is that we have rewritten history four times with what we are doing."
Over the course of the show, Forrest and his team have located several other species thought to be extinct. While extensive DNA testing is necessary to confirm species types, Forrest found suspected footage of a Zanzibar Leopard and a Miller's grizzled langur (a type of monkey). Forrest collected DNA from a possible Pondicherry shark, examined an abnormally large lion with 14% DNA from what might be the extinct Cape lion, uncovered the 200-year-old skull of a Malagasy hippopotamus that had been thought extinct for 1,000 years, attempted to breed two of the three remaining Yangtze giant softshell turtles, and researched the Rio Apaporis caiman, a subspecies of the Spectacled caiman which he believes might be its own species instead of a subspecies.
To sit there and hold a species that the entire world has written off as gone forever as being extinct is just one of the most remarkable and astonishing feelings not just on a personal level, but on a much larger level for conservation
Forrest is awed every time he discovers something thought to be extinct because it gives him hope. He said finding a species "...inspires so much hope. Hope for the future of the species, hope for conservation of wildlife globally, and… hope that we can right our wrongs as human beings where we can take something that we have destroyed to the point that it no longer exists, and now, maybe, just maybe, that we have uncovered this evidence, we can bring it back."
In February 2019, Forrest rediscovered the Fernandina Tortoise on a volcanic island of the Galapagos. The tortoise had been classified extinct for 106 years. Thinking of Fern, the Fernandina Tortoise, he remembered, "To sit there and hold a species that the entire world has written off as gone forever as being extinct is just one of the most remarkable and astonishing feelings not just on a personal level, but on a much larger level for conservation."