Raab Writing Fellows Application Closes June 22
June 22, 2020
Fellowships support mentoring and research in writing to selected undergraduates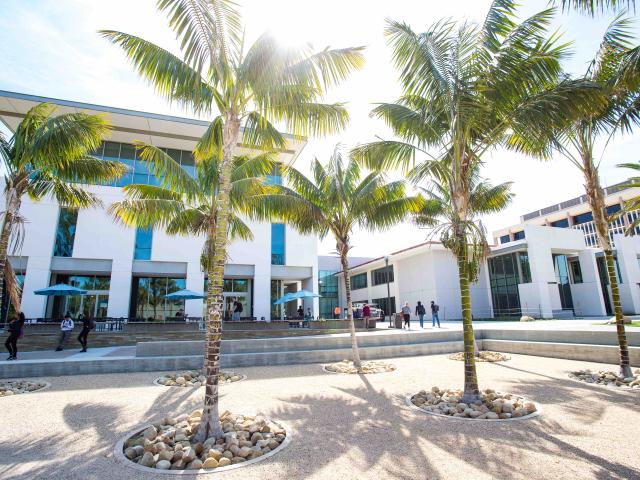 The Raab Writing Fellowship, funded by a generous gift from UCSB Trustee Diana Raab, supports undergraduate awardees to work with Writing Program Faculty and to interact with other Raab Fellows to develop a writing project and to prepare for academic and professional writing opportunities after graduating from UCSB. The fellowship supports expenses like printing, travel, and software to help with the project. CCS Writing & Literature students often use a Raab Fellowship to work on projects including research papers, data journalism, creative writing, and website building.
As the application period for 2020-2021 comes to a close, CCS highlights a few examples of past projects by CCS students. 
2018-2019 Raab Writing Fellows
In the 2018-2019 school year, seven CCS Writing & Literature (W&L) students were selected as  Raab fellows. 
Andrés Worstell (CCS W&L and L&S Film and Media Studies '21) worked on a novella about two women in the 1960's, called Don't Worry Baby, following the lives of two women, one a truck driver, the other a young Navy bride, over fifty years and through multiple perspectives. With the mentorship of Bob Krut, who teaches in the Writing Program and CCS Writing & Literature, Worstell researched the setting and time period in order to create a realistic backdrop for the novella.
Delenn Jadzia (CCS W&L, CCS Chemistry & Biochemistry, and L&S Anthropology '21) and Hannah Morley (CCS W&L and L&S Film and Media Studies '21) co-wrote Homebrewed: A Musical Quest, a musical about finding out where one belongs in the midst of coming out. Fantasy and science fiction tabletop role-playing games are central to the story as the young characters discover who they are. Delenn and Hannah have plans for a filmed production, and are deeply appreciative of the mentorship of Professor Katie Baillargeon of the Writing Program.
Madeleine Almond (CCS W&L '21), Managing Editor, and Michelle Politiski (CCS W&L '21), Editor-in-Chief, produced the 62nd Spectrum Literary Magazine and set the journal up to flourish in the years to come. Along with securing funding, advertising, and planning events to increase journal viewership, Almond and Politiski worked to streamline the reviewing and publishing process so future editors will be ready to make even more progress. This undertaking was advised by Professor Ellen O'Connell Whittet of the Writing Program.
Talia White (CCS W&L '21), worked with Madeleine Sorapure, Director of the Writing Program, on the Spectrum literary journal website and internet presence. White handled the publication of blog content, announcements, and social media promotions. In addition to these tasks, White attended the Association of Writers and Writing Programs (AWP) conference in March 2019 with Almond and Politiski.
Hayley Tice (CCS W&L and L&S Religious Studies '21), a data journalist for the Daily Nexus, examined political contributions in Santa Barbara county from 2015-2018. Her goal was to make local campaign finance data and their implications easier to access and understand. She did this through a website that tracked campaign contributions and placed them in the context of  local politics with the intent of making voters more informed and engaged in local politics. Director of the UCSB Journalism Certificate Program and Writing Program lecturer, Nomi Morris, mentored Tice over the course of the project.
2019-2020 Raab Writing Fellows
In the summer of 2019, the next round of Raab Writing Fellows were selected from a pool of applicants. Out of the 25 fellows, seven were CCS students.
Delenn Ganyo (CCS W&L, CCS Chemistry & Biochemistry, and L&S Anthropology '21) worked on her second Raab Fellowship. She began with the musical Homebrewed and ended with a literary analysis, called "Writing the Future: Science Communication in 'Hard' Science Fiction." Ganyo examined how science fiction authors use science in their novels with mentor Amanda Stansell, Lecturer in the Writing Program. 
Grace Holtzclaw (CCS W&L '22) created the podcast "Golden State Writers" with CCS Writing & Literature Program Coordinator and Writing Program Lecturer Kara Mae Brown as mentor. In "Golden State Writers," Holtzclaw and Brown co-host and interview native Californian writers, discussing topics including the writing process, the writing life, and how living in the Golden State impacts their writing.
Madeline (Mattie) Jones (CCS W&L '20) researched "Love in 2020," mentored by Writing Program Lecturer Kenny Smith as mentor. Jones' literary journalism combines personal experience with data to explore how the Digital Revolution, unlimited texting and phone plans, and constant communication through technology have altered romance and love.
Emma Demorest (CCS W&L and L&S Film and Media Studies '21) wrote a scripted comedy series titled, "Mimi," with Writing Program Lecturer Ellen Whittet as mentor. In the series, recent college graduate Luca moves in with 80 year old Mimi in San Francisco. The unusual pairing creates humor and allows Demorst to highlight themes around race, gender, and identity.
Malire Lozada (CCS W&L and L&S Global Studies '20) researched "What's in a Name: Cultural Naming Practices Around the World" with Professor Madeleine Sorapure of the Writing Program as mentor. The project examined how minority and immigrant parents chose names for their children and how those names shaped the cultural identity of the children as they grew up. Lozada used interviews, secondary research, data visualizations, and a website to display her research.
Vianna Mabanag (CCS W&L '20) wrote a three part essay collection titled "New Maharlika" with Writing Program lecturer, Nomi Morris as mentor. The essays, written as creative nonfiction and literary journalism, focused on modern Filipino women. The essays have themes of breadwinning mothers, colorism, and sex tourism.
Shelia Tran (CCS W&L '20) documented the origin story of Vietnamese Culture night, a performing arts show, in "Cultural Preservation in the Vietnamese American Diaspora: The Tradition of Vietnamese Culture Night" with mentor and Writing Program Lecturer Brian Ernst. The long-form journalism piece traced the history of the Culture Night and explored its ties to Vietnamese-American identity.
To learn more about other student projects, visit the Raab Writing Fellows Program website.
How to Apply
Students in any major are welcome to apply and pursue an opportunity for mentoring and research in writing. Accepted fellows enroll in a year-long course series, Writing 131ABC, where they collaborate with other Raab Fellows and explore resources helpful to their projects. Applications close June 22, 2020. 
To apply, download the Raab Writing Fellows application form.