CCS Congratulates the Classes of 2020 and 2021 with addresses from Oprah Winfrey and Chanel Miller
June 25, 2021
One hundred and ten students graduated from the College of Creative Studies on Saturday, June 12. The CCS virtual ceremony was the culmination of a week-long celebration at UCSB. From Monday through Thursday, graduates participated in the Grad Walk, in which they crossed the commencement stage by the UCSB Lagoon with friends and family in attendance. The festivities continued on Saturday morning with virtual addresses by Oprah Winfrey and Chancellor Henry T. Yang. Following the conferral of degrees, CCS hosted a virtual celebration for the CCS Classes of 2020 and 2021. Opening with a musical selection composed by Ashley Petrie '21 (CCS Music Composition), the program included addresses to the Classes of 2020 and 2021 by the Dean, Chanel Miller '14 (CCS Literature) and student speakers. The program was closed by a musical selection composed by Angelina Picazo '21 (CCS Music Composition) and immediately followed by a virtual reception hosted on gather.town.
During their time at the College of Creative Studies, the Classes of 2020 and 2021 were incredibly active. They co-wrote the CCS musical Shake on It, published research in ACS Biomaterials Science and Engineering, founded the Biology Journal Club at UCSB, helped organize the 2019 APS Conference for Undergraduate Women in Physics, performed with the Santa Barbara Symphony, wrote and directed the student film Alia, were UC LEADS scholars, and participated in innumerable conferences and creative projects, among many other achievements. These graduates also pursued countless social and environmental justice initiatives including advocating for undocumented students, organizing panels for first-generation students, leading chants at the Women's March in Rome, founding the hackathon WomxnHacks, and working on ecological restoration through CCBER.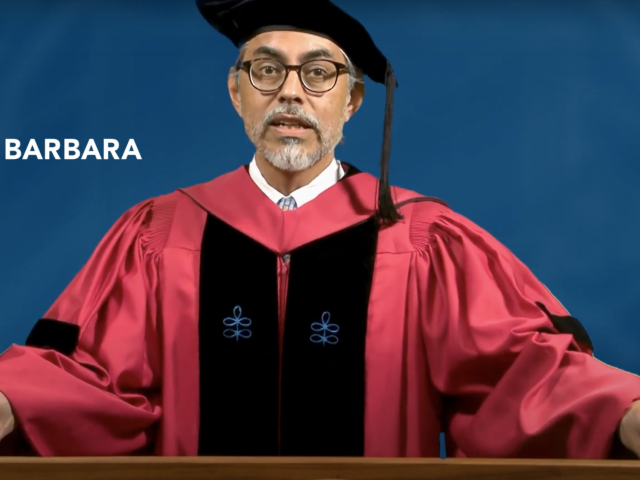 In his commencement address, CCS Dean Gerardo Aldana shared how this graduating class leaves him hopeful for the future because of the passion and dedication for tackling large-scale global issues he has witnessed. "Today's students are hungry for engagement with the impossible problems, with issues of sustainability on all levels," said Dean Aldana. "I have hope because I see CCS as part of the solution." 
"I see CCS as the place where incredibly motivated, curious, and accomplished students excel in their chosen fields, but also having provided the opportunity to take into consideration the impossible problems we all face."

- CCS Dean Gerardo Aldana
Dean Aldana left the graduating classes with some advice. "You will and should look back fondly on the friendships you've found and nurtured, on the risks you've taken, on the success you've achieved, but I hope you will not forget that CCS is the place that champions curiosity," said Dean Aldana. "The faculty and your peers at CCS have pushed you...to stand at the edge of what is known and to peer out, looking for the materials and the ideas that can be used to construct a road into the unknown. Caminante no hay camino, se hace camino al andar" ('Traveler, there is no road, you make your own path as you walk,' excerpt from a poem by Antonio Machado).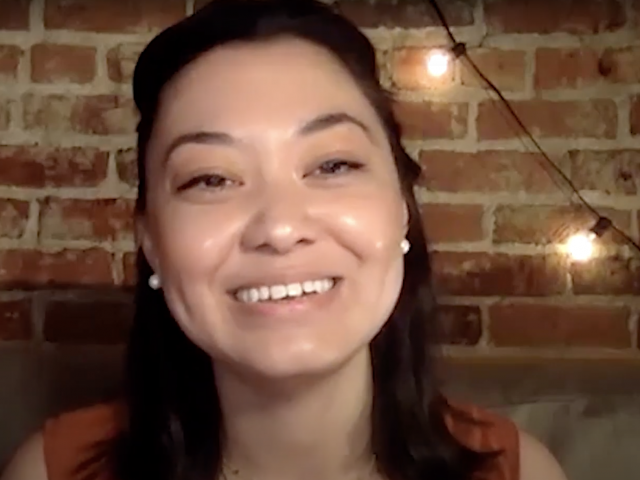 After the Dean's address, Alumni Speaker Chanel Miller '14 (CCS Literature), author of the critically acclaimed memoir Know My Name, recognized the challenges faced by the graduates and shared words of encouragement. "Living in a sustained state of uncertainty and upheaval is really hard," said Miller. "I hope that you credit yourselves for just getting by in any way that you could this past year. You have been subjected to an unnatural amount of change and should feel proud just for getting through." 
"Trust me when I say that you are ready for whatever may greet you." - Chanel Miller '14 (CCS Literature)
Miller continued, "Things are going to be hard and bumpy, but it is not because you are inadequate or unworthy. It is because you are at the very beginning of figuring out your being. What I ask is that when things get dark, you understand that you are nowhere near close to the end of your story," said Miller. "I do not know where you will go or what you will do, but I do know where you've been. I know that we share a common home called CCS. I know that you possess a distinct kind of knowledge, even if you don't know how you're going to use it yet. Trust that."
Many CCS graduates are going to graduate schools to pursue master's and doctoral degrees, while others are directly joining the workforce or taking gap years to explore their options. Their interests vary from going to pharmacy school, working in graphic design, pursuing a PhD in applied physics, or starting work as a software engineer, just to name a few. Congratulations Classes of 2020 and 2021. CCS is proud of all you have accomplished so far and is excited to see where the future takes you.