Encountering Creativity and Discovery
June 13, 2022
Congratulations to the CCS Class of 2022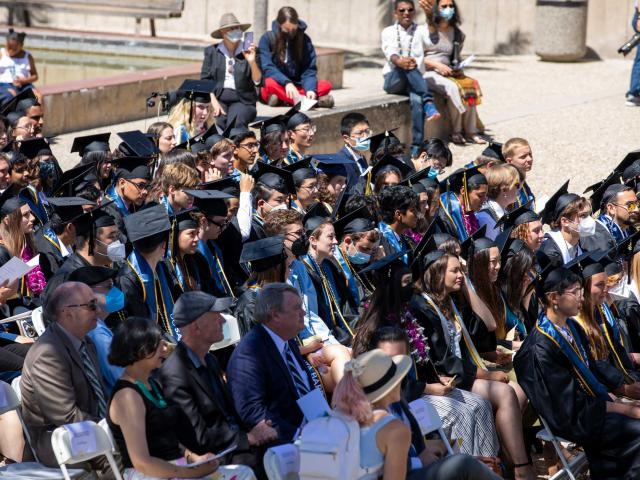 On Sunday, June 5, surrounded by parents, families, and friends, the CCS Class of 2022 celebrated their many accomplishments, including their most recent achievement of graduating from the College of Creative Studies.
"The achievements of CCS Students are indeed powerful, and this year's cohort is no exception," said CCS Dean Gerardo Aldana. During their time at the College, they showcased work in 74 art exhibitions, created 24 computer applications, and organized 15 concerts. They also presented 78 research posters and 104 oral presentations, including 17 at international conferences.
"I loved the overall CCS community and the passion/creativity each student carries. I wouldn't choose anywhere else to go to college — UCSB and CCS were the perfect place to grow as a person and scholar." - Jadon Bienz '22 (CCS Chemistry & Biochemistry)
They received a plethora of awards, including NSF Graduate Research Fellowships, the Thomas More Storke Award, the Chancellor's Award for Excellence in Undergraduate Research, the Alyce Maria Whitted Memorial Award, the Raymond B. Huey Award for best student poster, the Dorothy and Sherrill C. Corwin Award, among many others. In addition, 75 students graduated "with honors" and 30 graduated "with highest honors."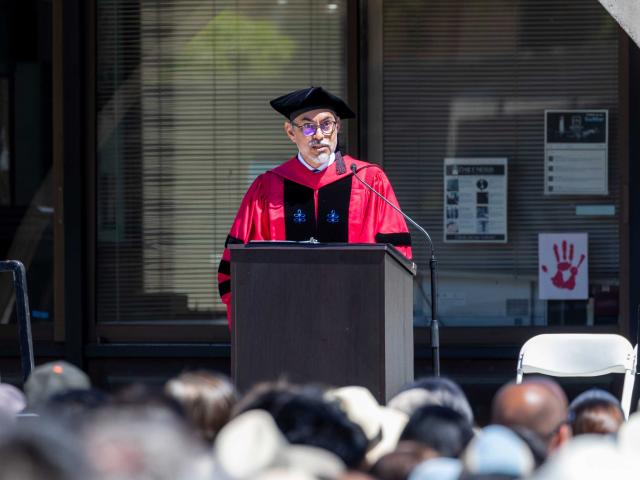 "CCS opened the doors for me to step into the writer I am. As a CCS student I was never limited, and always encouraged to pursue my passions to their fullest and brightest potential." - Vivian Walman-Randall '22 (CCS Writing & Literature and L&S History of Art & Architecture Minor)
"I believe that CCS and our students are exemplars of Hawking's apocryphal quote ['intelligence as the capacity to adapt to change']. CCS – at the intellectual core of every program – embraces change," said CCS Dean Gerardo Aldana. "In fact our students wouldn't be here if they believed otherwise. The curiosity that brought them here and that has been cultivated here – wherever or however it was first born – is stoked by the recognition of patterns that aren't quite accurate or that aren't quite complete. As they've produced new knowledge they have created changes in patterns, in observations – and in mentally adapting to those changes, have encountered creativity and discovery."
After Dean Aldana's address, the celebration continued with speeches from three student speakers, Luca Vito Di Raimondo Scharrer '22 (CCS Physics), Tessa Chou '22 (CCS Biology), and Luc Le '22 (CCS Writing & Literature), as well as a selection of music composed by graduating seniors in Music Composition. Each graduate then walked across the stage as they were acknowledged by members of the CCS Faculty and administration.
"Coming to CCS was one of the best decisions, if not the best, that I have made. I met people who have made a lasting impact on my life and who have become my dearest friends and mentors. CCS has provided me with a platform and a community where I can blossom both as an academic and as a human being." - Ruining Zhang '22 (CCS Physics and L&S French Minor)
After leaving CCS, many graduates are planning to continue their academic journey in graduate school, including at Stanford, Columbia, MIT, Cornell, Chicago, Emerson, Duke, Johns Hopkins, Scripps, Caltech, and Harvard. Others are planning to immediately join the workforce, including working as a storyboard artist in the animation industry, pursuing a career as a software engineer, becoming a research technician, joining a biotech company, and working as a composer and content creator.
Congratulations to the CCS Class of 2022 for all that you have accomplished so far and for all that you will accomplish in the future.
View all photos from the 2022 CCS Commencement Celebration here.