Meet CCS Marine Science Faculty Anna James
June 10, 2022
New faculty member to help launch CCS Marine Science major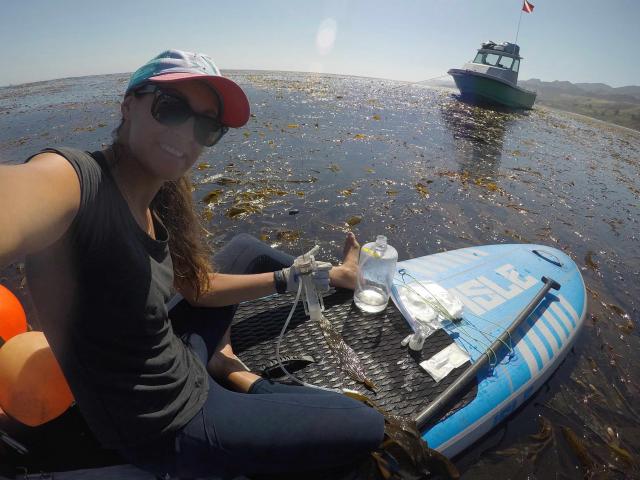 Professor Anna James recently joined the College as a faculty member in the CCS Marine Science program, with a joint position in the Department of Ecology, Evolution, and Marine Biology. After graduating from CCS with a degree in biology, Dr. James went on to complete a PhD in Marine Microbial Physiology in 2018 in the Interdepartmental Graduate Program in Marine Sciences at UCSB. She was then a postdoc with the Marine Biodiversity Observation Network (MBON) in the Wilbanks and Carlson labs. She will be helping to launch the new CCS Marine Science major.
CCS: Can you share a little bit about your background?
Anna James (AJ): I was born not far from campus in Goleta. Despite winding up not 10 miles from where I was born, I spent my childhood moving around Southern California and the UK before returning to Santa Barbara to attend college. With the amazing support and community that we all know so well in CCS, I built the confidence and know-how to pursue my interests in marine science. As an undergraduate I worked in multiple labs including PISCO, the Mo'orea lab, SBC LTER, and had the amazing experience of joining Dr. John McLaughlin's team to dissect fish and search for parasites in Palmyra. After graduating, I found myself obsessed with the underwater world but completely lost as to what to do with my newly acquired degree — I landed a lab-tech position in Dr. Craig Carlson's lab where my job included working as a research assistant on open-ocean research cruises. It was on one of these research cruises from French Polynesia to Chile that I began to fully comprehend the impact of some of the oceans smallest constituents on global carbon cycles. The following year I began my PhD in the Carlson lab, using marine bacteria to understand whether the oceans ability to continue to absorb atmospheric carbon dioxide might be diminishing. Curious to know what we found and how this relates to bacteria? Come chat with me!
CCS: What drew you to Marine Science?
AJ: My first few months were spent on the Pacific Ocean as my parents made their way back from Polynesia on a small sailboat. Over the years, I'm certain their enthusiasm for the marine environment and the endless questions one can ask when staring into the abyss of blue that clung to our sailboat had a huge impact on my growing interest in the underwater world. But it was also the long-term changes I witnessed during summers spent at our Channel Islands that led me to pursue an education in marine research. The abalone shells that once spilled out of your hands when scooping up sand on the beach diminished drastically in my teens and were effectively gone by the time I applied to college. Watching the abalone disappear would be the first of many experiences that led me to pursue a career in which I could ask questions and design experiments to better understand the impact of humans on the marine environment.
CCS: How did you find out about and get involved with CCS?
AJ: I love this question because, as an alum, it is crazy exciting to be returning to CCS. The mentorship I gained from many faculty including Claudia Tyler, Kathy Foltz, Armand Kuris, and Kip Fullbeck was key to my success in STEM. It's a privilege to now be working alongside these wonderful mentors to support and learn from our student-colleagues.
CCS: What do you find compelling about CCS?
AJ: My experiences as a CCS student solidified my obsession with learning and science. As I mentioned above, the learning communities and environments, fostered by the exceptionally supportive staff and faculty, were key to my persistence in the STEM field. Additionally, the opportunity to enroll in courses from Figure Drawing to Middle Eastern Literature ignited my curiosity and motivation to explore the natural world through various scientific, disciplinary, and cultural lenses.
CCS: What are you looking forward to with the new Marine Science major at CCS?
AJ: I can't wait to meet our students! It is also a dream to be a part of a collaborative team of staff, students, and faculty to create inclusive and innovative spaces to support future knowledge creators. Pairing students' curiosity with the tools and foundations necessary to expand the lenses through which we ask questions and build innovative solutions is key to protecting our marine environment.
CCS: Anything else you would like to add?
AJ: Thank you for the opportunity to share a bit of my story and I look forward to meeting more folks at CCS!