Welcome back to Campus: the 2023-24 Academic Year Begins
October 2, 2023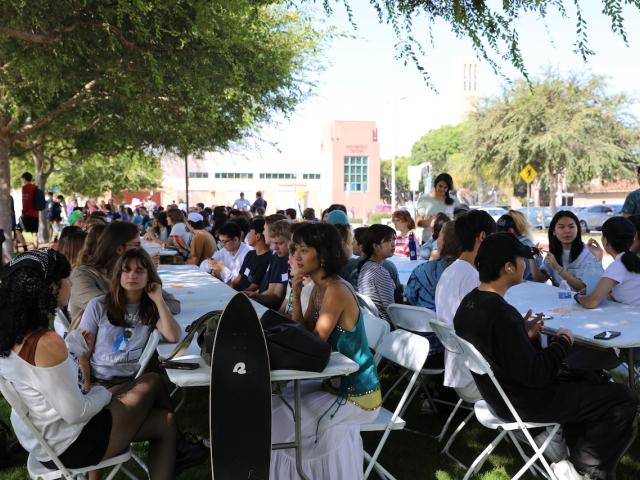 On September 27th, the College of Creative Studies kicked off the new academic year with its annual All College Meeting. Dating back to the establishment of the College in 1967, this long-standing tradition welcomes new and returning students to campus for a day of networking and fun. 
To celebrate the first cohort of the Marine Science major, students and staff donned ocean-themed costumes ranging from colorful sea creatures to nautical sailors and pirates. Interim Dean Sherwood opened the event with a message about cultivating a shared community.
"You are in the midst of an amazing period of personal growth, and it's happening to you while you are a member of a vibrant community of people stretching and growing in their own ways. Cherish it. Nourish it. Respect it. Be a part of creating as well as enjoying an inclusive community that collaborates and supports one another."

––Timothy Sherwood, Interim Dean, CCS
Students then gathered for the notorious college class photo, followed by a CCS All College Costume Contest. Sam Jain '27 (CCS Biology) and Hayden Borg '27 (CCS Physics) snagged first place with their creatively crafted boat costume, the CCSS Bottom Feeder, winning free CCS t-shirts and a spot at front of the line for lunch. Students fueled up on sizzling fajitas before competing in the third annual Rock-Paper-Scissors tournament. After many exciting rounds, Ariana Duckett '26 (CCS Writing & Literature) emerged victorious as the 2023 Rock-Paper-Scissors Champion before students and faculty ended the day with major meetings.. 
Welcome back to campus and we wish you an amazing 2023-24 academic year!