Welcome to CCS
October 11, 2021
A brief history of the CCS All College Meeting
Almost as old as the College itself, the annual CCS All College Meeting has served as CCS' opening event since 1968. It is a time where colleagues, new and returning, can connect and build excitement for the year ahead. This year's event, which took place Wednesday, September 22, 2021 marked the 54th All College Meeting.
The meeting was created during Marvin Mudrick's tenure as CCS' first provost from Fall 1967 until 1984. The tradition continued under Provosts Max Weiss and Adrian Wenner. Now a well-established annual prologue marking the start of a new academic year, Provost William Ashby supported the addition of a lunch to enhance the welcoming in of new and returning members of the CCS community. "The first one was a tri-tip barbecue on the front lawn, cooked and served by the staff, including yours truly," said Dr. Ashby. "It was always fun."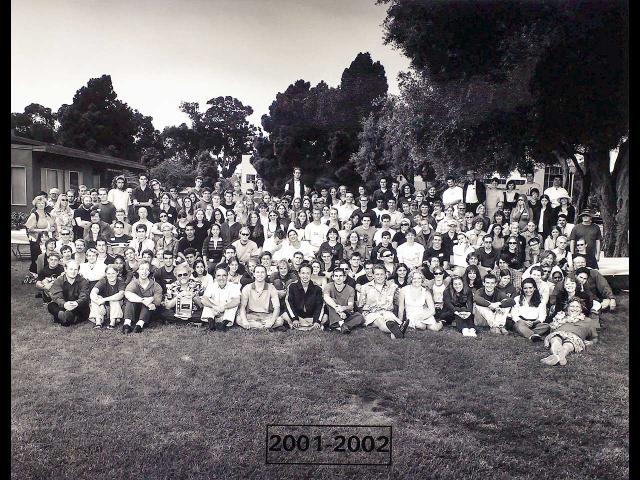 Karen Poirier, the CCS Assistant Dean from 2000 to 2013, experienced her first All College Meeting in fall of 2000. "What I learned was that every year in September when school was back in session, the College of Creative Studies Provost, Deans, Staff, and Faculty prepared to welcome in and welcome back new and returning students." First, the Provosts (now Deans) and faculty would introduce themselves and then talk about the College and the year ahead. Following the introductions, the faculty held breakout sessions for each major. The event concluded with an "All College" photo and the aforementioned lunch.
Though the event was successful, Poirier saw the potential to transform the gathering into a celebration. "Something in my mind said this is a big event and therefore it should start the new academic year with a big party," explained Poirier. "Thus, the themed CCS All College annual meeting began in my head as we approached 2001." CCS launched its first themed meeting, Luau, in Fall 2001.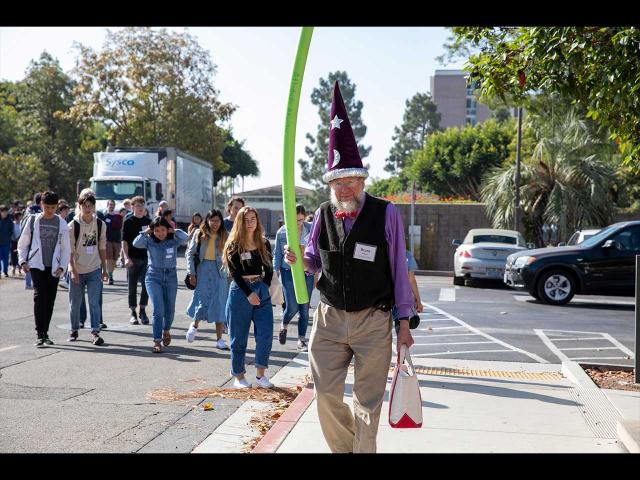 The themes continued, including Rodeo, 20,000 Leagues Under the Sea, Disco, Super Heroes, Famous Fictional Characters, Internet Memes, Space Travel, and Denim on Denim. Subsequent Deans also added their take to the event. 
Dr. Bruce Tiffney, CCS Dean from 2006-2016, and Interim Dean from 2018-2020, added his signature wizard hat. During Interim Dean Kathy Foltz's tenure from 2016-2018, breakfast was added (an initiative sparked by then CCS Academic Advisor Sara Sterphone). Current CCS Dean Gerardo Aldana shared his now famous goat story during the virtual All College meeting in 2020.  
This year's special celebration welcomed students not only to a new academic year, but also to campus as in-person instruction resumes this fall. Matching this year's theme, the Great Outdoors, much of the event, including the All College Meeting, took place outside, on the CCS Lawn.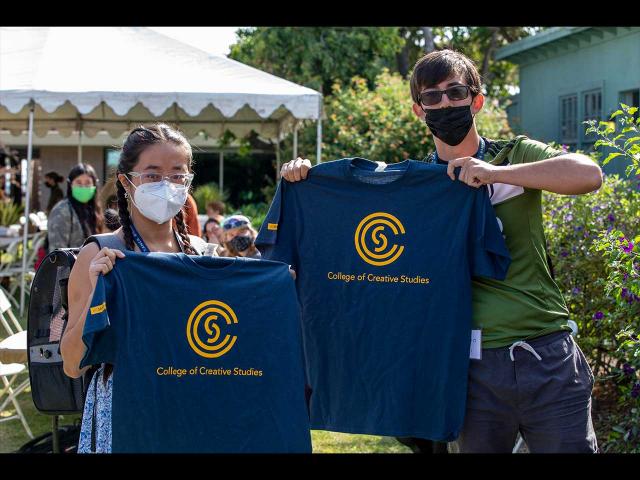 During the event, CCS held its first-ever icebreaker Rock-Paper-Scissors Tournament, where first and second place went to Celine Pun '22 (CCS Writing & Literature) and Filippo Delzanno '25 (CCS Physics). We congratulate them and look forward to the year ahead.