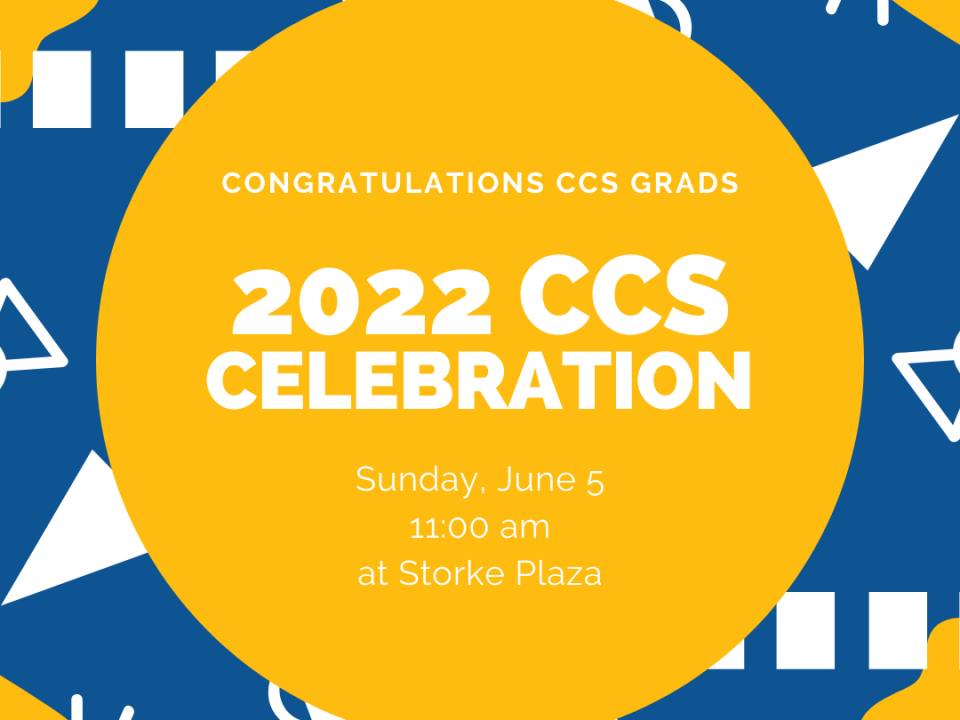 2022 CCS Commencement Celebration
Sunday June 05, 2022 11:00am
Congratulations Class of 2022
The CCS Commencement Celebration will take place on Sunday, June 5th at 11 am in Storke Plaza (LOCATION IS NO LONGER CAMPBELL HALL) followed by a reception. Seating will open at 10 am. Graduates are to check-in with CCS staff by 10:30 am at the front of the seating area, closest to the stage. Guests can access Storke Plaza via stairs or elevator. 
Please note that masking is currently required indoors on campus, including restrooms. For more information about UCSB's COVID-19 response, please see here.
RSVP: An RSVP form with a deadline of May 1, 2022 was sent to all CCS students.
Guests: Seating is limited. Graduates will be able to invite up to 7 guests without qualification. If a graduate will be requesting additional guests, please be sure to indicate this in the RSVP form. In May, the College will provide information about the availability of additional seats to those who indicated interest.
Livestream/Recording: For those unable to attend, the Celebration will be live-streamed and recorded. Check back on the CCS Commencement page on June 5th for the live-streaming link.
Attire: Graduates may wear whatever regalia they wish, which can include any of the attire available through the UCSB bookstore. Recommended attire is "dressy." Cap and gown are optional. For the first time ever, we intend to also provide CCS graduates with a braided cord to wear in honor of your graduation from our College. The location is outside with minimal shade, so please be sure to protect yourself from the elements. The weather in Santa Barbara in June can vary widely. Be prepared for sun, fog, or even drizzle. Please check the weather and prepare accordingly to make it a safe and comfortable event.
Program: The CCS Commencement Celebration will include:
Speeches by the CCS Dean and our CCS Student Speaker(s)
Individual graduate acknowledgements
Professional photographs as you walk across the stage (Grad Images will contact graduates with photo purchase options)
Pieces written by our Music Composition graduates
Post-Celebration reception
For graduates who are planning to attend one of the L&S Commencement events the weekend of the 11th and 12th, please contact the Office of Event Management & Protocol via Commencement@ia.ucsb.edu.
Please stop by the CCS advising office or call us at (805) 893-4146 if you have any questions - we will be happy to help in any way we can.
Please feel free to share this information with family, friends, or faculty members who will be part of our celebration. More information will be posted to the CCS Commencement page as details become available.