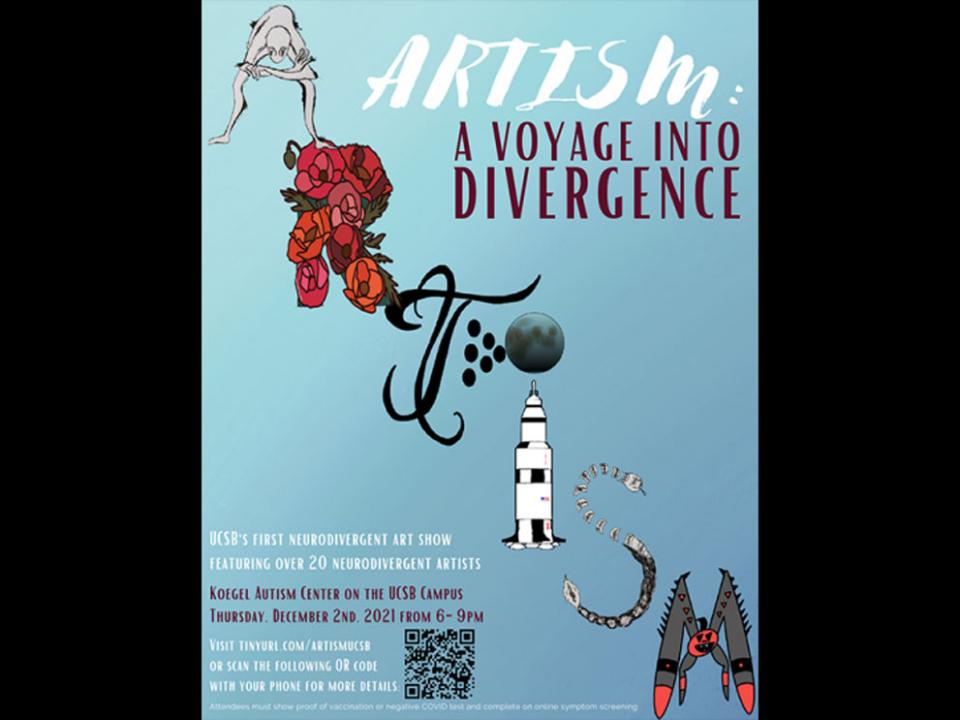 ARTism: A Voyage into Divergence
Thursday December 02, 2021 6:00pm
Location
Koegel Autism Center on the UCSB Campus
The Koegel Autism Center on the UC Santa Barbara campus will present "ARTism: A Voyage into Divergence" on Thursday, December 2 from 6-9 pm. This art show will be the first on the UCSB campus to feature neurodivergent art from over 20 artists. The work ranges from paintings and drawings to digital and media art, sculpture, composition, and spoken word.
The evening is the brainchild of the Koegel Autism Center's Creative Club, a community of endlessly kind and supportive neurodivergent adults and allies that meets once a week to share experiences, inspiration, and time with one another. The artists in the show are: Hannah Crousore, Naomi Pierce, Linda (Melika) Rahimi, Michelle F. Seyer, M.*, Georg Wolf*, Kaka*, B Arriaga, Noelle Greaux, Deb Bradbury, Sokun Yoeung, Katherine MacLeod, Breana Lepe, Ronan Swanic-Weber, Kase van der Linde, Lisa Jevbratt (professional artist and art department faculty), Maison "Bub" Bray, Jay Davis Porter, Kieran Zoeller, Sean Carter, Maja Skjøth Hegelund, Isabella Catanzaro '23 (CCS Physics), Caren Chua, Flora Lin, Erica Fagnan '21 (CCS Math), Mikaela Stone '23 (CCS Writing & Literature). NOTE: Some artist names are pseudonyms chosen by the artists to protect their privacy. Pseudonyms are noted with "*."
For more information, click here.