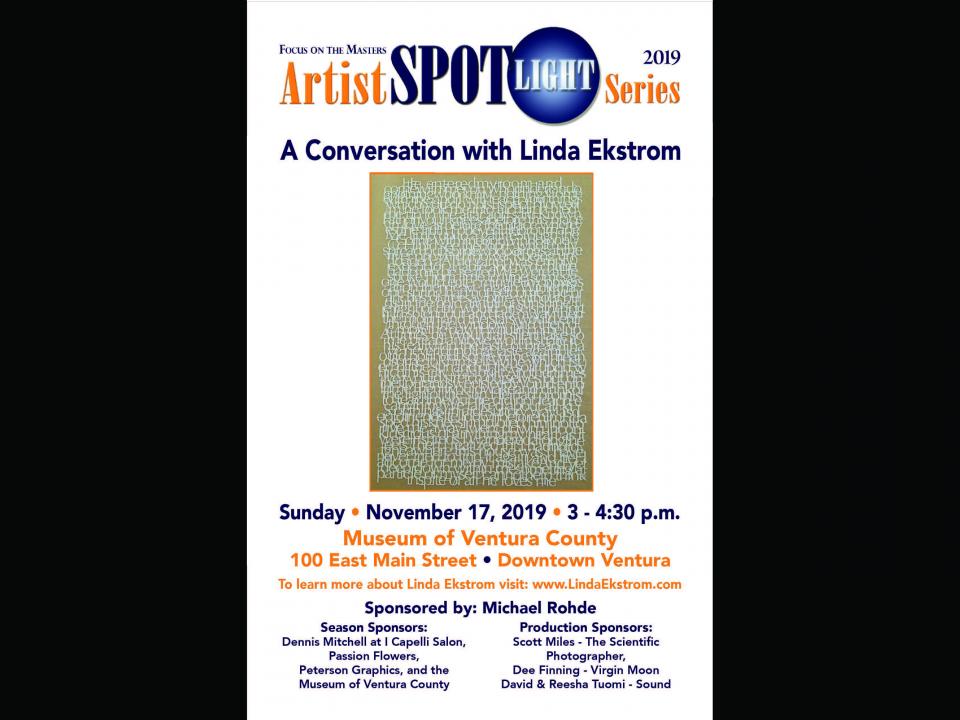 A Conversation with Linda Ekstrom
Sunday November 17, 2019 3:00pm
Location
Museum of Ventura County
A Conversation with Linda Ekstrom
Date: Sunday, November 17, 2019 3:00 to 4:30 p.m.
Location: Museum of Ventura County, 100 E. Main Street
To learn about Linda visit www.LindaEkstrom.com
To RSVP click HERE
$15 general public; $10 seniors - FREE to Focus on the Masters Members
In the writings of Linda Ekstrom, "Words and narrative are the central subject matter of my work. Books are transformed, seeking for the spiritedness of the text, giving to the words a visual vitality." Through her altered and deconstructed books and other mixed media works, the artist seeks to uncover and articulate a profound sense of meaning. Using text as material, Ekstrom's studio practice is steeped in personal expression, exploring issues of "ritual, tenderness, longing, and a desire for connection."  The language of art is sacred in all its forms. Even discarded materials become an opportunity for choice and the examination of the "mystery of failure, the profound opening into another choice…." Linda has presented lectures about religion and contemporary art in respected institutions across the United States. She received a Master of Fine Arts from the University of California Santa Barbara and teaches at UCSB's College of Creative Studies. Her works are widely collected and have been exhibited throughout the United States and Europe. 
Sponsored by Michael Rohde
Season Sponsors: Dennis Mitchell at I Capelli Salon, Passion Flowers,Peterson Graphics & the Museum of Ventura County
Production Sponsors:  Scott Miles - The Scientific Photographer, Dee Finning - Virgin Moon, David & Reesha Tuomi - Sound
Related Files
A Talk with Linda Ekstrom poster.pdf
5.25 MB