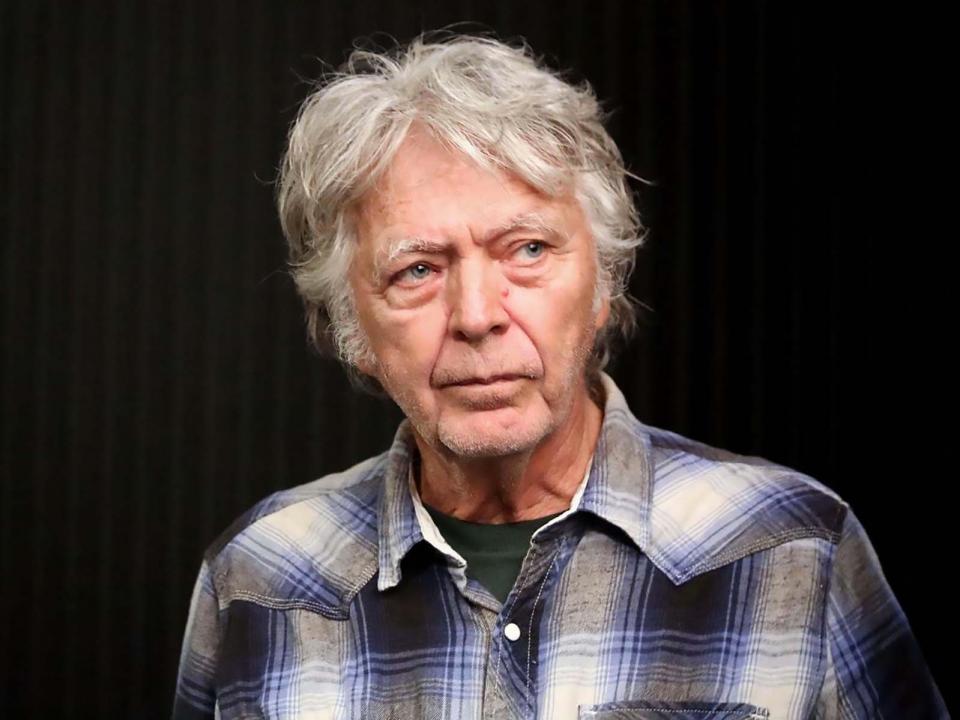 Fall 2018 Arts Colloquium: James Benning
Thursday November 15, 2018 5:00pm
Location
UCSB's Embarcadero Hall
The UCSB Department of Art and College of Creative Studies present the opening of Fall 2018 Visiting Artist Colloquium. The program offers a wide range of voices in dialogue, exploring the topics of contemporary art, theory, and cultural production by emerging and established visiting artists, as well as members of UCSB faculty and graduate students. Presentations will take place each Thursday, from September 27th through December 6th, 2018. All lectures are free and open to the public, held each Thursday from 5:00 to 6:50 PM in UCSB's Embarcadero Hall in Isla Vista. 
James Benning is an independent filmmaker who has been exploring the medium for more than forty years. More recently, Benning has branched out to work with photography, archival materials, installation, and multimedia works, and he has perfected the art of stillness and meditative imagery in his often landscape-oriented works. As a major figure of American cinema, in the late 1960s, he directed his first short films in the experimental-cinema tradition, retaining its formal rigour and taste for conceptual constraints while pioneering the notion of "figurative narrative." His films rest on an experience of time and perception in their relationship to space. They also approach the notion of place from autobiographical, cultural, political and historical viewpoints. Beyond formalist explorations, it is at (and to) America that he has always kept "looking and listening.
Look. Listen. Pay attention. Be alert, attuned, patient. Heed your own senses; hone them, heighten them. Focus, engage the moment, be here now – and notice how anyway thoughts, memories, expectations, presumptions and self-distractions come teeming in. James Benning's movies pose an idealistic challenge, a spur to unattainably pure observation, but this recognition of the subjectivity of experience is also part of their plan.
To newcomers, Benning's cinema can come as a shock, even intimidate. The spartan rigour of its design makes most narrative movies look like victims of attention deficit disorder (and their audiences victims of informational spoon-feeding). Harking back to the actualities of early, pre-story cinema, it extends their direct gaze – exploring the properties of both the world and our perceptual apparatus, typically with a static camera – into increasingly extreme duration.
One Way Boogie Woogie (1978), an early marker of Benning's maverick formalism, deployed shots uniformly 60 seconds long (while carving up the frame in a flat tribute to Mondrian). The three parts of his California Trilogy – El Valley Centro (2000), Los ( 2001) and Sogobi (2002) – each presented 35 shots two-and-a-half minutes long, the running time of a 100-foot roll of 16mm film; 13 Lakes (2005) and Ten Skies ( 2005) captured their titular subjects in ten-minute takes, or the larger 400-feet rolls.
Benning grew up in a blue-collar Milwaukee, Wisconsin community which tore itself apart in the race battles of the 1960s; he recalls being beaten up by former neighbours when he became a civil rights organiser. He studied maths on a baseball scholarship at the local university, and won note as a rare Midwesterner in the 70s American experimental film scene with his early contributions to the structuralist movement in the 1970s.
In addition to his groundbreaking cinematic work, Benning deals with the conditions of technological developments and their social consequences. The ambivalence of the great American dream of (technological) progress, unlimited possibilities, freedom and independence, is reflected in his installations as well as in further works produced in a wide range of media.
Benning draws inspiration from the life and history of outlaws like the philosopher Henry David Thoreau (1817–62) or the mathematician Theodore Kaczynski (b. 1942), also known as the Unabomber. Thoreau's 1849 essay "The Resistance to Civil Government," about disobedience against the state, questions authoritarian structures and influenced the American protest movement of the 1960s, as well as Martin Luther King and Mahatma Gandhi. Kaczynski terrorized the United States from 1978 to 1995 with his letter bomb assassinations and drafted a manifesto in favor of resistance against the increasing permeation of technology in society, while secluded in the mountains of Montana. Thoreau, too, was attracted by the solitude of the forest, and Benning addresses this proto-American moment of independent self-determination in his exhibition in Hamburg by presenting replications of the self-made houses of Thoreau and Kaczynski. Both cabins were originally signs of fear of the loss of freedom, which isn't new but is currently being rekindled and, above all, revaluated.
In film installations, Benning continues his ongoing process of empathizing and replicating, while confronting relic and replica and pushing the question of originality and autonomy to the extreme. By copying the paintings of the outsider artists Black Hawk, Bill Traylor, Martín Ramírez, Henry Darger, Jesse Howard, Joseph Yoakum, William Hawkins, and Moses Tolliver, and by linking them to an extract of Kaczynski's diary, Benning interrogates further the myth of the autonomous artist who practices off the civilizing spectacle. Benning's most recent work is a three-part installation consisting of a reproduction of a quilt by Missouri Pettway. She made the original patchwork quilt in 1941 out of pieces of clothing of her deceased husband. Benning expands his sample by the family history of the woman, who lived as a slave on a cotton plantation in Alabama—at one and the same time as Mondrian painted Broadway BoogieWoogie, which is varied by Benning and translated into a glass work.
Benning lets the histories collide, not negotiating them in a documentary manner, but developing a geography of spirit. The emphatic atmosphere is created by the quality of Benning's view, which is highly concentrated and directed by the obsession to exceed mere narration.