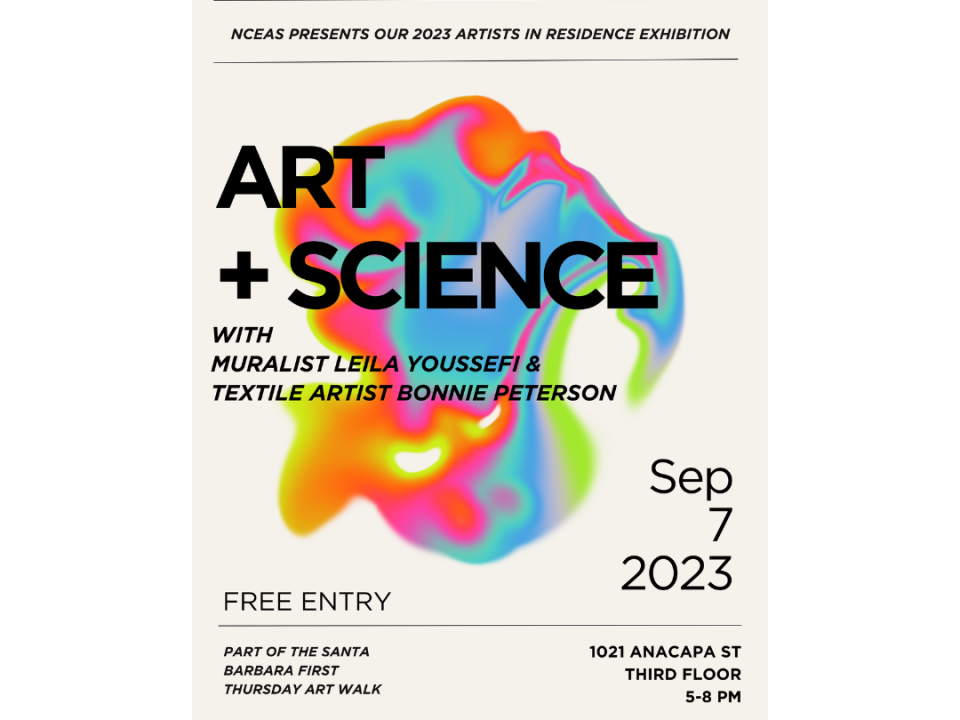 NCEAS Presents: 2023 Artists in Residence Exhibition
Thursday September 07, 2023 5:00pm
Location
1021 Anacapa Street 3rd floor
Art + Science with Muralist Leila Youssefi & Textile Artist Bonnie Peterson
Contemplate the Intersection of art and science with the exhibit of the final works of the National Center of Ecological Analysis and Synthesis' 2023 Artists in Residence, muralist Leila Youssefi and textile artist Bonnie Peterson. Food and non-alcoholic drinks will be served.
---------------------------------------------------------------------------------------------------------------
The College of Creative Studies (CCS) is excited  to announce that Leila Youssefi '18 (CCS Art, L&S Environmental Studies) is participating in The National Center of Ecological Analysis and Synthesis (NCEAS) 2023 Artists In Residence Exhibition. The exhibition will take place as a part of the Santa Barbara 1st Thursday Art Walk.
Aptly titled Art + Science with Muralist Leila Youssefi & Textile Artist Bonnie Peterson, this art showing illustrates the way in which art and science can intersect to address society's most crucial environmental issues. The exhibition is just one key element of  the Art+Science initiative at NCEAS, which aims to facilitate conversations between artists and scientists in order to promote interdisciplinary thinking and potential solutions for the complex challenges our environment currently faces.
Leila, a 2023 NCEAS Artist In Residence, combines her academic background in environmental studies and painting to create a narrative about societal welfare through the themes of equity, sustainability, and positivity. Her experience as a first generation Persian-American student often guides her work, particularly in her "LvL Up!" series that uses whimsical creatures to depict the internal conflicts faced by hyphenated-identities, ultimately empowering marginalized viewers to liberate themselves. 
In 2017, Leila was featured in the College's 50th anniversary newsletter for receiving a  prestigious William Dole Memorial Scholarship.
The College celebrates Leila's success and her passion for intersecting art and science as a muralist. The NCEAS 2023 Artists In Residence Exhibition is free and open to the public. All are welcome. 
Read more about Leila and her work.