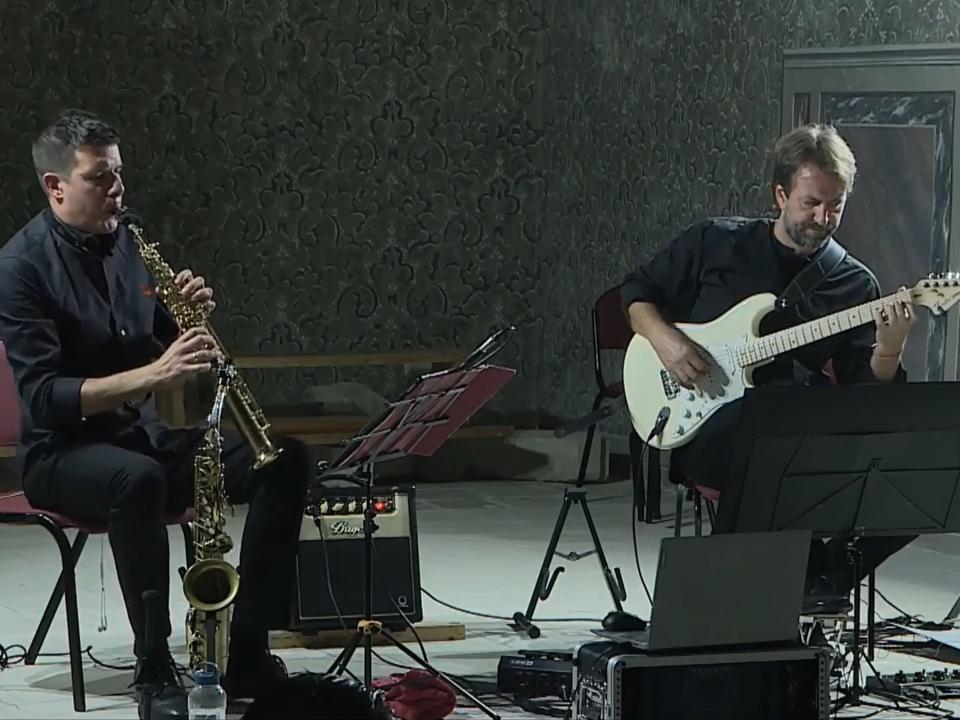 New Music for Soprano Saxophone and Electric Guitar Duo
Tuesday November 01, 2022 7:30pm
Location
UCSB Old Little Theater, Channel Islands Rd, Santa Barbara, CA 93106
Free Admission with a reception to follow
Gordan Tudor and Mislav Režić present a concert marking the 30th Anniversary of International Recognition of the Republic of Croatia. They will be featuring compositions by Stephen Goss, Chiel Meijering, Davor Branimir Vincze, Mirela Ivičević, Steve Reich, Radiohead, and Ivan Božičević.
Gordan Tudor is a multiple award winner on national and international competitions (PBZ Zagreb Philharmonic Award, Rector's Award, Judita Award, Mare nostrum - Berlin, Lions Club Grand Prix, Rudolf and Margita Matz Fond Award) and five times winner of Porin Award. As a performer, he premiered more than thirty compositions of Croatian and foreign authors, and as a composer experimented with various genres and combinations of instruments.
Gordan leads an international saxophone class at the University of Split - Arts Academy (UMAS) and until recently he was a part-time saxophone teacher at the Music High School Josip Hatze in Split and a guest professor of Saxophone at the Art Academy in Novi Sad (AUNS). He is often asked to give masterclasses and is a frequent member of juries on international saxophone competitions.
Gordan is alto saxophone player of the highly acclaimed Papandopulo Quartet, soprano saxophone player in Trio GIG and he is a founder and artistic director of ensemble for contemporary music S/UMAS. Tudor studied with eminent professors; Dragan Sremec (Zagreb), Arno Bornkamp (Amsterdam), Claude Delangle (Paris) and Eugene Rousseau (Salzburg). In 2015, Gordan published his first album with new Croatian music for Saxophone, released by CANTUS and won 3 Porin Awards including one for "best interpretation in classical music".
From 2009 until 2017 he was an artistic director of the New Music Days Festival in Split which annually hosts eminent musicians from all over the world. Gordan spent the summer of 2011 in residence at the Bang on a Can Summer Festival, Massachusetts Museum of Contemporary Art (North Adams, MA).
Mislav Režić is one of the most prominent Croatian guitarists who leads an active international career as a soloist and chamber musician. A wide interest in musical styles and the ability to perform both on period and modern instruments (including the electric guitar) led him to collaborations with different musicians and ensembles. Having a special interest in contemporary music and new compositional contexts, he commissions and often gives first performances of the new works for guitar, enriching in that way the repertoire of the instrument. Composers Vlado Sunko, Nikoleta Chatzopoulou and Sofia Avramidou have dedicated their compositions to him.
He is the founding member of ensembles Machetes, based in the Netherlands, and Tetttix, based in Greece, specialized in contemporary music. So far, he has performed as a soloist or with musicians such as: percussionists Pepe Garcia and Diego Espinosa, harpsichordist Cvetanka Sozovska, mezzo-soprano Tanja Šimić, soprano Georgia Balabini, baritone Jussi Lehtipuu, violinist Laura Vadjon, flutists Antigoni Tsalla and Gregor Schulenburg, in the concert venues of European cities like Amsterdam, Athens, Berlin, Bruxelles, Kopenhagen, Rome, Zagreb etc. He studied at the Academy of Arts in his hometown of Split, Croatia and in the Netherlands where he obtained Master's degrees both at the Royal Conservatory in The Hague and the Conservatory of Maastricht.
He has won many Croatian national and two international music prizes (International Guitar Competitions in Zwolle 2002 and Enschede 2007) and in 2003 Croatian Society of Music Artists awarded him the annual music prize. Mislav Režić is the artistic director of the chamber music festival Musical Evening at St. Jerome's and conducts the International summer guitar course, both in Kaštela, Croatia. His solo CD "Auburn" with contemporary music for guitar was released in January 2017 by Greek independent label DNA.