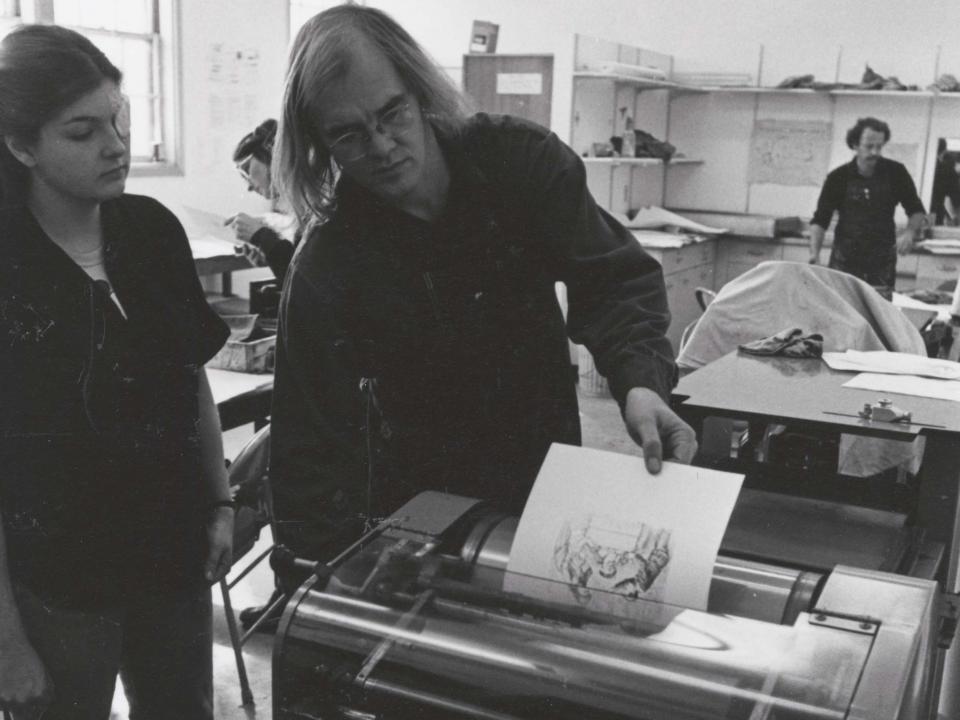 Spring 2018 Visiting Artist Colloquium: Harry Reese
Thursday May 24, 2018 5:00pm
Location
UCSB's Embarcadero Hall in Isla Vista
The UCSB Department of Art and College of Creative Studies present Spring 2018 Visiting Artist Colloquium. The program offers a wide range of voices in dialogue, exploring the topics of contemporary art, theory, and cultural production by emerging and established visiting artists, as well as members of UCSB's faculty and graduate students.
This lecture will be held from 5:00 to 6:50 PM on Thursday, May 24 in UCSB's Embarcadero Hall in Isla Vista. For directions to the location, please visit UCSB campus map.
We invite you to attend this retrospective lecture by Professor Reese, who will be retiring after a distinguished 40-year career here at UCSB. Join us in honoring Professor Reese and his work as a creative scholar and beloved teacher-mentor in print, papermaking, visual literacy and media ecology in the Department of Art and the College of Creative Studies.
Harry Reese received a BA in Political Science in 1968, and an MA in Religious Studies in 1971, both from the University of California, Santa Barbara, and an MFA in Creative Writing from Brown University in 1975. He has taught print, papermaking, book art, visual literacy, and media ecology classes at the University of California, Santa Barbara since 1978. He served as Chair of the Department of Art for over five years, and as Associate Dean of the College of Creative Studies for seven years. He continues to co-direct the Book Arts Program (which he established in 1985) in the College of Creative Studies, one of the only programs in the country in which an undergraduate may receive a degree in Book Arts.
In partnership with Sandra Liddell, Harry Reese has published limited edition books and prints for their Turkey Press & Edition Reese imprints for over four decades from their home/studios in Isla Vista. Featuring their own handmade paper, typography and design, traditional and experimental prints and painting, innovative book structures, and collaborations with artists, poets, and writers, their publications can be found in major libraries, museums, and private collections. They have received significant grants, awards, and recognition from a number of organizations and institutions, most notably the National Endowment for the Arts, California Arts Council, Nevada Arts Council, Rhode Island State Council on the Arts, the American Institute of Graphic Arts, Los Angeles Public Library, College Book Art Association, Book Club of California, Getty Research Institute, Stanford University, and the Public Art & Design Program of Broward County (Florida).