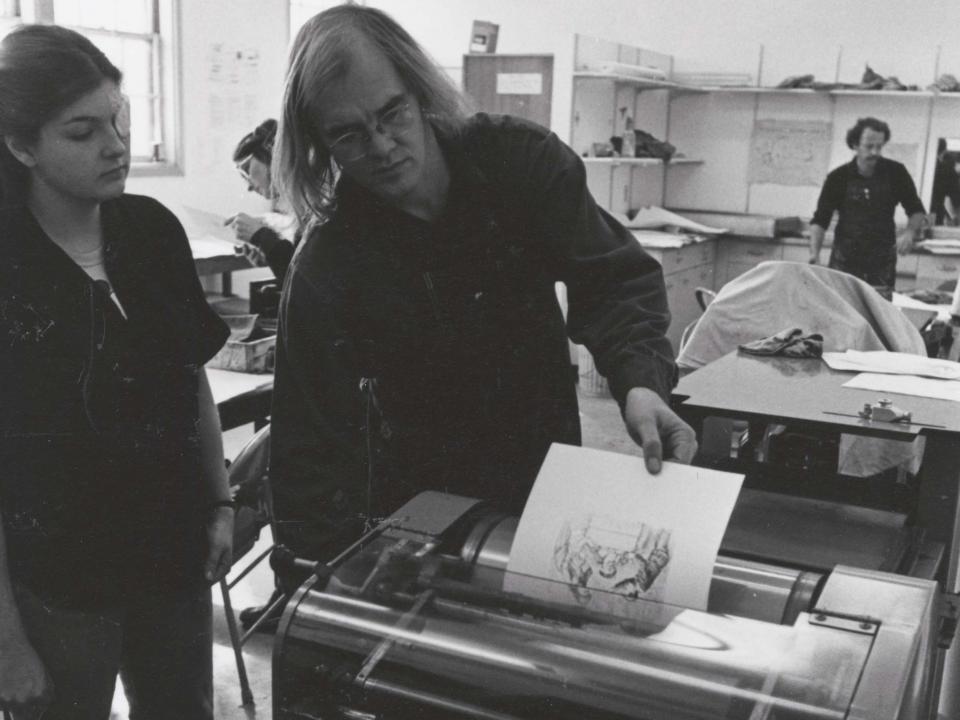 Spring 2018 Visiting Artist Colloquium: Harry + Sandra Reese
Thursday May 24, 2018 5:00pm
Location
UCSB's Embarcadero Hall in Isla Vista
The UCSB Department of Art and College of Creative Studies present Spring 2018 Visiting Artist Colloquium. The program offers a wide range of voices in dialogue, exploring the topics of contemporary art, theory, and cultural production by emerging and established visiting artists, as well as members of UCSB's faculty and graduate students.
This lecture will be held from 5:00 to 6:50 PM on Thursday, May 24 in UCSB's Embarcadero Hall in Isla Vista. For directions to the location, please visit UCSB campus map
Harry Reese received an MFA from Brown University in 1975. He is Professor of Art at the University of California, Santa Barbara, where he has taught book art, print, papermaking, visual literacy, public art, and media ecology classes since 1978. He established the Book Arts Program in the College of Creative Studies at UCSB, in 1985. He was Chair of the Department of Art from 1996-2000, and Associate Dean of the College of Creative Studies from 2006-2013. His artist's book, Funagainstawake – originally produced in unique versions for Edition Reese – was published in a limited edition by Granary Books (New York, NY) in 1997. His collaboration with Jud Fine on "Spine," a permanent outdoor installation at the Los Angeles Central Library, opened in 1993. That same year, they co-authored a book on this project, published by the Los Angeles Library Association. He has worked on other public art commissions and projects in Arizona (Tempe), California (San Francisco, Pasadena, Laguna Hills), Florida (Hollywood), Nevada (Fallon), North Carolina (Penland), and South Carolina (Charleston).
A native of California, Sandra Liddell Reese graduated from Denver University with a BA in 1969. She taught science and art to sixth graders until she met Harry Reese in 1975 and began making books. Self taught (and still learning) she produces most of their printing and binding publications in their home and studios in Isla Vista. Collaborative projects she planned and edited include: Heart Island – epigrammatic love poems by the late James Laughlin, a fine poet who was best known as the publisher of New Directions Publishing Corp., with wood engravings from a 19th century French dictionary of infernal demons; The Standard, an artist's book collaboration of 26 copies between her and Harry Reese; and Kinnikinnick Brand Kickapoo Joy-Juice, poems ('meta-fours") by the late Jonathan Williams, with drawings by John Furnival and her own typographic and monotype prints. She has taught occasionally at UCSB and elsewhere, but primarily she works with poets, artists, writers, curators, and designers in planning and producing limited editions of books, folded broadsides, and print projects.