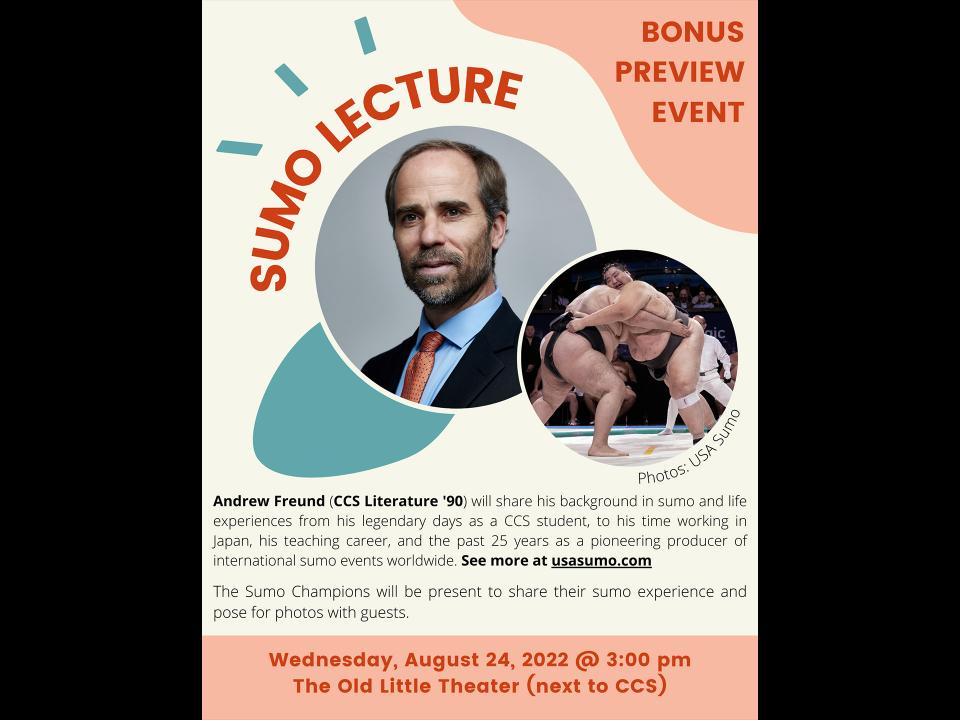 Sumo Lecture with Andrew Freund (CCS Literature '90)
Wednesday August 24, 2022 3:00pm
Location
The Old Little Theater
Andrew Freund will share his background in sumo, and life experiences, from his legendary days as a College of Creative Studies student, to his time working in Japan, his teaching career, and the past 25 years, as a pioneering producer of international sumo events worldwide.
The Sumo Champions will be present, too, to share their sumo experience, and pose for photos with guests.
Andrew and his 4 younger brothers and sisters ALL took classes at CCS, and 3 of the 5 siblings graduated from CCS, while 1 brother graduated from UCSB Letters & Science, and 1 sister graduated from another university. The Freund siblings might well be the only 5 siblings to all attend UCSB.
Andrew graduated from UCSB at age 19, setting several records in the process, like taking 48 units and 52 units in back-to-back quarters.
Enjoy stories of College of Creative Studies history, from someone who helped to make it.
Please RSVP for the Lecture at CCS using this link: https://forms.gle/NUcsrtC1tcWB8kqa9