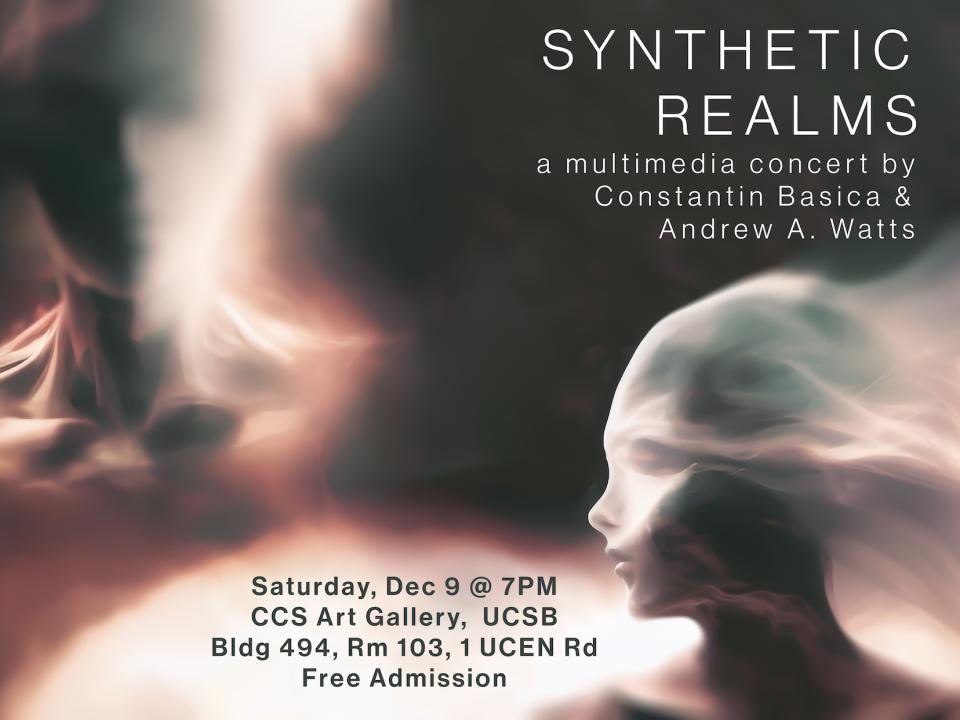 Synthetic Realms - A multimedia concert by Constantin Basica and Andrew A. Watts
Saturday December 09, 2023 7:00pm
Location
CCS Art Gallery, Building 494, room 103, 1 UCEN Rd, Santa Barbara, CA 93106
Join us for a combined program of audiovisual compositions by Constantin Basica and Andrew A. Watts. The works ponder on contemporary and futuristic issues related to global climate change, artificial intelligence, time travel and time loops, the multiverse, and the end of our known universe. Included in the concert is a new large-scale electronic composition involving video and 6-channel audio by Watts, as well as a selection of live performances with electronics and video by Basica.
Andrew Watts 
Andrew A. Watts is a composer of chamber, symphonic, multimedia, and electro-acoustic works that are regularly performed throughout North America, Europe, and Asia. His compositions have been premiered at world-renowned venues such as Burning Man, Ravinia, Boston's Jordan Hall, Darmstadt, and the Holywell Music Room. Watts has written for many of the top new music groups today, including Ensemble Dal Niente, Ekmeles Vocal Ensemble, Proton Bern, Distractfold Ensemble, RAGE Thormbones, Splinter Reeds, Quince Vocal Ensemble, and Line Upon Line. Recently, Watts premiered a large-scale work, Silicon Valley Requiem, blending synthesized and live voices. He completed his D.M.A. in Composition at Stanford, received his master's with distinction from Oxford, and his bachelor's with academic honors from the New England Conservatory. He has been a featured composer at the MATA Festival (USA), impuls Academy (Austria), Rainy Days Festival (Luxembourg), Delian Academy (Greece), Young Composers Meeting (Netherlands), Cheltenham Music Festival (England), Course for New Music at Darmstadt (Germany), Composit Festival (Italy), Ostrava Days Institute (Czech Republic), highSCORE Festival (Italy), Wellesley Composers Conference (USA), Etchings Festival (France), Fresh Inc. Festival (USA), New Music on the Point (USA), and Atlantic Music Festival (USA). Watts is currently a Lecturer in Music Composition at UCSB's College of Creative Studies.
Constantin Basica 
Constantin Basica is a Romanian composer living in the San Francisco Bay Area, whose current work focuses on symbiotic interrelations between music, video, and performers. His works have been performed in Europe, North America, and Asia by artists and ensembles such as Ensemble Dal Niente, ELISION Ensemble, Distractfold, Mocrep, JACK Quartet, Spektral Quartet, line upon line, and RAGE Thormbones. He has been featured at World New Music Days (NZ), MATA Festival (NY), New York City Electroacoustic Music Festival (NY), Currents New Media Festival (NM), International Week of New Music (RO), George Enescu Festival (RO), International Festival for Video Art and Visual Music (MX), ICMC (CN/KR), and the SMC Conference (SE/DE/FR) among others. Constantin earned a DMA in Composition at Stanford University, and he holds an MA in Multimedia Composition from the Hamburg University of Music and Theatre (DE), as well as two BA degrees in Composition and Conducting from the National University of Music Bucharest (RO). In recent years, Constantin has been collaborating with other artists and researchers on projects involving Artificial Intelligence and music improvisation. Currently, Constantin is a postdoctoral scholar, lecturer, and the concert coordinator at Stanford's Center for Computer Research in Music and Acoustics (CCRMA).
Program Order
           I Could Have Chosen the Other Title (2011) - Constantin Basica
Chatbots (2016/2019) - Constantin Basica
          A 24-Hour Sacrifice for Ending Draught (2022) - Constantin Basica
          Flashbacks (2014-2022) - Constantin Basica
                  Restore Failed with Errors
                  Last Night
INTERMISSION
AI and the Heat Death of the Universe (2023) - Andrew A. Watts
         Prologue
         Phase I: The End of Reality as We Know It
         Phase II: Solar Destruction
         Interlude
         Phase III: Black Hole Era
         Heat Death of the Universe
         Postscript