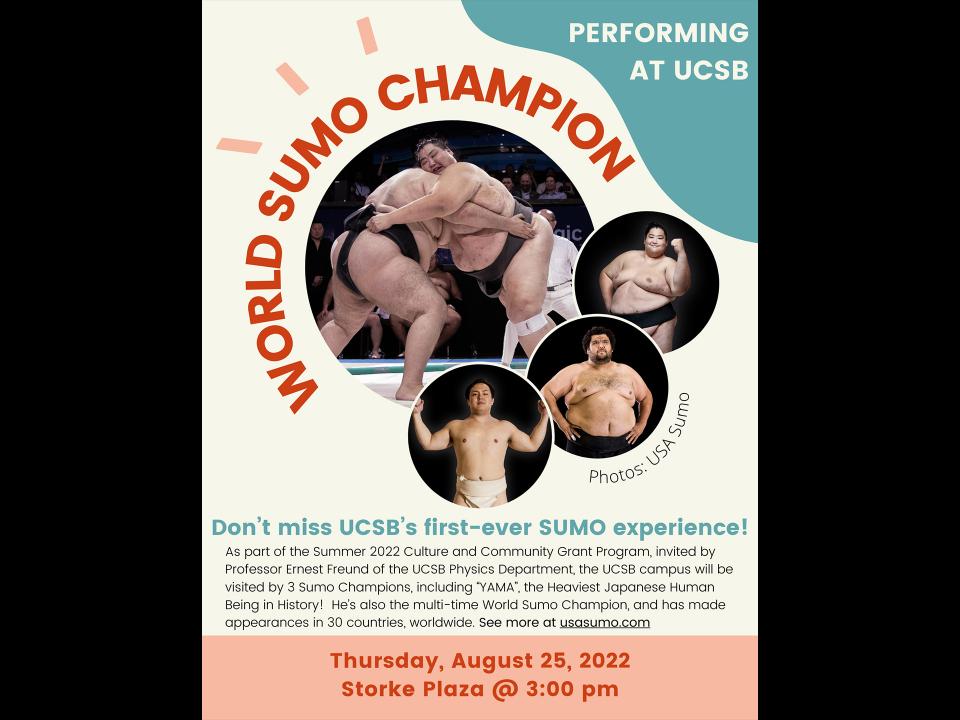 World Sumo Champion Performing at UCSB
Thursday August 25, 2022 3:00pm
As Part of the Summer 2022 Culture and Community Grant Program, invited by Professor Ernest Freund of the UCSB Physics Department, the UCSB campus will be visited by three (3) Sumo Champions, including "YAMA", the Heaviest Japanese Human Being in History! He's also the multi-time World Sumo Champion, and has made appearances in 30 countries, worldwide.
YAMA will be joined by two other Sumo Champions, and the event is coordinated by UCSB alumnus Andrew Freund (class of 1990). Andrew has produced over 1,000 sumo events, worldwide, for 25 years, including the US Sumo Open (annually since 2001), the largest and longest-running sumo tournament in the world. The 22nd annual US Sumo Open will be on September 10 in Long Beach, CA.
The Sumo Champions will demonstrate basic sumo rules and rituals, show sumo training and winning techniques, and finally participate in a series of real matches. There will also be audience interaction, chances to ask questions, and to take photos with the giant sumo wrestlers, post-exhibition.
Don't miss UCSB's first-ever SUMO experience!