Spectrum Editors Pursue Outreach at Nation's Capital
May 24, 2017
As the College of Creative Studies (CCS) heads into its 50th Anniversary, Spectrum, CCS' student-run literary magazine, will celebrate its own milestone. The longest running literary magazine in the UC system is scheduled to publish its 60th annual issue this spring. With this in mind, this year's SpectrumEditor in Chief Corinne Guichard and Managing Editor Steenalisa Tilcock, both CCS seniors graduating in June, traveled to Washington D.C. to attend the Association of Writers and Writing Programs (AWP) Conference to spread awareness about the publication beyond the campus of UCSB.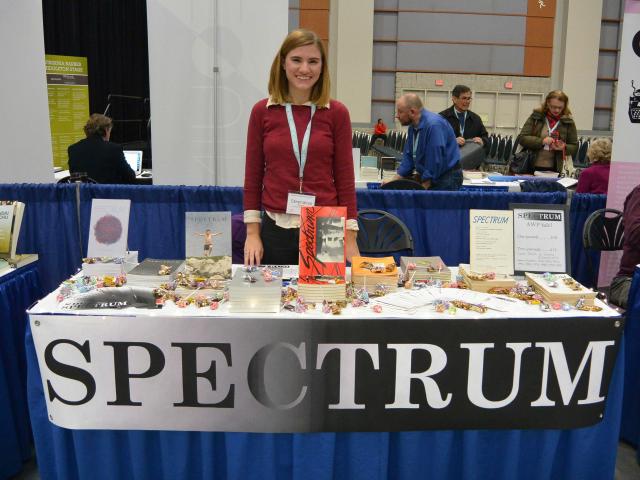 CCS and Spectrum have an intermingled history. Marvin Mudrick, the founder of CCS and the College's first Provost (the "Provost" title has since been changed to Dean as the College underwent restructuring), founded Spectrum in 1957—ten years before he founded CCS. The journal was originally funded by UCSB's Department of English, where Mudrick was a professor at the time. Once CCS was established in 1967, the College began participating in oversight of the journal while the Department continued to fund it. Over time the faculty advisors and editors increasingly became affiliated with CCS, and in 2003, the College took over funding the journal.
Over 12,000 writers and other literary professionals attend the annual AWP Conference, the largest literary conference in North America, making it the perfect place to begin to get the word out about Spectrum. The journal's editors believed their trip built a solid foundation for the magazine as it heads into its seventh decade. "I think our outreach efforts were really successful," said Tilcock. "We handed out a couple thousand fliers to people so now they know about us and have all of our information."  Some of the people they talked to had heard of Spectrum but weren't sure exactly what it was. "To them, we were this mysterious thing before, so we solidified who we are in their minds," recalled Tilcock.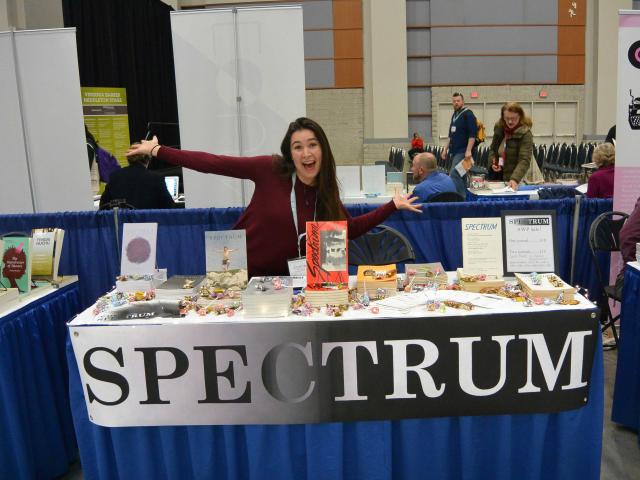 Another main goal of the trip was to solicit submissions from various writers. According to Tilcock, Spectrum has "published submissions from people all over the country." During the conference, they spent their time talking to numerous writers about the guidelines for the journal and described the process to submit work. Expanding the submission pool from the UCSB community to writers from across the nation has been a goal of Spectrum over the past couple of years. Last year, Spectrum staff sent out calls for submissions to Masters of Fine Arts programs around the country. Although they won't be able to see the benefits of this year's hard work until next year's submission period, Tilcock is positive about their results and thinks they generated "a lot of enthusiasm."
The Spectrum editors took advantage of CCS Traveling Undergraduate Research Fellowship (TURF)funds to make this trip to our nation's capital possible. UCSB Writing Program's Raab Writing Fellows programs also funded a portion of the trip.   Established in 2016, TURF provides students with the opportunity to pursue their creative interests at various educational events across the country and around the world. This outreach mission is a great example of how TURF can make a positive impact on the educational experience of CCS students. CCS Writing and Literature Program Coordinator Kara Mae Brown explained, "It is important for our students to get off campus and make connections with the broader literary community of writers, editors, and publishers." Tilcock furthered this by saying, "It was such an invaluable experience to go to this conference and feel like we are a real literary journal. Sometimes it doesn't feel real, but it is and that was a really important experience for us to have." Now that Tilcock are Guichard are back at UCSB, they are hard at work on the 2017 issue of Spectrum, which will be an anthology. The issue will be available in June.