Meet Britta Gustafson (CCS Literature '09)
January 10, 2018
Editor's note: We will be featuring "CCS stories" throughout the College's 50th Anniversary. Some stories will be personal stories and others will be written in the third person. Check the Anniversary page regularly to make sure you don't miss out and make sure to submit your story. This story was written and submitted by Britta Gustafson (Literature '09) .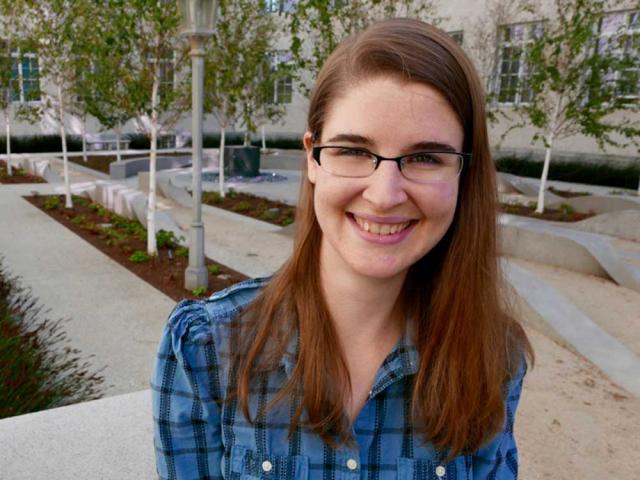 I had a series of remarkable classes in my freshman year of CCS Literature, including "Malaise, Melancholy and the Production of Art", taught by Jacob Berman. Together with other freshmen, sophomores, juniors, and seniors, we read from difficult and striking books including The Anatomy of Melancholy (Robert Burton, 1621) and The Rings of Saturn (W. G. Sebald, 1995). We jumped into the depths, guided by Jacob, learning from each other.

One assignment was to walk for a couple of hours in a place you had never walked before, then write about it in the style of Sebald. I walked to UCSB's West Campus, sat on the grass alone with empty fields and half-abandoned old buildings, and fell in love with the strangeness of West Campus.

I spent a lot of time at CCS on self-directed projects outside class, including getting into the history of the UCSB/IV built environment. I wrote about the CCS building (built for the old Marine Corps Air Station) and the former munitions bunkers north of Mesa Road. I took Lower-Division Photography from Richard Ross, then took photos all over UCSB/IV and researched what I saw. I didn't file for independent study credit, but I included this work in my senior portfolio anyway.

I graduated in 2009, moved away, moved back to IV for work, then moved away again, but the place stuck with me. In 2014, I started the Isla Vista Local Wiki, a community volunteer project like Wikipedia but specifically about the IV area. I write down what I learn and add photos, from the houses at the end of Del Playa to the many lost murals.

Other community members write articles too, and a few UCSB classes have contributed articles as assignments. You can contribute to it! If you're a faculty member who wants to assign this as part of a class, let me know (brittag@gmail.com) and I can help you get started. You can also subscribe to Facebook posts about new articles.

In college I had a part-time/summer job with a technology company, and I now work for the federal government on technology projects. I'm grateful that the loose structure of CCS allowed me to work on being and becoming a mix of things: a literature student, a local historian, a technical writer, and a rabble-rouser. Strict course requirements and a narrow definition of success would have just been in my way.