Meet Paul Chavez (CCS Music Composition '86)
May 10, 2018
Editor's note: We are featuring "CCS stories" throughout the College's 50th Anniversary. Some stories will be personal stories and others will be written in the third person. Check the Anniversary page regularly to make sure you don't miss out and make sure to submit your story.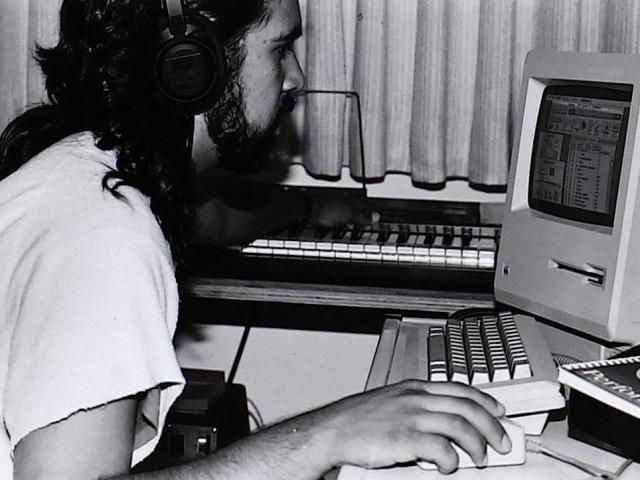 I started at UCSB as an Electrical Engineering major with the intention to learn about music and technology.  I clearly remember the frustration of attending chemistry labs during my freshman year, and not understanding the point of performing prescribed "experiments" and being graded for my ability to correctly report on the predetermined outcomes.  How was I supposed to learn anything this way?  I suspected that I could learn more through exploration.
At the time, my best friend Jim McGough was a Literature major at CCS, and I started taking a couple of very interesting CCS classes including a Music/Literature "crossover" course on Opera Libretto taught by Marvin Mudrick, the founding CCS Provost.  This class had a significant impact on me because Mudrick was empathetic enough to know that I wasn't a writer; but as a musician I had something worth saying.  Mudrick could have easily destroyed me with legitimate criticisms about my limited writing skills but, instead, he respected my musical observations and encouraged my participation as someone who could bring a different perspective to a room full of writers.  Soon after that, I decided to apply to CCS as a Music major and was accepted! From there I took a wide variety of amazing courses from alchemy to artist John McCracken's wandering art seminars to music composition (obviously).  Throughout my years at CCS, I made many works and explored many forms including electronic music, theater, dance, sculpture, and instrument making.  I also had the opportunity to teach a course on sound composition for visual artists with artist Anne Hamilton as my sponsoring advisor.  In my senior year, I did an installation in the CCS Art Gallery that included a string quartet, an electronic music ensemble, non-musicians reciting spoken word, and dance.  I had found a place [CCS] where learning through exploration and collaboration was encouraged and even fundamental to the teaching philosophy.  It was an incredible, nourishing experience.
After graduation and a couple of years of working in the audio and acoustics field, I went to graduate school.  My work experience along with my creative portfolio from CCS got me into UCLA's graduate school of architecture.  I worked for many years designing AV systems for built environments including the Thousand Oaks Performing Arts Center, The Getty Center, UC Santa Cruz School of Music, and the Sony Metreon in San Francisco.
Today, I'm a sound technologist and a user experience expert at the audiovisual manufacturer Harman (a Samsung company) in Los Angeles. Creativity is at the root of everything I do.  I'm also still making music. My compositions for dance have taken me around the world to New York (at the Guggenheim Museum and New York Live Arts) Dublin, Ireland (Dublin Dance Festival), and Barcelona, Spain (Grec Festival). I've performed several times at REDCAT within the Walt Disney Concert Hall complex.  I've worked with amazing choreographers including Oguri, Roxanne and Morleigh Steinberg, Sarah Elgart, Steven Koplowitz and collaborated with the guitarist for U2, the Edge.  I've created music and sound installations for video installation artist Carole Kim and I've done sound designs for art exhibits by Rethink LA, Ryan Trecartin and Lizzie Fitch and Catherine Opie. Last summer Oguri and I collaborated with French video and performance artist Lola Gonzalez on a large scale performance piece that included 60 performers and an immersive sound installation in downtown Los Angeles Grand Park.
More than 30 years after leaving CCS I'm still using the methods I first discovered: be open to all the possibilities, plan a path and start simply, take time to evaluate, edit, and repeat.  The College of Creative Studies provided an environment of experimentation and a creative community where learning by doing was the culture.  I'm so fortunate that I found CCS.